Deadly Choices Partnership
Brisbane Lions and Deadly Choices partnered to deliver health outcomes for the indigenous communities. Deadly Choices aims to empower Aboriginal and Torres Strait Islander people to make Healthy Choices for themselves and their families. The choices include stop smoking, to eat healthy food and exercise daily.
A client gets a Brisbane Lions shirt by getting a Health Check at the Aboriginal & Torres Strait Islander Community Health Service Brisbane Woolloongabba.
Call 3240 8900 to book your appointment.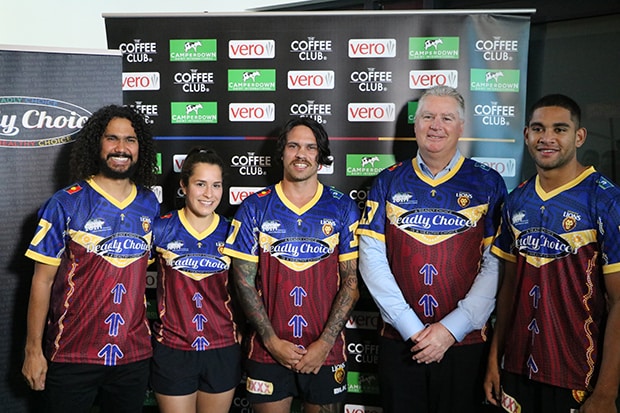 NAIDOC WEEK Celebration Launch
Brisbane Lions in conjunction with AFLQ launched the NAIDOC Week celebration on 4 July 2017.
Staff from both the Lions and AFL/Queensland had a wonderful lunch to recognise and show commitment to Aboriginal and Torres Island affairs.
For more information please contact the Club's Community Engagement Team:
Telephone: 07 3335 1777
Email: community@lions.com.au
The Long Walk
The Club partnered the Deadly Choices, The Long Walk Foundation and AFLQ to organise the Long walk on the 8th July 2017 during the NAIDOC Week Celebration. The Long walk started from the Musgrave to the Gabba ahead of the Lions match against Geelong. This was the only walk held outside the Dreamtime at Richmond v Geelong at the MCG.
The Long Walk Trust is a charity inspired by Essendon former player Michael Long's walk to Canberra to get the lives of Indigenous people back on the national agenda. The charity works for Indigenous wellbeing and raises funds to support programs that improve conditions for Indigenous Australians.
Michael Long, The Founder of long accompanied by Lions legendary players Chris Johnson and Daryl White led the Long Walk from Musgrave Park to The Gabba prior to the Geelong Game.
First 300 people to register received free tickets to watch the game after the Long Walk. Guests formed Guard of Honour and Kids from the Institute for Urban Indigenous Health's deadly Choices Educational program participated in Auskick Grid at half time.
For more information please contact the Club's Community Engagement Team:
Telephone: 07 3335 1777
Email: community@lions.com.au