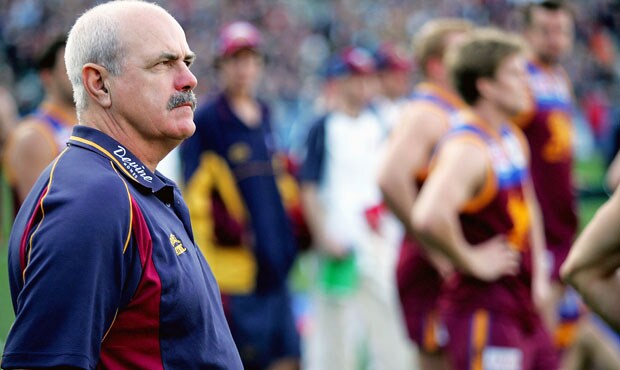 A total of 50 individuals have coached the Brisbane Lions, Fitzroy or the Bears throughout the Club's combined history.
Geoff Moriarty first sat at the helm of Fitzroy in 1911, while Percy Parratt was the Club's first official premiership coach.

However, 14 of the Club's 50 coaches have performed a caretaker role - either replacing an existing coach mid-season, or assumed the role on a short-term basis in the absence of the head coach.

Three-time Brisbane Lions Premiership coach Leigh Matthews holds the record for most games coached at the Club with 237, while Robert Walls (224 games with Fitzroy and the Bears), and Bill Stephen (214 games with Fitzroy) round out the top three.

Michael Voss is the only other person to have coached the Club in 100 games or more.

A complete list of Club coaches is outlined in table below.

| | | | |
| --- | --- | --- | --- |
| COACH | G | YEAR/S | WIN % |
| Geoff Moriarty | 36 | 1911-12 (Fitzroy) | 55.6% |
| Percy Parratt | 91 | 1913-15, 1920-21 (Fitzroy) | 68.1% |
| George Holden | 54 | 1916-19 (Fitzroy) | 44.4% |
| Ted Melling | 9 | 1919* (Fitzroy) | 44.4% |
| Vic Belcher | 93 | 1922-24, 1926-27 (Fitzroy) | 52.7% |
| Chris Lethbridge | 17 | 1925 (Fitzroy) | 70.6% |
| Gordon Rattray | 72 | 1928, 1937-39 (Fitzroy) | 34.7% |
| Jimmy Freake | 8 | 1929 (Fitzroy) | 12.5% |
| Doug Ringrose | 10 | 1929* (Fitzroy) | 20.0% |
| Colin Niven | 36 | 1930-31 (Fitzroy) | 69.4% |
| Frank Maher | 36 | 1932-33 (Fitzroy) | 38.9% |
| Jack Cashman | 2 | 1934 (Fitzroy) | 50.0% |
| Len Wigraft | 16 | 1934* (Fitzroy) | 37.5% |
| Percy Rowe | 18 | 1935 (Fitzroy) | 44.4% |
| Haydn Bunton | 18 | 1936 (Fitzroy) | 11.1% |
| Dan Minogue | 51 | 1940-42 (Fitzroy) | 49.0% |
| Fred Hughson | 96 | 1943-47 (Fitzroy) | 62.5% |
| Norm Hillard | 1 | 1945* (Fitzroy) | - |
| Charles Cameron | 19 | 1948 (Fitzroy) | 47.4% |
| Norm Smith | 55 | 1949-51 (Fitzroy) | 54.5% |
| Allan Ruthven | 57 | 1952-54 (Fitzroy) | 49.1% |
| Bill Stephen | 214 | 1955-57, 1965-70, 1979-80 (Fitzroy) | 31.7% |
| Frank Curcio | 1 | 1956* (Fitzroy) | - |
| Len Smith | 92 | 1958-62 (Fitzroy) | 54.3% |
| Arthur Edwards | 1 | 1961* (Fitzroy) | 100% |
| Kevin Murray | 34 | 1963-64 (Fitzroy) | - |
| Wally Clark | 1 | 1963* (Fitzroy) | 100% |
| Tommy Williams | 1 | 1964* (Fitzroy) | - |
| Ray Slocum | 1 | 1968* (Fitzroy) | - |
| Graham Donaldson | 85 | 1971-74 (Fitzroy) | 40.0% |
| Graham Campbell | 25 | 1974*, 1978 (Fitzroy) | 32.0% |
| Kevin Rose | 66 | 1975-77 (Fitzroy) | 33.3% |
| Robert Walls | 224 | 1981-85 (Fitzroy), 1991-95 (Bears) | 40.2% |
| David Parkin | 69 | 1986-88 (Fitzroy) | 43.5% |
| Peter Knights | 59 | 1987-89 (Bears) | 27.1% |
| Paul Feltham | 7 | 1989* (Bears) | 71.4% |
| Rod Austin | 44 | 1989-90 (Fitzroy) | 43.18% |
| Norm Dare | 22 | 1990 (Bears) | 18.2% |
| Robert Shaw | 86 | 1991-94 (Fitzroy) | 32.6% |
| Bernie Quinlan | 19 | 1995 (Fitzroy) | 10.3% |
| Alan McConnell | 11 | 1995-96* (Fitzroy) | - |
| Michael Nunan | 14 | 1996 (Fitzroy) | 7.1% |
| John Northey | 59 | 1996 (Bears), 1997-98 (Lions) | 49.1% |
| Roger Merrett | 11 | 1998* (Lions) | 27.3% |
| Leigh Matthews | 237 | 1999-2008 (Lions) | 59.9% |
| John Blakey | 1 | 2005* (Lions) | - |
| Michael Voss | 109 | 2009-13 (Lions) | 39.4% |
| Mark Harvey | 3 | 2013* (Lions) | 66.7% |
| Justin Leppitsch | 66 | 2014-2016 (Lions) | 21.2% |
| Chris Fagan | 22 | 2016- | 22.7% |
*Caretaker Coach
Premiership Coach