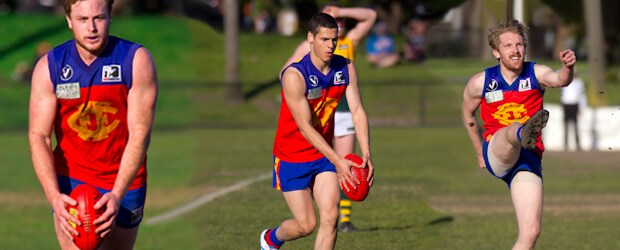 (Images courtesy of Rick Wilson)

Fitzroy FC, playing in the Victorian Amateur Football Association (VAFA) will once again provide Melbourne-based Lions fans with an opportunity to get back to grassroots football and watch live action from the Club's spiritual home in Victoria.

The Brunswick Street Oval will once again host Fitzroy FC's VAFA Premier B Division home matches in 2017.

You can support Fitzroy FC by purchasing a membership from just $45. Please visit www.fitzroyfc.com.au for further details or CLICK HERE to download a copy of their 2017 membership form.

CLUB INFORMATION
Fitzroy Football Club Ltd (incorporating the Fitzroy Reds)
Post: PO Box 5230, Mordialloc VIC 3195
Home Ground: Brunswick Street Oval, North Fitzroy

President: Joan Eddy
Vice President and Director Football Coaching: Grant Hammond
Secretary and Director Football Operations: Sharon Torney
Treasurer and Director Finance: Michael Smale
Director Media & Communications Director: Kate Nolan
Director Social & Community: Anita Roper
Director Volunteers: Gabrielle Murphy
Director Strategic Planning & Support: Tom Sargant
Director Player Welfare & Business Development: Patrick O'Connor
Director Membership & Marketing: Kevin Sharp
Company Secretary and Membership: Bill Atherton

Senior Coach: Nick Mitchell
Senior Assistant Coach: Bernie Carter
Reserves Coach: Richard Willingham
Senior Women's Coach: Mick Symons
Women's 2 Coach: Jo Hogan
Under 19s Coach: Tim Bell
Under 19s 2 Coach: Greg Coleman
Line & Development Coach: Archie Whiting
Fitness Coach: Steve Hurl
Thirds Coach: Trent Coleman