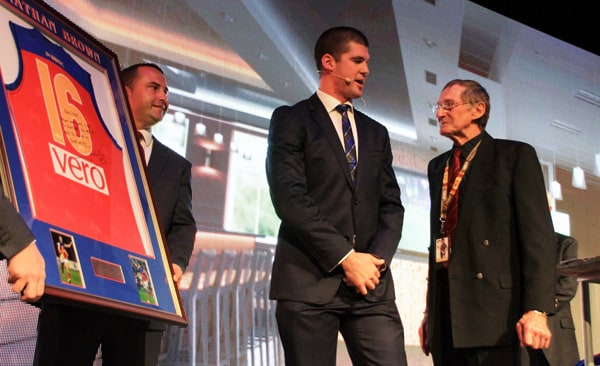 Jonathan Brown surprises Kevin Murray with a personal gift

More than 600 guests turned out at Crown Palladium to pay tribute to Jonathan Brown's stellar career with the Brisbane Lions in May 2015.
While the occasion was designed to celebrate Brown, the superstar centre half-forward himself used the platform to pay tribute to one of his own idols - Kevin Murray - who was a guest at the event.
To Murray's surprise, Brown called the Lions Legend up on stage to accept a framed No.16 Lions guernsey with a personalised message, which read as follows:

Bulldog,
From one loyal lion to another,
You are a hero to all of us,
Your mate,
Jonathan Brown

The gesture brought a tear to Murray's eyes, and when the pair embraced up on stage, it was a truly special moment that brought two stars from different generations together.

The framed and signed guermsey was later loaned by Murray to the Historical Society, and hangs proudly in the Museum's 'corridor of honour'.