TORRENTIAL rain has caused the cancellation of the Brisbane Lions-St Kilda match in Mackay.
More than 200ml of rain has fallen in the region in the past two days as ex-Cyclone Winston struck, and a downpour at around 2pm forced the AFL's hand.
Surface water surrounded the boundary line and the cricket square in the middle of the ground was rock hard with a slippery film on its surface, causing concern for players and officials.
But one of the biggest worries was a relaid patch of grass not far from the centre square that was literally floating away under the deluge.
It simply wasn't safe.
Captains Tom Rockliff and Leigh Montagna – both AFLPA representatives - met at around 2.15pm local time to inspect the surface.
In consultation with the AFL, the game was cancelled.
"It came down to player safety," Lions football manager Matthew Francis said.
"Our players are hugely disappointed to not be able to put a spectacle on for the local community, but unfortunately the weather gods have overruled that."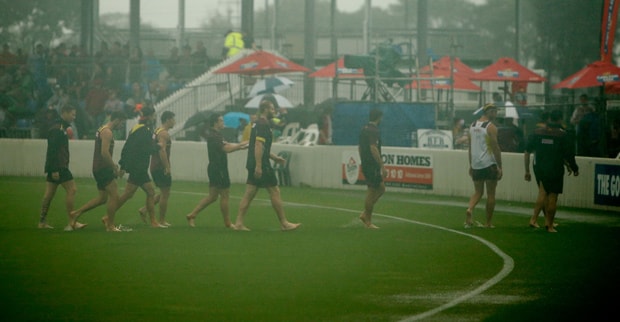 Saints football manager Jamie Cox said the cancellation of the match was a real disappointment.
"There's been an enormous amount of work gone in locally and the facility is a ripper, but unfortunately the conditions didn't allow it. The ground is waterlogged and unsafe," Cox said.
"It's frustrating but no-one can control the elements."
The League has announced full refunds for fans who bought tickets for the clash.
With the match not being rescheduled, both teams now have just one NAB Challenge match remaining to prepare for round one.
The Lions face Greater Western Sydney next Sunday at Metricon Stadium.
The AFL will not seek to reschedule the Lions/Saints match to another day or venue, with the remaining 9 NAB matches next week already set.

— Patrick Keane (@AFL_PKeane) March 6, 2016