Ability to score from stoppage has been something of a silver-lining for the Brisbane Lions this season.
"We were aiming to finish top eight, we didn't get there - we finished 9th", Assistant Coach Danny Daly said in the final Vero Coaches Wrap for 2016.
The Lions kicked 100 goals and 101 behinds from stoppage (boundary thrown ins, ball ups or centre bounce) to sit in 9th spot for goals from stoppage for the year on 9.8%, finishing shy of the West Coast Eagles (8) and North Melbourne (7).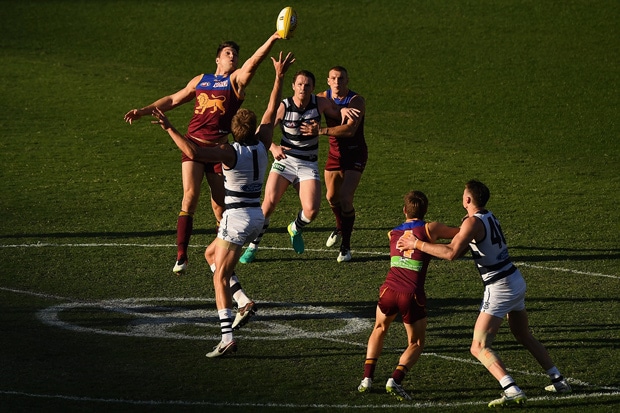 Stefan Martin in action against Geelong at the Gabba. (Photo: Matt Roberts/Getty Images)
"Seven of the top eight sides finished in the top 8. The only one that didn't was Hawthorn who base their game around turnover. From that perspective it was a real positive for us," Daly said.
"On the flipside, we got scored against too easily from stoppage but 9th in the AFL is still a good result.
"Moving forward, we want to get into the top eight next year which will be a focus for us."
Top four sides GWS (1) and Geelong (2) had a strike rate of 12.2% and 11.5% scores from stoppage.
"We were actually AFL 2nd in terms of scoring from scoring when we went inside 50 at 49.1%. Adelaide were number one at 52.8%," Daly said.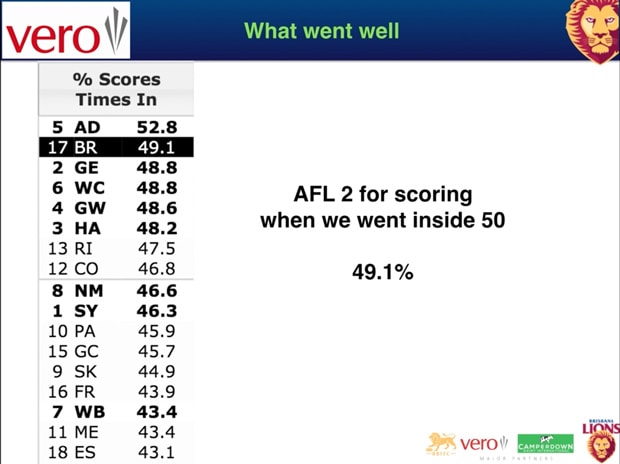 Screen shot from this week's Vero Coaches Wrap.
"What that means is every time Adelaide went inside 50 they scored 5.28 times, we scored 4.91 times as well.
"You can see five of the top eight sides finished in the top eight for scoring inside 50. The downside to this is that we didn't go inside 50 enough. I think we were ranked 17th for the amount of inside 50s we went in.
"One of the things we need to work on over the pre-season is how we can get more inside 50s whilst trying to retain the 50% scoring from the entries. If we can do that we'll increase our scoring next year."
More on Lions.com.au

If we had our time again...

Lions talent on show