JARROD Berry felt he had a point to prove. After a season interrupted by injury issues, Berry hit the NAB AFL Draft Combine healthy and ready, and he didn't disappoint.
The value placed on combine performances differs from club to club, but there is no denying Berry didn't hurt his draft positioning with his display. The Vic Country draft hopeful was the best performed of the 80 players in attendance, winning the 3km time trial (9:46), being a joint winner of the beep test (level 15.1) and placing in the top 10 for the repeat sprints and agility tests.

Indicative Draft Order
It was a good end to a tough season for Berry, in which he entered with big expectations after a brilliant bottom-age season in 2015. Last year saw him claim All Australian honours as a member of Vic Country's championship-winning team and be named in the TAC Cup side of the year.
This season didn't feature as many highlights, but Berry is a professional, committed player who has weathered the injury setbacks and remains a highly rated choice.

Berry is as tough as they come. He isn't afraid of getting in harm's way to win the ball, and sometimes he could be accused of having too much courage. Late in the year he suffered a bruised kidney early in a game for North Ballarat but played another quarter with the injury, believing it to be just a bump. He spent a couple of days in hospital nursing the injury afterwards.

He matches that hardness with genuine athleticism. He proved that at the combine, and reminded people of his running capacity and competitiveness. His size makes for an interesting player, because at different stages throughout the year he was deployed across half-back, through the midfield and later in the year spent time for the Rebels closer to goal (including back-to-back three-goal performances). He averaged 17 disposals for the Rebels in eight games.
Berry's leadership is also an important part of his make-up. He captained the Rebels, Vic Country and the NAB AFL Academy this year, and was named the academy's Ben Mitchell medallist – an award voted on by his peers for who best displays the values of the academy.

Berry has had an unfortunate run with a range of injuries over the past two years, including shoulder, knee and kidney issues, so clubs will want to be confident in his durability to use an early selection on him.
When he's out there, a knock has been on his kicking. Recruiters have raised it with him and he's worked hard to lift his ball use, and he showed his improvement at the combine when he came equal third in the kicking test (he was also equal second in the clean hands test). And as much as his versatility is a good trait, it also means he hasn't settled into one position, so clubs are varied about where they see his best footy being played.

If Berry settles into a third tall defensive role, he could play in a similar manner to Sydney Swans backman Dane Rampe. Berry is about the same height as Rampe and has the same courage to fly back for the ball in the air and also provide some run out of the backline.

Berry started the year as one of the names floated by recruiters as being in the No.1 pick consideration. He's not there now, but seems likely to fit anywhere between 12-25, with plenty of interest from clubs in the mature prospect.

Character has become the buzzword in recruiting circles in recent years, and Berry has it in spades. He has been described by clubs as the 'best kid' in the pool, and that goes a long way. His tough and uncompromising style on the field will give him a good chance of fitting in at the next level.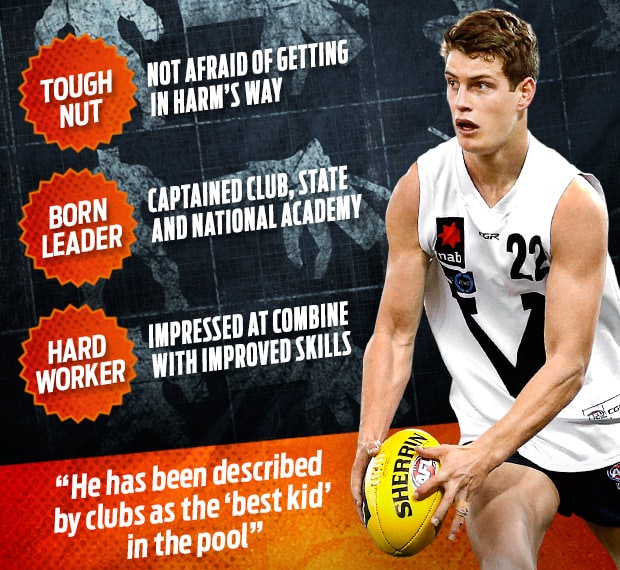 More Draft News:

Draft Prospects: Midfielders

Tim Taranto, a big-game gun