BY THE time the NAB AFL Draft Combine rolls around every year, clubs are often well aware of most prospects' athletic capabilities. But that doesn't stop players from occasionally surprising.
Griffin Logue was that player this year, as the West Australian key back put in a brilliant effort across the four-day screening at Etihad Stadium to further push himself up the draft board.
Logue finished his draft season by being a joint winner of the beep test (he reached level 15.1), he placed in the top-10 for the repeat sprints (25.09 seconds), fourth in the standing vertical jump (71cm) and took out the running vertical jump test off his right foot (91cm).
The former rower closed the combine by running the fifth fastest time in the 3km time trial (9:58), again proving he has the inner competitiveness to be an early selection at this week's draft in Sydney.
Key defenders are hard to find, which often sees them come into consideration ahead of midfielders who are easier to pick up on a year-to-year basis. That works in Logue's favour, but he's also got a fair bit going for him which he showed late in the season.
His power, strength and athletic profile make him a unique tall defender. It allows him to defend in different ways and rebound out of the backline with some spring in his step. Towards the end of the season he also showed his versatility with a move into the midfield for Swan Districts' under-18 team (he gathered 34 disposals late in the year).

Logue is a long left-foot kick who played eight games at senior WAFL level this year, proving he was up to that standard and that he could take on more experienced players. He has also impressed clubs in interviews with his attitude and determined approach.

His best form came later in the year, but Logue didn't have the best championships for Western Australia, which is often the benchmark in a draftee's year. Although his attacking flair is a good thing, it can also at times leave him a little susceptible one-on-one down back.
Logue measured in at 191cm at the combine, so clubs would naturally like him to be a little taller so that he can really hold down that key defensive post in an AFL team. They will need to be sure he can take on some of those taller forwards to select him as a key defender, unless they see him eventually progressing into a midfield role.

Logue could be a little like Greater Western Sydney backman Nick Haynes in his ability to leap for marks and be the third man into contests. Haynes is also agile at ground level, and Logue has proven his athletic attributes.

Logue pushed himself into top-15 contention with his finish to the year. The Sydney Swans could look for some backline back up with their early choice, while he is also likely to be in the mix for Gold Coast and Fremantle. West Coast, at pick 12, may also consider should he get through.

Logue ticks a lot of boxes as a key defender and you can picture him settling in nicely at AFL level. He fits in as the best tall backman in the draft, and the special thing about him is that he could move into a number of different roles as he develops.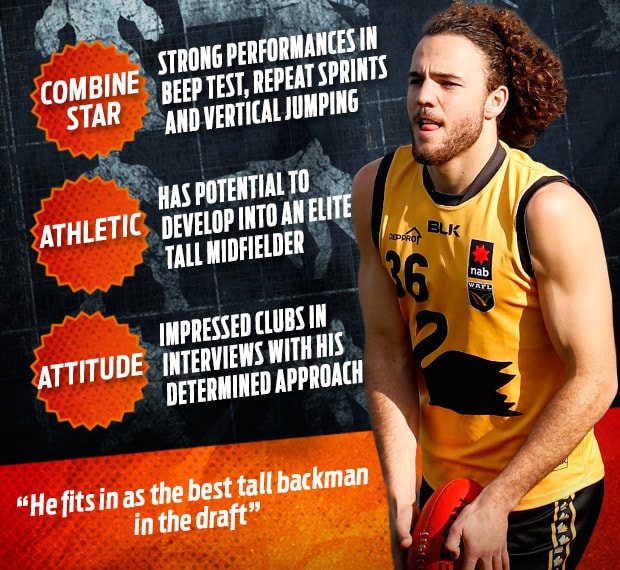 More Draft Prospects:

Jy Simpkin is back in the running

Josh Battle's forward progress