Three Brisbane Lions player's have taken out the inaugural Big Issue Footy Sales Challenge, defeating 8 teams from 3 different football codes across the country.
The challenge, which took place on Tuesday 6th December in the CBD, saw Daniel Rich, Tom Bell and Matty Eagles pair up with Big Issue vendor, Magoo, to sell as many copies of the Christmas edition of The Big Issue magazine in 30 minutes.
Rich, Bell and Eagles sold an impressive 20 magazines and 11 calendars to beat the Brisbane Broncos with other AFL teams including GWS Giants, Port Adelaide, Carlton and the Sydney Swans.
The players helping Magoo sell @thebigissue on the Cnr of Albert & Adelaide St this arvo. Come on down! pic.twitter.com/wDAsTkxHWm

— Brisbane Lions (@brisbanelions) December 6, 2016
In its first year, the challenge was deemed a success with proceeds of the sales going towards the fortnightly vendor breakfast and an extra 10 magazines for Magoo, free of charge.
"They did super well, the amount they sold would probably take Magoo a couple of very full days," said Queensland Operations Manager Susie Longman.
"Magoo starts at about 6:30am in the morning and goes through until about 3:00pm in the afternoon – so it was a really great effort.
"They weren't shy at all, they were great and got into it," said Longman.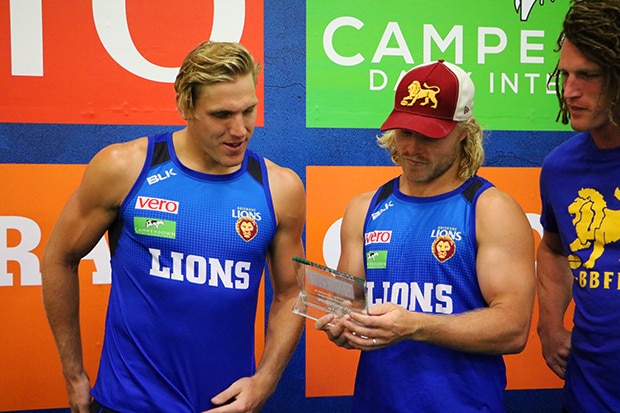 Tom Bell, Daniel Rich and Matty Eagles look at the trophy.
Magoo visited the Club today to personal present the players with their trophy and extend his congratulations to the trio.
"I am overwhelmed, it was grouse," said Magoo.
"To stand beside football players and have fun.
"I suppose it was a good experience for me too, to see what I can do better."
Magoo's Profile: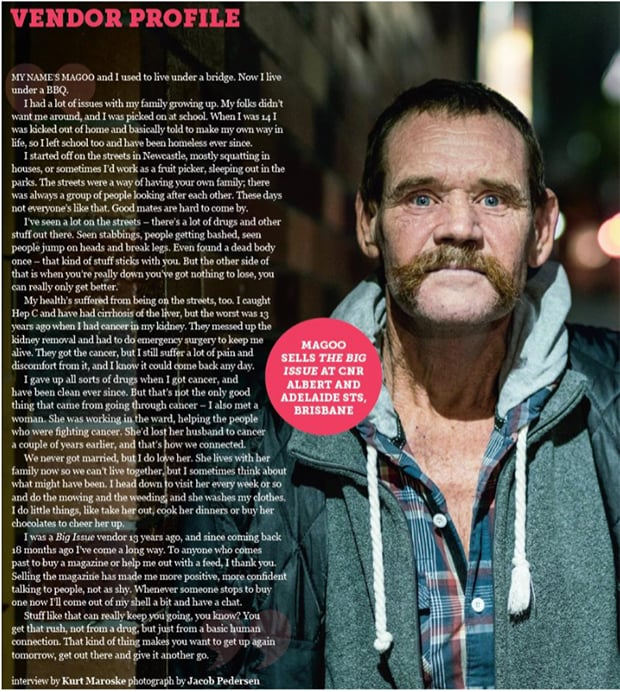 Trending Articles

Help us hit 15k!

Lions Open Training