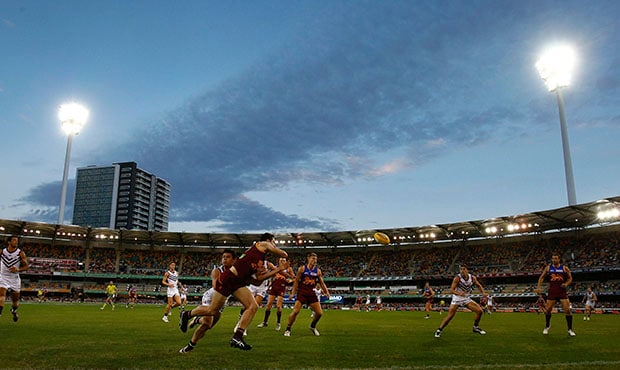 Match Day Info: Saturday, June 10
Below you will find all of the information that you need for a huge day of football at the Gabba.
QUICK LINKS:
AFL Premiership Season: Round 12
Brisbane Lions v Fremantle Dockers
Saturday 10 June
The Gabba
Bounce at 4.35pm
NEAFL State League Season: Round 11
Brisbane Lions v Gold Coast SUNS
Saturday 10 June
South Pine Sports Complex
Bounce at 12.00pm
This week's match day partner is Mater Foundation in support of Mater Little Miracles. To find out how you can support the thousands of patients treated at Mater and the researchers striving for medical breakthroughs visit www.materfoundation.org.au.
Our Membership team have a marquee set up in Lion Park every match day, and are available for any member enquiries, to sign up new members, collect member tickets (if advised), and all other general Brisbane Lions enquiries.
You can find the marquee in Lion Park, which is located at the front of the Gabba (facing Main Street), and open pre-game from 1.5 hours before the match until first bounce.
Autograph Book Giveaway
Members can collect an exclusive 2017 Autograph Book this Saturday from the Member Marquee, Match Office 7 & 9 or the Match Day Social Club! Simply flash your 2017 membership card to receive your copy! *Limited quantities available, one per member per membership card.
Brisbane Lions Social Club
All season game entry memberts have FREE access to the Match Day Social Club – entry via Gate 6 or via the lift at Section 51. Proof of 2017 membership must be shown upon entry.
The Lions Shop is your one-stop outlet for all your Brisbane Lions merchandise needs, and caters for men, women, little lions and even babies.
The friendly staff are trained to help you find your size in Lions shirts, polos, guernseys, caps, scarves, hoodies, accessories and everything else you need to kit yourself out in maroon, blue and gold. Find the Lions Shop Superstore located at Gate 2 and various outlets inside the stadium.
Our new Majestic range is now available for purchase from the Lions Shop or one of our marquees around the stadium.
#TrueColours
Want to WIN just by showing your colours? Be seen at the 2017 home games at the Gabba and show your support by wearing your Lions club gear. To enter, simply upload a photo of yourself at the game in your Lions colours along with the hashtag #TRUECOLOURS for the chance to win.
Where:
The Gabba, Stanley St, Woolloongabba, QLD 4102
Public Transport
Did you know you get FREE public transport to and from the game? Show your Brisbane Lions member card or ticket when getting on and off the Train or Bus and you're set.
Call TransLink on 13 12 30 or visit translink.com.au to use their journey planner or view and print their maps and timetables.
Park Inside 50. Hyundai Game Day Parking
Do you drive a Hyundai? We're opening up the Hyundai Car Park on game day at the Gabba and you're invited! Forget about public transport, drive your Hyundai right up to the Gabba, just metres form the stadium, and stroll across the road to the game – easy!
20 lucky Hyundai drivers will be chosen and notified before each match. For your chance to park in the Hyundai Car Park, click here to enter.
Brisbane Lions Social Club
All season game entry memberts have FREE access to the Match Day Social Club - entry via Gate 6 or via the lift at Section 51. Proof of 2017 membership must be shown upon entry.
Post Match Player Q&A
Because we're All For the Members, the Brisbane Lions will be opening our exclusive Area VIP Lounge for members post-match. Meet a couple of our Brisbane Lions players fresh off the field and get a member-exclusive update from the boys about their match against Fremantle.
To enter, members will need to exit the stadium and re-enter via Gate 1 using your membership card to gain access. Room is subject to capacity, so please be sure to arrive early to avoid disappointment.
Brisbane Lions Members Bar
Premium season reserved seat members and September Members have FREE entry to the bar located in Section 62. Entry to the bar is subject to capacity and proof of 2017 membership must be shown upon entry.
50-50 Raffle
Support our Hyundai Help for Kids Brisbane Lions Academy by purchasing a ticket in our 50-50 raffle. One lucky person will win 50% of the prize pool in the random draw at the end of tonight's game. The remaining 50% raised will go to the HHFK Academy. Tickets are available from only $5! Get behind the development of AFL in Queensland and support this worthy cause. #ALLFORONE
XXXX Take in the Gold Bar
Thanks to XXXX, you could be Taking in the Gold at The Gabba with nine mates in your own fully catered bar. Click here and enter your details to win!
Four'N Twenty Pride on the Lion
One lucky patron will put their Pride on the Lion and test their knowledge against a Brisbane Lions player. Thanks to Four'N Twenty you could walk away with a Brisbane Lions prize pack.
Four'N Twenty Cruise Comp
Thanks to Four'N Twenty, you and 3 friends could be setting sail on a 10-day Carnival Cruise.
Simply buy a Four'N Twenty pie or sausage roll at The Gabba, snap a picture and upload it to Instagram using the hashtag #4N20Cruise and you could go in the draw.
For more information, go to lions.com.au/4n20cruise
The Coffee Club - Meet You on the Boundary Line
Get your pre-game footy fix with our Brisbane Lions footy guru, coming live to the big screen from our sideline couch. This week we'll chat with a Brisbane Lions coach and player as well as a member from the Brisbane Lions Women's team.
INC Kick 4 Cash*
With thanks to Sport Nutrition Partner, INC, you could be kicking for $4k cash at quarter time.
Simply head to the INC marquee in Lion Park pre-game or head to the website below anytime to register your details and we could be calling upon you to take the field.
*Activation is subject to fine weather permitting
Hyundai Car Cam
Get your face on the big screen while drive along in your automobile. Teaser for Hyundai & Triple M full season activation starting at round 4.
Spicers Retreat Kiss Cam
Cuddle up to your partner and get your face on the big screen. One Lucky couple will walk away with a night's luxury accommodation and gourmet breakfast at Spicers Tamarind Retreat.
Triple M Drum Cam
Get your face on the big screen and show us how you bang the bongos like a rock star!
Kick to Kick
Be sure to stick around after the siren for this traditional post-match favourite where you can kick the footy on-field. Subject to cancellation in the event of wet weather.
Lion Park
Located outside Gate 2, this is the ultimate match day precinct. Patrons have the chance to mingle with players, get their face painted and join in all the family friendly activities such as the below:
Mechanical football
Face painting
Roy's Rookies marquee
Triple M marquee
INC
Lions Shop & Membership marquees
Roy's Rookies
Sign up to Roy's Rookies this weekend to receive your FREE Roy's Thunder Sticks. Collect your Thunder Sticks from the Roy's Rookies Marquee located in Lion Park outside Gate 2.
As an exclusive offer from our friends at SkyZone, all Roy's Rookies members can get a $10 Jump Pass to visit SkyZone Macgregor.
Roy
Roy will be out and about this weekend - if you find Roy, snap a selfie with him and upload to Instagram or Twitter and hashtag #spottedwithroy to feature on Roy's page here. Follow Roy on Twitter (@roythelion) and Instagram (@roythelion).
Make sure you join the conversation using #AllForOne and #AFLLionsFreo

All information up to date as of 12.00pm (AEST), June 7 2017.
The views in this article are those of the author and not necessarily those of the AFL or its clubs