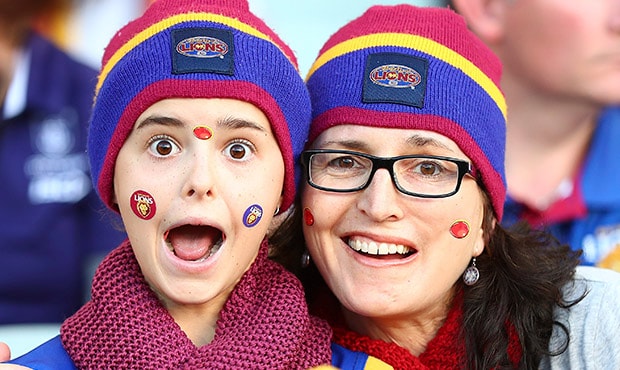 Match Day Info: Sunday 2 July
Below you will find all of the information that you need to plan your game day at your match in Victoria this Sunday.
QUICK LINKS:
AFL Premiership Season: Round 15
Essendon Bombers v Brisbane Lions
Sunday 2 July
Etihad Stadium
Bounce at 1.10pm
Visit the Brisbane Lions' 'Club Hub' located on the concourse outside Gate 5 at Etihad Stadium, to get a dose of Fitzroy history.
The Fitzroy-Brisbane Lions Historical Society will be positioned at the 'Club Hub' with a range of old Fitzroy artefacts for members and supporters to browse. Fitzroy's 1978 Night Premiership win over North Melbourne will also be broadcast at the Club Hub, with the Historical Society set to pay tribute to that team at their Museum Dinner in August.
Official Club Legend Garry Wilson will also make a brief appearance at the Club Hub between 12:15pm - 12:45pm.
Also at the Club Hub, Lions fans will be able to collected pre-arranged tickets for the match, collect their 2017 members cap (only upon presentation of their members' coupon), and purchase match-day raffle tickets (see below).
Please note that the Lions Shop won't be operating at this match, so please contact 07 3335 1787 for any merchandise enquiries.
NB: The Club Hub has replaced the marquees that previously operated on the Bourke St Footbridge at Etihad Stadium matches.
While the Round 15 match against Essendon is NOT fully ticketed, the General Admission area on Level 3 is limited somewhat due to the Bombers having a higher number of member reserved seating areas.
Lions members with general admission entry will still be able to scan their card at the Gate and access the following areas on Level 3:
Level 3, Aisle 22-29 (Rows G-X)
Level 3, Aisle 31-42 (Rows M-X)
Level 3, Aisle 45-5 (Rows G-X)
Level 3, Aisle 7-18 (Rows M-X)
Cheer Squad
The Brisbane Lions Victorian Cheer Squad will be seated on Level 1 in Aisle 24 behind the goals at the La Trobe Street end.
Members can also upgrade to a reserved seat on Level 1 or 2 at an additional cost through Ticketmaster.
Where:
Etihad Stadium, Bourke St, Docklands, VIC 3008
Public Transport
Train
Southern Cross Station is located adjacent to Etihad Stadium. It is a short walk across the Bourke Street pedestrian footbridge.
Night Trains run hourly all night on Friday and Saturday from Flinders Street Station on all lines, except Stony Point and Flemington Racecourse lines. Many stations have more frequent train services through the night.
Tram
City trams run to Etihad Stadium from La Trobe Street and Harbour Esplanade. Trams also stop in the CBD on Spencer Street, Bourke Street and Collins Street and all are a short walk to Etihad Stadium.
Bourke Street / Spencer Street footbridge entrance:
112 St Kilda Fitzroy St to West Preston
31 Victoria Harbour Docklands to Hoddle Street
11 Victoria Harbour Docklands to West Preston
48 Victoria Harbour Docklands to North Balwyn
La Trobe Street entrance:
30 Etihad Stadium Docklands to St Vincent's Plaza
86 Waterfront City Docklands to Bundoora RMIT
35 Waterfront City Docklands / City Circle
Bus
The bus terminus is at Southern Cross Train Station and services airport transfers as well as routes across country Victoria. Etihad Stadium is a short walk across the Bourke Street pedestrian footbridge from the bus terminus.
For up to date public transport information in Victoria including timetables, service disruption information, ticketing or special event services visit ptv.vic.gov.au or download the PTV App.
Car Parking
Etihad Stadium's Car Parking in Docklands Melbourne is open 24 hours a day - seven days a week with more than 2,500 undercover car parks available daily. Please note Etihad Stadium Carpark has a maximum clearance of 2.10 Metres
The Brisbane Lions welcome a collection of our Women of the Pride members to the Round 15 clash, for their annual get-together at the footy.
Booked guests will enjoy a pre-game lunch and drinks in the first-class surrounds of the Medallion Club. Bookings are still available by contacting the Victorian Office on 03 8850 5600.

Lions members and supporters will have an opportunity to WIN their way into the team's changerooms post-game courtesy of our match-day raffle.
Tickets are $2 each (or 3 for $5) and will be sold before the game from the Club Hub (outside Gate 5), at the Lions Cheer Squad area (Aisle 24), and at both our Lionhearts and Women of the Pride match-day functions.
The winners will be drawn at half-time of the match and notified immediately. Prizes are as follows:
1st Prize: Invitation for two (2) people into the rooms post-game to get a signed guernsey from a player
2nd Prize: Brisbane Lions Away Guernsey
3rd Prize: Fitzroy Book written by Jim Main
2017 Match Day Raffle Winners
Round 3 v St Kilda @ Etihad Stadium
1st Prize: Nathan Sharrock (C017)
2nd Prize: Scott Chatwin (C133)
3rd Prize: Daniel (C048)
Make sure you join the conversation using #AFLDonsLions and #AllForOne
#TrueColours
Want to WIN just by showing your colours? Snap a photo of yourself wearing your Lions colours and upload to Instagram with the hashtag #TrueColours for your chance to win great prizes across the season. Wear it, share it and win!

All information up to date as of 10.00am (AEST), June 28 2017.
The views in this article are those of the author and not necessarily those of the AFL or its clubs