The Brisbane Lions Multicultural Coach Intern Kola Kon has had the opportunity to witness how the Club operates during the week and on game day, a rewarding experience that has clarified his long-term career direction.
The Club has equally enjoyed having Kon work alongside them, describing him as a "ripping young man," who has become "part of the furniture."
Kon, originally from Sudan, was awarded the Jesaulenko Internship, which aims to engage Australian migrants in the game of AFL.
His family left Sudan in 1999 and first moved to Egypt, before migrating to Adelaide in 2004.
They stayed there for one-year before moving to Brisbane and have lived here since.
Kon went to St James' College in Fortitude Valley and is multilingual, speaking Arabic and English.
Kon now volunteers two days a week at the Brisbane Lions and follows Midfield Coach Ben Hudson on some of his busiest days, including Game Day.
He also helps the Lions' Community department with their activities and events.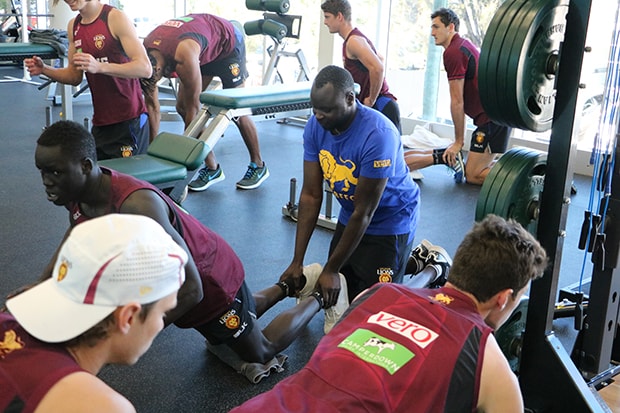 "I've been getting a general idea of what happens behind the scenes. So stuff like strength and conditioning, preparation before the game," Kon said.
Hudson says Kon's want and desire to be part of the Footy Club has endeared him to all the staff and players in the department.
"Brings a smile every time he comes in. That's all we ask," Hudson said.
The experience has furthered Kon's career goal of working as a physiotherapist.
"The coaches have all been very helpful. They answer my questions, whatever I need to know and they're all happy to help and answer in detail," Kon said.
Kon admits he's been pleasantly surprised at how inclusive the team has been.
"There is a bit of banter that goes around with the boys. The surprising thing is how humble and down to earth the players are," Kon said.
"Rhys Mathieson is a very funny guy. Players like Daniel McStay [are] very good as well. Most of them have been good to me."
Kon was first exposed to AFL in Adelaide back in 2004 and has been hooked ever since. Initially, an Adelaide Crows supporter, this experience has since converted him: "Lions all the way," he said.