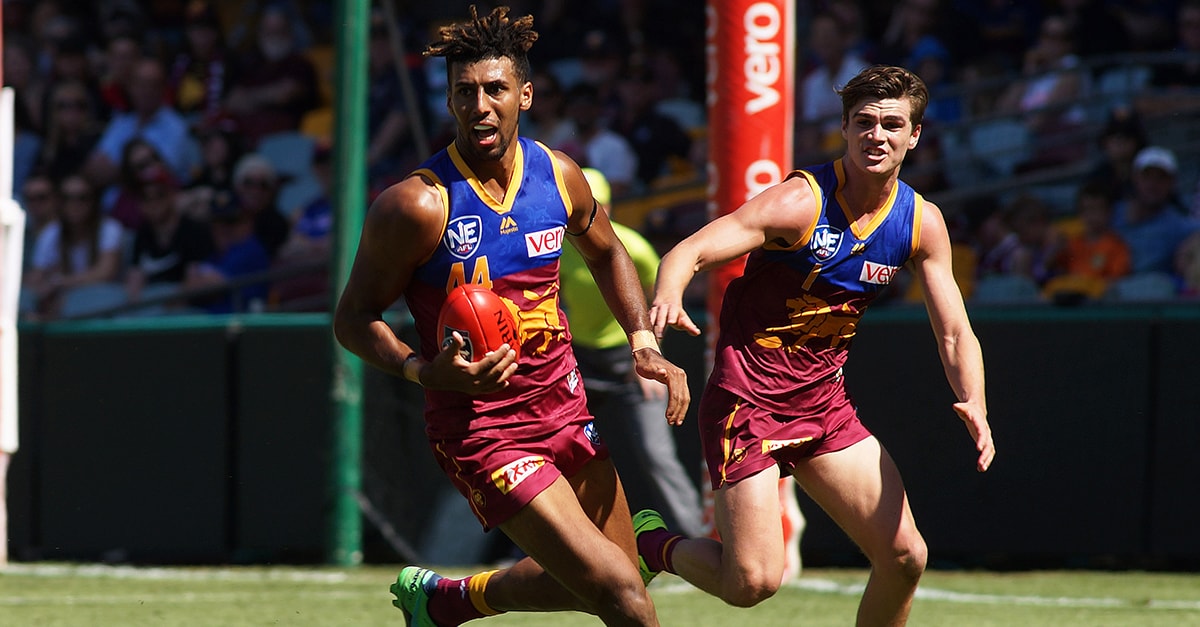 The year is 2012. Prodigious Brisbane Lions talent Archie Smith warms up with his St Laurence's College teammates before one of the biggest games of his short but already extremely promising career.
Just one thing – the match isn't taking place on a footy oval, and the flag they're vying for is a First V Basketball Premiership.
While Smith throws down dunks in the warm up to the excitement of the already hyped supporters behind the base line, the packed out school hall in South Brisbane heaving with students and parents hides an extra in the crowd.
A recruiter from the Brisbane Lions, allegedly at the game to look at a player on the other team, would have undoubtedly had their interest piqued by the pre-game one man show that was Archie Smith, who the Lions had their eye on since they spotted him at an underage national championship.
But the game didn't all go to plan for the then Year 12 student.
"Oh no! Don't bring that up!" laughs Smith at mention of the match.
"That game was probably one of the worst days of my life!"
Perhaps overawed by the occasion St Laurence's were defeated on their home court, and Smith was quiet by his lofty standards.
Despite the disappointment, his fortunes would soon change as Smith joined the Lions Academy, and went on to be picked up by the club with the very last pick of the 2014 Rookie Draft.
He reportedly turned down multiple offers from colleges in the United States for the opportunity.
But even then, as Smith told neafl.com.au, he wasn't sold on his future in footy.
"To be honest there was times where I thought this was going to be a one year thing, I was going to go back to basketball," admits Smith.
And who could have blamed him? Turning his back on a sport his father played for the Denver Nuggets and Milwaukee Bucks and starred in for the Brisbane Bullets would not have been an easy decision.
But in the end Australia's game won him over.
"I'm still contracted to the end of next year and I can see a future here at this place," he says in the Lions inner sanctum, the race up to the Gabba surface etched with the names of champions like Brown, Black and Akermanis on either side.
"I never thought in a million years that this would happen.
"It's amazing what happens in twelve months. This was a completely different story last year so we're all really happy.
"It's a club thing. You see it in numbers 1 to 48, there's just so much care and belief and we want to get better. It's an amazing feeling, everyone wants to come to the club every day and we really feel settled."
He's also formed a dynamic duo in the NEAFL with first-year player and fellow ruckman Oscar McInerney, joining forces with the 2017 Neville Fallon Award winner for the Lions best NEAFL player to dominate opposition ruck divisions.
"I've never found anyone in any sport that we've complimented each other as well as Oscar and myself has," says Smith.
"We're completely different players but he's just amazing in his own right and I love playing with him.
"You can tell why he took out NEAFL best player… he's come a long way, he's a couple of years older than me and this hopefully is a long journey together with him."
Smith, McInerney and the rest of the Lions NEAFL side will face their greatest challenge of 2017 this weekend, taking on the Sydney Swans in the Grand Final at the SCG on Saturday night.
As far as Smith and the rest of the Lions are concerned, it's another stop on the road to glory.
"We can see a destination and a path we want to get to so it's really exciting."
The match kicks off at 7.45pm and will be streamed live on NEAFL TV.
The views in this article are those of the author and not necessarily those of the AFL or its clubs