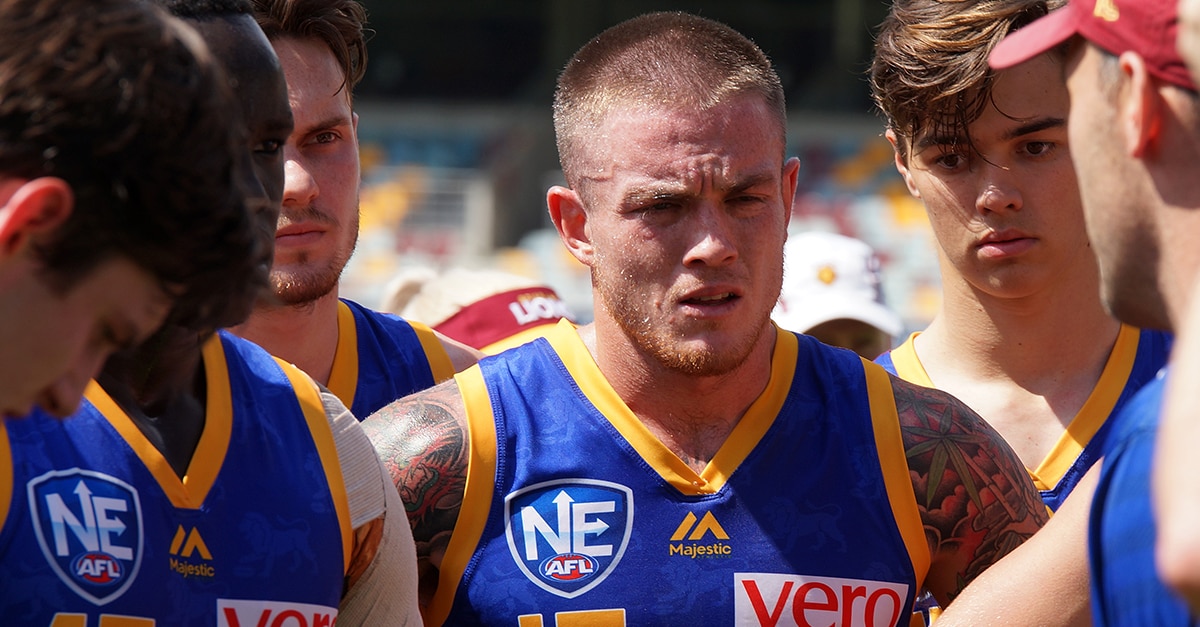 Twenty-seventeen has laid witness to the renaissance of the Brisbane Lions in the NEAFL.
Last weekend's preliminary final win over Sydney University booked their place in this weekend's Grand Final showdown at the SCG against Sydney.
The Lions though, are not strangers from the big dance, having clinched their first premiership in 2012 against Queanbeyan, followed by the 2013 flag against the Swans on the back of a season-equal record 16 wins.
Since that fable day in Spring 2013, fortunes haven't exactly favoured Brisbane, who won just six, two and three games in each season in the succeeding years.
This year, they have won more games than that three-year period combined.
Many things have had to fall in place for Brisbane's Grand Final return, but according the midfield Claye Beams, a cohesive team has been the catalyst.
Speaking after the Lions' 32-point win over the Students, Beams told neafl.com.au he was more than happy to sing the praise of his team.
"It'd be hard to nail (our success) down to one thing," he said.
"We've had a healthy list all year and the medical team have done a wonderful job in terms of keeping players on the paddock for availability for the senior team. And obviously with the seniors playing well, competition for spots have been tough."
But unlike a pre-packaged team-first response which players are often prone to using, Beams' insight bares significant truth.
The Lions were one of only two clubs, along with wooden spooners GWS, to be without a player who polled in excess of 30 votes in the NEAFL MVP.
As his surname suggests, key forward Michael Close was nearest to the mark, polling 27 votes having kicked 18 goals in a career-best NEAFL campaign.
Teammates Rohan Bewick, Liam Dawson, Oscar McInerney, Ryan Bastinac and Ben Keays all eclipsed the 20-vote margin.
"It's a good demonstration of the fact that we've had 22 players playing well each week, playing really solid football," Beams said in response to the new team ethos.
The team's new fortunes this season are of little coincidence however, as the arrival of new senior coach Chris Fagan has heralded a new environment at the club.
Beams agreed, suggesting, "it's mainly a cultural shift. Everyone's rated on trademark and we've got to play that type of football."
"The process was always to try and get through to the 'granny', so only one game to go now."
The Lions' Grand Final opponents were almost unanimously crowned the competition's benchmark for much of the season, however a top-of-the-table upset in Round 19, where Brisbane emerged 19-point victors, advocated a new challenger for the premiership.
Beams, who collected 22 disposals in the win, was quick to supress their early victory ahead of this week's title decider.
"We've had a lot of belief all year in what we've been doing and our processes," he said.
"At the end of the day, it comes down to one game and we've got to do everything we can this week to get the win and it's going to take 23 players playing their role.
"That's no different than any other week, and that doesn't change just because we're facing Sydney."
The 2017 NEAFL Grand Final between the Sydney Swans and Brisbane Lions will be played at the SCG, September 16 at 7:45pm. The match will be live-stream on lions.com.au and updates will be on the Lions NEAFL twitter account.
The views in this article are those of the author and not necessarily those of the AFL or its clubs