Former Brisbane Lions great Martin Pike was in a unique situation when he arrived in Brisbane in 2001. Unlike his soon to be teammates "Pikey" had tasted premiership success with North Melbourne in 1999. Coincidentally, he was also the last player to be awarded Fitzroy's Best and Fairest in 1996 before the merger with the Lions.
Pike did come to Brisbane in strange circumstances. At 27 years old, at the end of the 2000 AFL season he was delisted by the Kangaroos.
Lions Senior Coach Leigh Matthews took a punt on him, which turned out to be well worth the gamble. Pike would be an integral part during the Lions' era of premiership dominance.
Pike reflected on his fateful meeting with Matthews on Browny's Premiership Reunion podcast, speaking with former teammate Jonathan Brown.
He had kept Matthews and then Football Manager Graeme Allan waiting for nearly an hour, after going to the wrong hotel.
"It was a 40 degree day in Melbourne. I wore a suit, jacket, the whole lot. Went and met with Govvy [Allan] and Leigh and they were sitting in thongs, shorts, singlet," he said.
"I really wanted a beer at that stage but I had a coffee to go with it. I was sweating bullets. That wasn't because I was talking to the great Leigh Matthews, it was because I was hot as hell."
The meeting was enough to keep his AFL career alive and he travelled to Brisbane on a basic salary.
"I wasn't the only one. There were probably a lot of players that were paid under the odds. But you got rewarded with premierships. I suppose if you're going to play football, is it about money? Or is it about success?"
Pike admits he didn't sense the Club was on the verge of premiership success when he landed in Brisbane.
"Truthfully no, when I first went up there I knew it was not a bad side I was going to be joining. The thing is, in that first year in 2001 we were four wins and five losses. So the halfway point of the season we weren't looking that great."
He says that all changed after their Round 8 humiliating 12 goal loss to Carlton.
"After that game that was the first time I've seen Leigh Matthews be really disappointed in the whole group. From that moment onwards I think every player in that room understood that if we're going to play under Leigh Matthews we're going to need better effort," he said.
"Things changed pretty quickly. I think we might have lost one other game for the season and we won 16 straight."
Once they were on the winning bandwagon, taking home their first premiership in 2001, it was hard to get off.
"Once we won the first premiership there was no reason why we couldn't go on and do better things."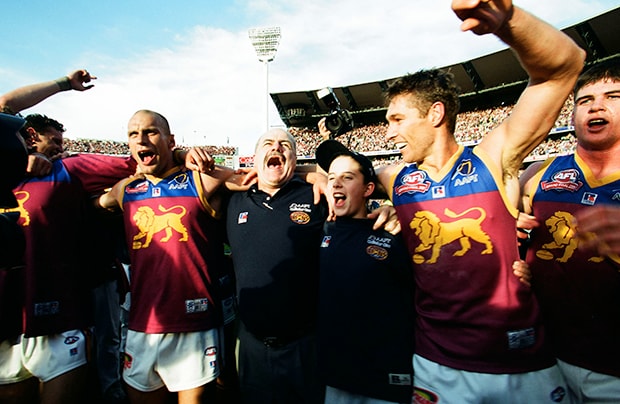 The 2002 Grand Final against Collingwood was something else. The conditions were less than ideal, overcast with a wet, heavy track.
Despite this, Pike was off to a flying start, with 12 possessions in the first half alone.
"He was on fire in tough conditions. It was the toughest game I played in my career. It was cold, it was wet," Brown said.
Until Pike hurt his groin and was forced to sit on the bench for the second half.
"That's probably the hardest two quarters of football I've ever watched in my life, knowing that you can't go out there and help."
Brisbane ruckman Beau McDonald was also injured that day, with the Lions only left with two interchange spots on their bench.
It wouldn't matter though, as they won a consecutive premiership in 2002, ultimately defeating the Pies by 9 points.
Pike says during his years in Brisbane he formed an unbreakable bond with teammates.
"You feel like a bit of a family while you're in it, and once you're sort of out of the football game you still feel like you can ring them up at any stage. Even if you haven't seen some of them in ten years, it's like seeing them yesterday. You've got that bond you'll always share. It's the best thing out of it I got."
Episode 1 of Browny's Premiership Reunion with Michael Voss