Jason Akermanis was a larger than life character, with the skills to match during the Brisbane Lions' era of premiership dominance.
"Aker" was part of the Lions' supreme midfield combination dubbed the "Fab Four", which included himself, Simon Black, Michael Voss and Nigel Lappin.
He was a crowd favourite with his handstands following wins and his striking bleached blonde hair. Aker was undeniably talented, being able to kick on both feet and speedy. But he could be a divisive character, regularly clashing with Senior Coach Leigh Matthews.
"I never had a Dad or anything like that, so all my coaches were my Dads. And poor Leigh he had to be the Dad and he had to be perfect," he said.
"Now having been a coach, I can see what he was talking about many times over."
Aker reflected on his career to former teammate Jonathan Brown, on his podcast Browny's Premiership Reunion.
"With Leigh I know we particularly disagreed on the media. He didn't really like the media… he would play them for fools mostly," he said.
"But when it was me coming in and becoming very well known throughout Queensland and then eventually in the southern states…Leigh couldn't control that."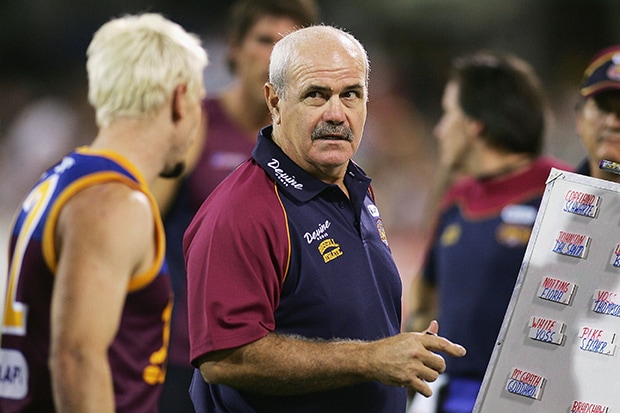 Akermanis, unlike most of his teammates, grew up in Brisbane and understood AFL needed to build its profile in Queenslander. He enjoyed and encouraged the spotlight and explained this to Matthews.
"Our sport needs this, it doesn't have a voice. It only has you and if the players don't talk, they don't come to watch you, they come to watch us…Leigh said 'I think you might have a point here'."
"All of a sudden we were on every channel, radio, in the print newspaper. That was fantastic for our sport."
After Matthews relaxed with players working with media outlets, Akermanis introduced his iconic winning celebration. In the 1999 season, if the Lions won, he would do a handstand in front of supporters.
"Leigh was sort of like all of us, like 'what was that', like 'what the hell is this'? And the crowd was like 'I'm not sure about this stuff.' And even I was like 'oh I don't know how I'm going to get this through,'" Akermanis said.
He persevered with the handstands which fans soon grew to love but Matthews never said a word.
"He never mentioned it. He never ever made comments, did anything about it," Akermanis said.
That changed mid-2002 when the Lions were in a form slump as they were trying to defend their maiden premiership from the year before.
"Leigh comes over before the game, he walks past me and says as cool as a cucumber, as he always was, he said, 'I want to see you do a handstand today.' Everyone knew what it meant," he said.
"That was the coolest thing to me. I'll never forget that. God it was wonderful."
The Lions managed to reach a consecutive Grand Final, this time against Collingwood.
The team were well prepared heading into the match and were favourites. "Aker" was feeling confident ahead of the first bounce but that changed 30 seconds later. The Pies' Ben Johnson hit him from behind, pushing him onto the wet, uneven groud. He ripped his right adductor, on the pelvis, off the bone.
"It was horrible. I couldn't run. Lucky I had my left boot. All those years came in handy."
It was that left boot which sealed a Lions victory that afternoon. On the advice of Matthews, Akermanis pushed forward to kick a snap goal with less five minutes to go, pushing the Lions lead to nine points.
"It going through, everything you'd ever want, from the message from Lethal, to the 30 years I've practiced right foot, left foot; left foot, right foot all day, out on the ground, whenever. It finally came in handy and we won the match," Akermanis said.