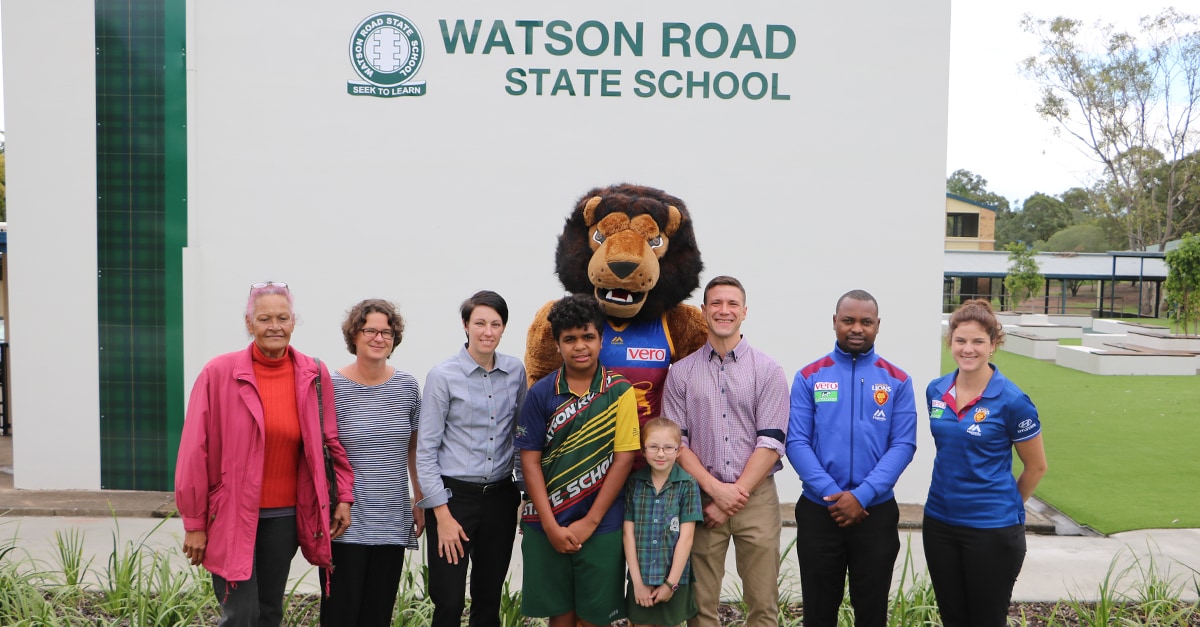 The Brisbane Lions announced today they will provide funding for all 129 Watson Road State School Students to receive a nutritious, healthy breakfast three mornings a week, as part of The Breakfast Program.
Club mascot Roy joined eight-year-old Latifah and eleven-year-old Isiah to celebrate the launch earlier today.
The Breakfast Program was established a year ago and is run by Belong (formerly Acacia Ridge Community Centre) as part of a collaborative effort to ensure the students receive a healthy meal each day. United Way Australia (UWA) facilitates the program.
The complimentary breakfast aims to improve both the intellectual and physical performance of Watson Road State School students.
Acting Principal Gemma Dunn is thrilled the Lions have come on board with financial support.
"Breakfast allows them to come to school ready for learning. Without food, it's hard for the students to focus on learning, retain information and control behaviour," she said.
"The partnership is important to the school, as it gives the children a sense of healthy living. If they did not have the breakfast provided at school, many students would go the day hungry."
Dunn says sharing a meal has also helped her students integrate amongst each other. The school is ethnically diverse with 53% of its students speaking a language other than English at home 17% of the school's population are indigenous.
Brisbane Lions Community Programs Manager Tawanda Karasa said the Lions are passionate about making a positive impact on disadvantaged children's lives.
"Supporting the Breakfast Program is one way of ensuring that the children's educational outcomes at Watson Round are improved," he said.
"The program aligns with the Lions' community mission which is to welcome, inspire and engage people from all communities through providing programs that have a lasting social impact.
"We believe a healthy breakfast will help provide the energy the children need to do well in the classroom and play AFL at lunchtime."
Michelle Gadke, Beyond's Client and Community Programs Manager, says the Breakfast Program started a year ago as an initiative to improve attendance on Mondays and Fridays at the school.
Now, more than half the school's population enjoy breakfast.
But the Brisbane Lions support is imperative to the program's success moving forward.
"We wouldn't have been able to run the breakfast program without the hard work of our volunteers, or without the generous support of the Brisbane Lions AFC, Secondbite, Foodbank and local Acacia Ridge businesses," Gadke said.
Marcus Curcija from United Way said the program "demonstrates the collaborative efforts of organisations in helping Watson Road State School students enjoy and perform at school."
The Lions involvement started today and will run into the next school year.
The views in this article are those of the author and not necessarily those of the AFL or its clubs