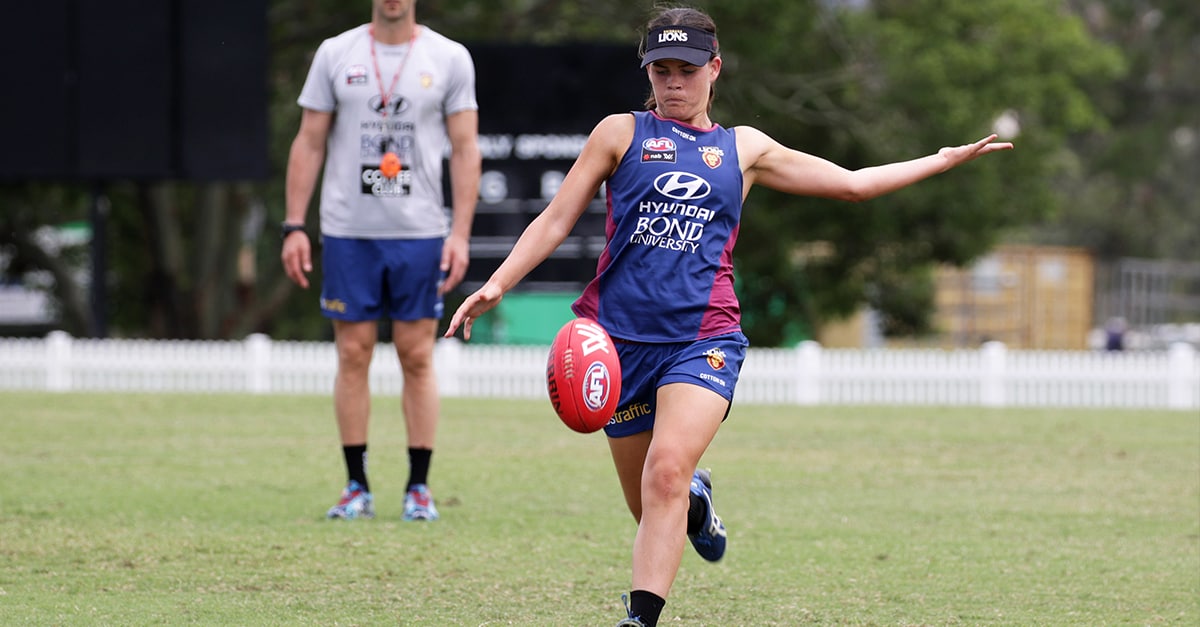 A lot has changed for Sophie Conway in the past 12 months.
She gave up a sport in which she'd been selected for Australia, she got picked up by the Brisbane Lions in the NAB AFL Women's Draft, and most significantly and tragically, she lost her mother to cancer.
In many ways, Conway has been forced to grow up, but the 18-year-old is certainly mature beyond her years.
She was a state and national hockey representative, but with football in her family, she took the sport up two years ago and excelled.
The past year has been particularly challenging, though.
"Mum got diagnosed with breast cancer in 2013 and then she went through chemotherapy and radiation and came out on the good side and went through remission," Conway told AFL Media.
"But then in December last year she got re-diagnosed with brain cancer and it was just a matter of time.
"She did everything right and fought for a very long time, but in June it was all too much.
"Mum did everything and anything for us (Sophie and her two siblings), always giving up her needs to put our sporting needs first.
"If it wasn't for mum and dad, I definitely wouldn't be playing for the Brisbane Lions."
The siblings she speaks of are older brothers Isaac and Ben, the former Lions rookie in 2014 and now playing in the VFL with Port Melbourne.
Sophie says the three are extremely close and have been a great support for one another.
"Isaac was stoked for me [when I got drafted]," she said.
"He called me and he did shed a few tears, which was pretty special.
"We've had a tough year. He said, 'That was the easy part, but now you've got to knuckle down – you've only got half the job done'."
"Both of them live in Melbourne, but I try and get down there quite a bit to see them.
"We've always been close, but especially after what happened, we're even closer. They definitely pass down some great advice, that's for sure."
On the field, Conway has chosen her AFLW dream over hockey and has not looked back.
She's a winger who can spend time in the midfield and can go forward, possessing good spacial awareness and excellent evasive skills, which she picked up in hockey.
Conway recently finished in the top five of the Lions' 2km time trial, so the endurance is there.
Thanks to all the fans who came out to watch the girls train last weekend! 😁

All the best pics: https://t.co/3QUqejH7xA pic.twitter.com/tfytEXNscm

— Brisbane Lions AFLW (@lionsaflw) December 4, 2017
She said her improvement in two years of playing has been obvious.
"I see a massive change in my progression from last year to this year, in terms of reading the play and where to be, because last year I was extremely new to the game.
"Last year I didn't know what was right and what was wrong.
"I have definitely progressed a lot in the last year. [But] it's going to be tough to make the team.
"I want to give each and every training my best effort because it's going to be a tough gig to get that round one start, and that's a goal for me."
The views in this article are those of the author and not necessarily those of the AFL or its clubs