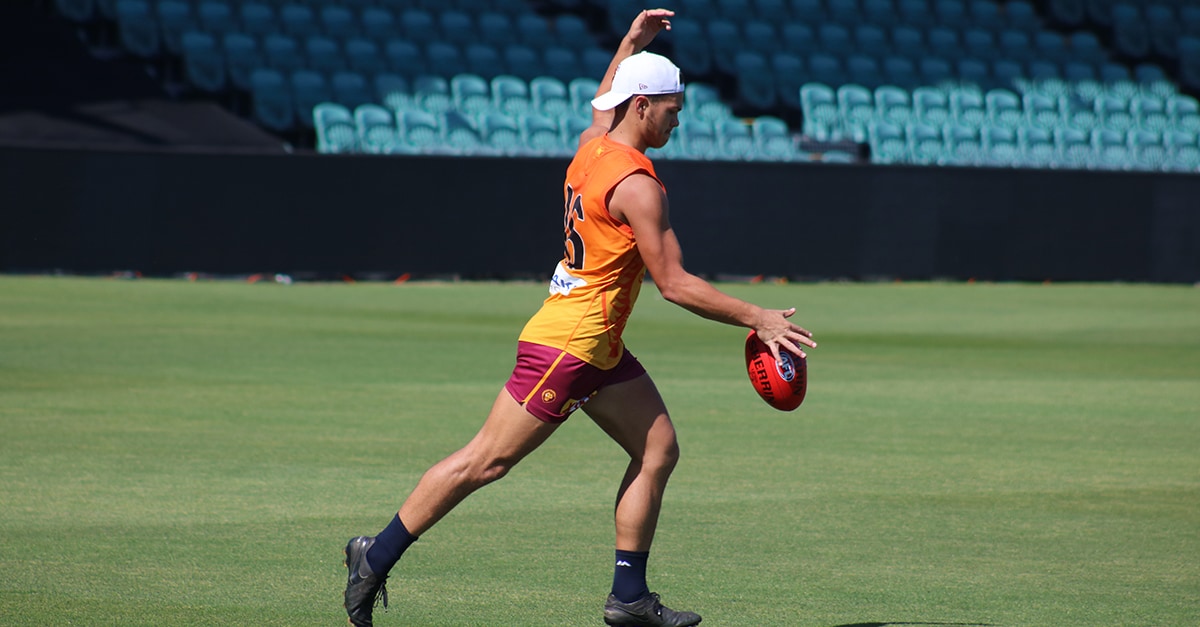 WITH THE Fantasy Pig, Tom Rockliff, officially out of the den … or pen, there are plenty of points to go around. The burning question: who will take advantage of it? I really like the increased opportunities it will offer young stars like Jarrod Berry (MID, $423,000) and Hugh McCluggage (FWD/MID, $431,000).
Dayne Zorko (MID, $805,000) is coming off a ridiculously good year where he elevated his game to genuine premium status after averaging 114. Although he is susceptible to a hard tag, the upside is huge, with eight scores over 120 in 2017, including a whopping 181. It will be interesting to see how he deals with the added responsibility.
When Dayne Zorko gets off the chain, big scores are a near certainty. Picture: AFL Photos.

Allen Christensen (FWD, $331,000) was flying last pre-season and looked set to reward the Lions faithful with a big year. Unfortunately, he was struck down with injury before the first bounce of the season, and multiple setbacks resulted in him missing the entire year. On a positive note, he looks set to hit the park this time around, with a tasty 30 per cent discount to boot. Don't forget he averaged over 83 for three straight years between 2013-15.
Mitch Robinson (FWD/MID, $542,000) was off to a cracking start to 2017 which included scores of 122 and 112 within the first six games, only to have his season end in round seven due to injury with a score of 23. He is fully recovered and fighting fit, which is quite exciting considering he has averaged over 90 on three occasions. He receives a discount for games missed, and the injury-affected 23 also brings his price down nicely.
How could I not mention the future Fantasy Hall of Famer Luke Hodge (DEF, $612,000) in this section? I totally understand that age is not on his side and he will certainly be managed throughout the season, but I can also see him pumping out some huge scores playing across half-back, where he will rack up massive mark/kick numbers. He managed 19 games last year for an average of 87.
Cameron Rayner (FWD/MID, $270,000) isn't considered a bargain among first-year players; in fact, he is the most expensive. But the number one pick in the draft is ready-made to play in round one, and he is likely considered in Brisbane's best 22 as you read. He ticks many boxes with his bullocking play, marking and ball-winning ability, and he knows where the goals are.
It's easy to forget Dayne Beams (MID, $736,000) is a Fantasy Beast, but I've got news for you … he is. Injury has held 'Beamer' back for a number of years now, but every time he hits the park, he reminds us how good he is. The last six weeks of the season were phenomenal from the goal-kicking midfielder, and included scores of 138, 142, 143 and 144.
If you believe second-year blues are a thing, then you won't even be thinking about selecting Alex Witherden (DEF, $604,000) at that whopping price, which, believe it or not, is slightly discounted after featuring in just nine games in his debut season. What is hard to ignore however, is that this legend pumped out five scores over 90 and knows how to take full advantage of kicking to himself from the kick-ins for an extra +3. I love his work!
Click here to check out all of the Brisbane Lions' Fantasy prices and positions
The views in this article are those of the author and not necessarily those of the AFL or its clubs