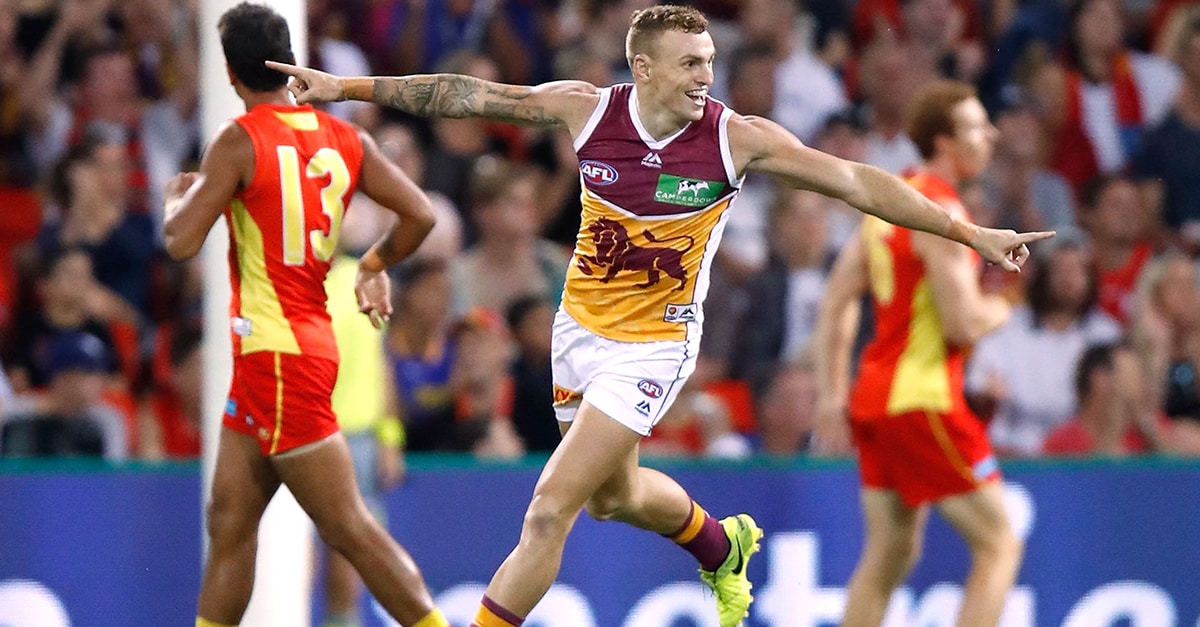 With the season just over 60 days away, we've checked through the stats to find out which Brisbane Lions players are on the verge of big milestones in 2018.
Three senior Lions will be looking to celebrate their 150th match during different stages of the season.
Mitch Robinson is set to be the first to crack the milestone, currently sitting just one match shy of his 150th. If Robinson continues his stellar pre-season form, Lions fans can expect to see him playing his 150th match, and 50th as a Lion, during Round 1 against the Saints at Etihad Stadium.
Dayne Beams will also be hoping to chalk up his 150th match this season. The Lions' Captain currently holds 147 games to his name, averaging just over one goal a game throughout his career (149 career goals).
Ultra-consistent ruckman Stef Martin is 14 games shy of 150th and will be favoured to reach the milestone this year after three consecutive years of 20 plus games a season.
After missing a season-and-a-half due to two collarbone fractures, Allen Christensen will be itching to get back out on the oval come Round 1. 2018 could be the year of century milestones for Christensen, who has a chance to reach 100 matches and 100 goals.
In total, eight Lions could be celebrating 50, 100 or 150 game milestones in the coming season, while nine Lions could tick over goal milestones.
If 2017 was anything to go by, our leading goalkicker Dayne Zorko will boot his 150th goal, if he can manage to slot another 15.
Young gun Eric Hipwood is nine majors shy of the 50 goal mark, having kicked a bucket of goals (30 to be exact) last season.
Prospective milestones in 2018:
150 Games
Mitch Robinson (Currently 149 games)
Dayne Beams (147)
Stef Martin (136)
100 Games
Allen Christensen (98)
Sam Mayes (95)
Lewy Taylor (85)
50 Games
Nick Robertson (47)
Tom Cutler (45)
200 Goals
Luke Hodge (Currently 193 goals)
150 Goals
Dayne Beams (149)
Dayne Zorko (135)
100 Goals
Ryan Bastinac (91)
Charlie Cameron (87)
Allen Christensen (82)
Mitch Robinson (80)
50 Goals
Ryan Lester (45)
Eric Hipwood (41)
The views in this article are those of the author and not necessarily those of the AFL or its clubs