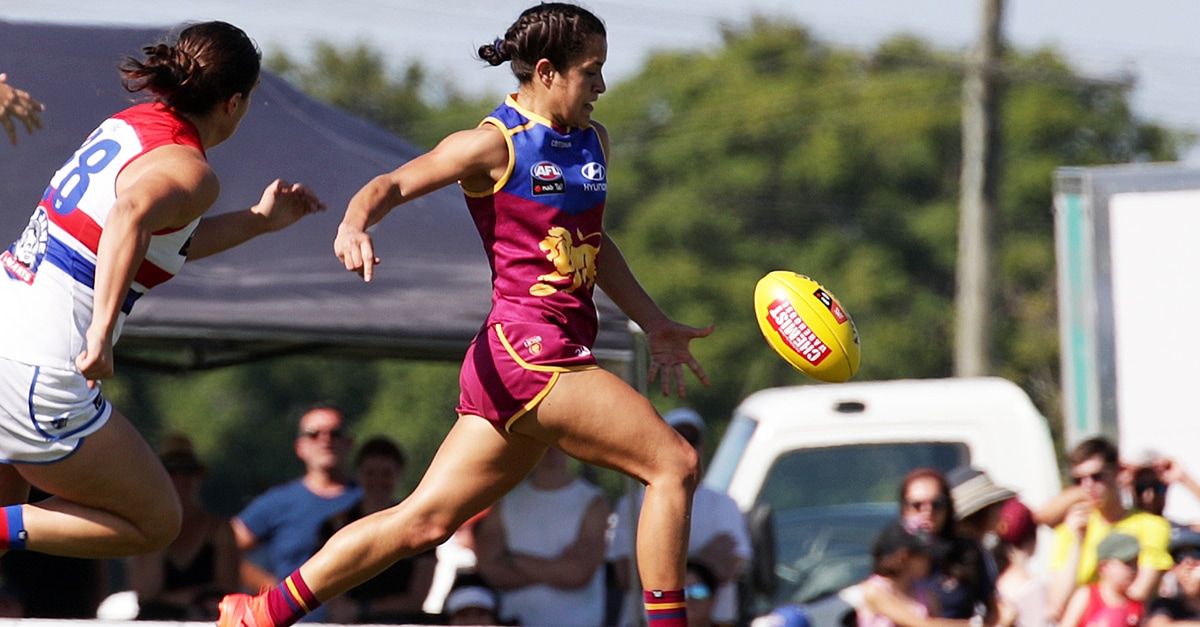 Ally Anderson was amongst the Brisbane Lions' best in yesterday's nine-point defeat to the Western Bulldogs. The tough midfielder started the match strongly by collecting nine disposals in the first term alone while no other player collected more than four.
Anderson's efforts remained consistent throughout the game, finishing with 16 disposals, six tackles and her first ever AFLW goal.
Emily Bates was also a strong performer throughout the midfield, totalling 21 disposals and five marks.
Forward Jess Wuetschner was again the side's leading goal-kicker, mirroring her Round 1 efforts with two goals and sparking the team's comeback in the second half.
In her first game for the Lions, Nat Exon was a welcome addition and applied plenty of pressure in the stifling heat.
After monster opening round performances, Sabrina Frederick-Traub (one mark) and Kaitlyn Ashmore (three disposals) were both kept relatively quiet with the Bulldogs focusing plenty of attention on them.
By the numbers, both teams were equal in moving the ball from stoppages, recording 20 clearances each.
The Lions were prominent with hit outs, winning 30 to Bulldogs' 19. Tahlia Randall was most effective in the centre circle, with 23 hit outs to Tiarna Ernst's 13.
The victorious Bulldogs gave the Lions a lesson in ball control and goal conversion, winning the game with five less opportunities inside 50s and three less marks inside 50.
Disposals:
Emily Bates (21)
Ally Anderson (16)
Jamie Stanton (16)
Emma Zielke (14)
Britt Gibson (13)
Marks:
Emily Bates (5)
Bre Koenen (4)
Emma Zielke (3)
Sophie Conway (3)
Kate McCarthy (3)
Shannon Campbell (3)
Tackles:
Kate Lutkins (8)
Ally Anderson (6)
Nat Exon (4)
Sabrina Frederick-Traub (4)
Tahlia Randall (4)
Sharni Webb (4)
AFL Media's Best
Brisbane: Anderson, Bates, Zielke, Lutkins
The views in this article are those of the author and not necessarily those of the AFL or its clubs