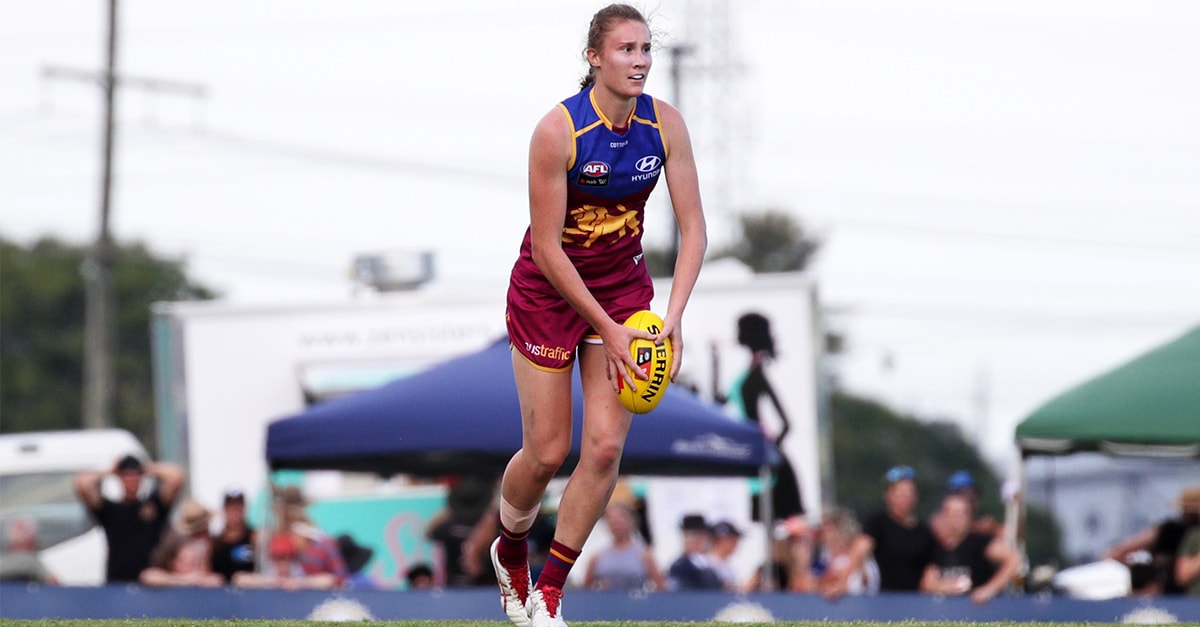 Brianna Davey received a perfect 10 votes from round two in the AFL Coaches Association AFLW Champion Player of the Year award despite her season-ending ACL injury.
The Carlton captain collected 16 disposals and six tackles before injuring her knee in the final quarter, moving her atop the leader board with Western Bulldogs star Emma Kearney on 13 votes.
Melbourne's Karen Paxman was also given the maximum votes after her 21-disposal performance against Adelaide on Saturday.
Brisbane Lions' Tahlia Randall and Emily Bates received three votes each, while Ally Anderson tallied two votes.
Following an impressive first round, Sabrina Frederick-Traub leads the Lions in the tally. Frederick-Traub collected 10 votes against the Crows but was quiet last weekend, tallying zero votes.
GREATER WESTERN SYDNEY v CARLTON, Friday February 9
10 Brianna Davey (Carl), 4 Jess Hosking (Carl), 4 Sarah Hosking (Carl), 3 Shae Audley (Carl), 3 Kerryn Harrington (Carl), 2 Amanda Farrugia (GWS), 2 Nicola Stevens (Carl), 1 Lauren Brazzale (Carl), 1 Courtney Gum (GWS)
MELBOURNE v ADELAIDE, Saturday February 10
10 Karen Paxman (Melb), 6 Bianca Jakobsson (Melb), 5 Chelsea Randall (Adel), 4 Elise O'Dea (Melb), 2 Dayna Cox (Adel), 2 Mel Hickey (Melb), 1 Kate Hore (Melb)
FREMANTLE V COLLINGWOOD, Saturday February 10
9 Ebony Antonio (Frem), 9 Dana Hooker (Frem), 3 Chloe Molloy (Coll), 3 Lisa Webb (Frem), 2 Stephanie Cain (Frem), 2 Kara Donnellan (Frem), 1 Melissa Caulfield (Frem), 1 Melissa Kuys (Coll)
BRISBANE v WESTERN BULLDOGS, Sunday February 11
8 Kirsty Lamb (WB), 7 Emma Kearney (WB), 5 Lauren Spark (WB), 3 Emily Bates (BL), 3 Tahlia Randall (BL), 2 Ally Anderson (BL), 2 Jenna Bruton (WB)
LEADERBOARD
13 - Brianna Davey, Carlton
13 - Emma Kearney, Western Bulldogs
11 - Dana Hooker, Fremantle
10 - Ellie Blackburn, Western Bulldogs
10 - Sabina Frederick-Traub, Brisbane Lions
10 - Chloe Molloy, Collingwood
10 - Karen Paxman, Melbourne
10 - Chelsea Randall, Adelaide
9 - Ebony Antonio, Fremantle
9 - Elise O'Dea, Melbourne
9 - Daisy Pearce, Melbourne
The views in this article are those of the author and not necessarily those of the AFL or its clubs