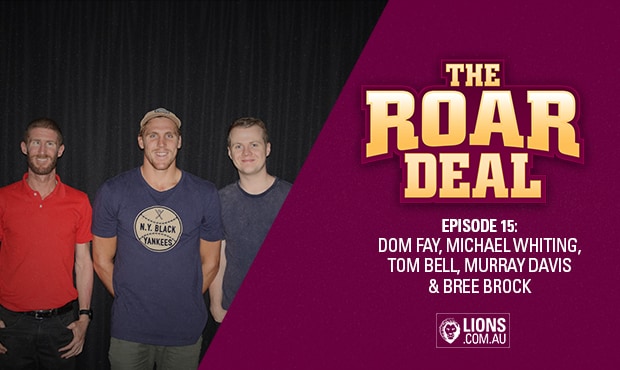 With the Lions' first JLT Community Series match awaiting this Saturday, The Roar Deal Podcast hosts, Dom Fay and Michael Whiting, are labelling the game as an AFLX grand final rematch.
The Lions took out the Sydney leg of the AFLX competition earlier this month, holding off the Sydney Swans by 26 points.
"I wonder if the Lions will take the AFLX trophy along this weekend, just to taunt the Swans a little," Fay joked.
"It might add a little spice to the contest."
Whiting agreed that it would be a funny sight to see but assured Fay that it wouldn't be an easy game for the Lions.
"Everyone knows when you play the Swans you're going to get contested footy and competitive games," Whiting said.
Lions player Tom Bell joined the podcast this week, admitting that the AFLX Grand Final match was an exciting event to be a part of.
"I thought it was great." Bell said.
"Myself, Bundy [Allen Christensen] and Mitch [Robinson] knew we would play from quite early on.
"Because of our injuries we knew the coaches were keen to get some game time into us early."
Bell's strong return to pre-season and playing competitive football is an enormous feat considering he spent the end of last season in a moonboot after breaking his leg.
While Bell admits that rehab can be a very lonely place, he is beyond grateful that he could endure the recovery process with fellow teammates, Christensen and Robinson.
"It helps when you've got a couple of guys that you're close with in rehab because it can be a very lonely place," Bell said.
"You have your good days and your bad days but what's exciting is we can finally put those injuries behind us and start focusing on playing AFL football."
Recovered from injury & back at training! Bell is determined to earn his spot in the Senior side again.

📄: https://t.co/ufhisnddE4 pic.twitter.com/lPJDTIyYfa

— Brisbane Lions (@brisbanelions) November 30, 2017
Away from rehab, Bell used his spare time and energy into renovating his new home.
The 28-year-old has recently completed the final renovations and looks forward to welcoming some new teammates into the downstairs of his home very soon.
"Toby Wooller and Cam Rayner will be moving in downstairs," Bell said.
"It'll be great to show them the way with things such as diet and how to prepare for games."
Since moving to Brisbane following November's draft, Wooller and Rayner have been living with the Lions' CEO Greg Swann and his wife Leonie, to ease their transition into a new state.
Bell was sure to the stir the pot for Wooller and Rayner, jokingly suggesting that 'Swanny' had finally had enough of the boys.
"I don't want to start any rumours but I heard Swanny kicked them out."
"He was sick of them free-loading from what I heard."
After renovating his first home, Bell has developed a strong interest in the world of construction and property.
This week he and Rohan Bewick began their first week of University and Bell hopes that one day a degree in something similar to construction management will lead him down a new career path post-football.
"I think starting this degree is a good stepping stone," Bell said.
"My interest in construction has probably stemmed from wanting to renovate my own home.
"It could potentially be something that comes to me as a career post-football."
Ahead of this weekend's JLT match, Lions Assistant Coach Murray Davis also joined the podcast.
Murray will be in the hot seat this weekend as he steers the JLT team around from the coaches box.
Murray's metaphor for coaching this weekend was, "the boss [Fagan] is letting me reverse the car out of the driveway, I just need to get it back in one piece."
"Fagan has been great in giving us opportunities to experience different things and I'm looking forward to it."
Lions AFLW CEO Bree Brock was the final guest who joined the podcast ahead of Friday's Round 5 match against the Melbourne Demons.
Brock has been impressed by the competition amongst the Clubs during the second AFLW season.
"The competition is really even this year and coming into the last three rounds, who knows what's going to happen," Brock said.
The Lions currently sit second on the ladder and will be hoping to further their Grand Final chances when they take on Melbourne, who are currently third, this Friday night.
The views in this article are those of the author and not necessarily those of the AFL or its clubs