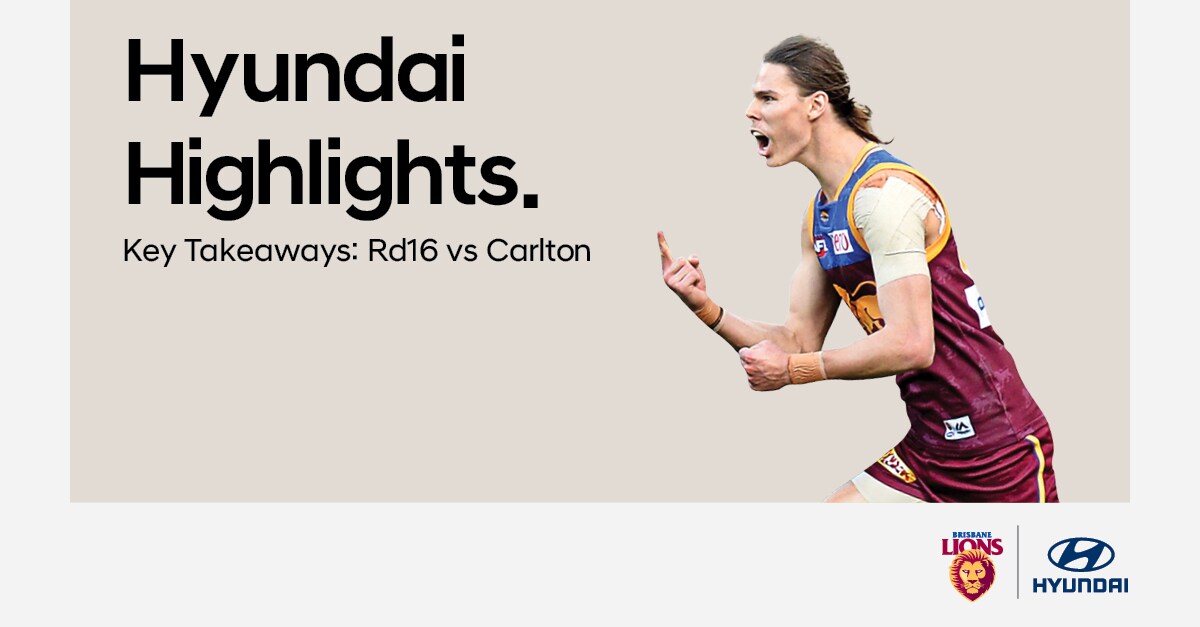 Eric Hipwood joined the executive division of the Brisbane goal-kicking department with a career-best six goals in last Saturday's thumping 65-point win over Carlton at the Gabba.
Hipwood became the 23rd player in Club history to kick six or more goals in a game and the first since Ash McGrath's bag of six in the last game of 2013.
Hipwood matched his previous career-best of four goals late in the third term, added a fifth just before the final change, and had his half dozen in the opening minute of the fourth quarter.
And but for his unselfishness, which was strongly commended by coach Chris Fagan after the game, the rangy 20-year-old may well have finished with seven or eight.
"I know he kicked six goals and everyone will make a fuss about that, but I look at his game and ask was he selfless or selfish, because that's the biggest challenge for a forward," said Fagan in his post-game media conference.
"I thought today he played a really selfless game and still kicked six goals, which is good feedback to him that you can do both.
"Every time the ball had to be given to someone else today, he did what he needed to do and sometimes when you're on a roll like that you can get a little on the selfish side, but to his credit he didn't, so I'm really pleased for him."
Hipwood, in his 45th game, joined the great forwards in Club history who have often kicked six or more in a game to dominate the Club record books, and a string of one-timers often forgotten for what is a genuinely special performance.
Interestingly, the Brisbane player with most games of six-plus is not the celebrated pair of Jonathan Brown or Alastair Lynch, but Daniel Bradshaw.
Bradshaw, second on the Club's all-time goal-kicking list with 496 behind Brown (594) and ahead of Lynch (460), kicked 12 bags of six, five bags of seven, plus an eight and a nine for total of 19.
Lynch kicked six five times, seven six times and eight three times for a total of 14, while Brown booted eight sixes, five sevens and three eights, plus a Club record 10 against Carlton at the Gabba in 2007 for a total of 17.
Between them the premiership trio have 50 of the Club's 96 bags of six or more.
Nine others kicked six goals plus more than once: Roger Merrett (7), Brad Hardie (5), Jarrod Molloy (3), Warwick Capper (2), Cameron O'Brien (2), Darryl White (2), Jason Akermanis (2), McGrath (2) and John Hutton (2).
But how many of the other 18 can you name?
In reverse chronological order they have been: Daniel Merrett (2012), Jared Brennan (2007), Michael Voss (2004), Des Headland (2012), Luke Power (2000), Tim Notting (1999), Craig McRae (1996), Justin Leppitsch (1996), Scott McIvor (1995), Michael Murphy (1993), Rod Owen (1992), Laurence Schache (1991), David Cameron (1991), John Gastev (1989), John Fidge (1987) Bernie Harris (1987), Mark Williams (1987) and Jim Edmond (1987). Details are at the bottom of the page.
It was a massive day for the statisticians on Saturday as the Lions posted back-to-back wins for the first time since Rounds 6-7 in 2015, when they beat Carlton by nine points at Etihad Stadium and Port Adelaide by 37 points at the Gabba.
For Alex Witherden, Hugh McCluggage, Jarrod Berry, Cam Rayner, Oscar McInerney, Jake Barrett and Hipwood it was the first time they have ever won two in a row, and for Josh Walker it was the first time he had done so in Brisbane colours.
It was the first time since Rounds 13-14 in 2012 the club has had consecutive 50-point wins, and the biggest win since a 67-point triumph over Collingwood at the MCG in Round 21, 2014, when Jono Freeman kicked four goals in his second game.
And it was the first time since 2002 the Lions have won eight quarters in a row.
Dayne Beams was on track for a Club record possession haul when he went to halftime with 25 and finished with 40. It was the third time as a Lions player he's topped 40, following 41 in 2017 and 40 in 2016
Tom Rockliff, with eight games of 40-plus, David Bain (2), Michael McLean (1), Luke Power (1) and Pearce Hanley (1) are the only other Brisbane players to have 40 or more possessions in a game.
During the latter years of Fitzroy history, since statistics were kept from 1965, Garry Wilson had four 40+ games, Matty Armstrong two, and Brendan McCormack, John Murphy, Simon Atkins, Graeme Allan, Paul Roos and Jason Baldwin one each.
Also on Saturday, Witherden had a career-high 31 possessions and Gardiner a career-high 27 disposals and 15 marks, with his 15 marks the highest for the club since Matt Maguire took 15 in 2013.
Collectively, with 442 team possessions, the Club topped 400 for the 23rd time in 720 games, and recorded the Club's third-highest tally all-time, missing the record by just three.
They had 443 team possessions against Fremantle at the Gabba in Round 11 last year, and an all-time best 445 against West Coast at the Gabba in Round 13 2016.
Significantly, too, the Lions had 11 players with 20 possessions or more as they made it three wins in a row against the Carlton, and six of their last seven.
Only once in Club history have they had more – and that was 28 years ago when each team only fielded 20 players. On that day they had 12.
It was Round 12, 1990, when the Brisbane Bears played Melbourne at Waverley. John Gastev topped the stats sheet with 38, while Martin Leslie (32), Phillip Walsh (31) and David Bain (30) also had 30-plus.
Eight others had 20-plus: Mike Richardson (27), Mark Withers (26), fourth-gamer David Wearne (26), Marcus Ashcroft (25), Mark Roberts (21), Mark Zanotti (21), Roger Merrett (20) and fifth-gamer Peter Davidson (20).
Also on Saturday, the team collectively had a season-high 1893 Champion Data ranking points, topping the Round 15 effort of 1857 against Fremantle.
A season-high nine players scored 100-plus ranking points: Beams (148), Hipwood (130), Dayne Zorko (129), Luke Hodge (121), Darcy Gardiner (121), Daniel Rich (119), Tom Cutler (111), Stefan Martin (110) and Witherden (105).
Martin posted his ninth 100+ score, Beams his eighth, Zorko his seventh, and Hipwood and Gardiner their first.
BRISBANE FOOTBALL CLUB - 6+ GOALS IN A GAME

Player

6

7

8

9

10

Total

Bradshaw, Daniel

12

5

1

1

19

Brown, Jonathan

8

5

3

1

17

Lynch, Alastair

5

6

3

14

Merrett, Roger

3

2

2

7

Hardie, Brad

1

3

1

5

Molloy, Jarrod

2

1

3

Capper, Warwick

1

1

2

O'Brien, Cameron

1

1

2

White, Darryl

1

1

2

Akermanis, Jason

2

2

McGrath, Ash

2

2

Hutton, John

2

2

Williams, Mark

1

1

Harris, Bernie

1

1

Fidge, John

1

1

Cameron, David

1

1

Schache, Laurence

1

1

McIvor, Scott

1

1

Leppitsch, Justin

1

1

McRae, Craig

1

1

Notting, Tim

1

1

Power, Luke

1

1

Headland, Des

1

1

Hipwood, Eric

1

1

Gastev, John

1

1

Voss, Michael

1

1

Brennan, Jared

1

1

Merrett, Daniel

1

1

Edmond, Jim

1

1

Owen, Rod

1

1

Murphy, Michael

1

1

50

28

15

2

1

96

Note: Details statistics of Fitzroy players to kick six or more goals in a game are not available.
The views in this article are those of the author and not necessarily those of the AFL or its clubs