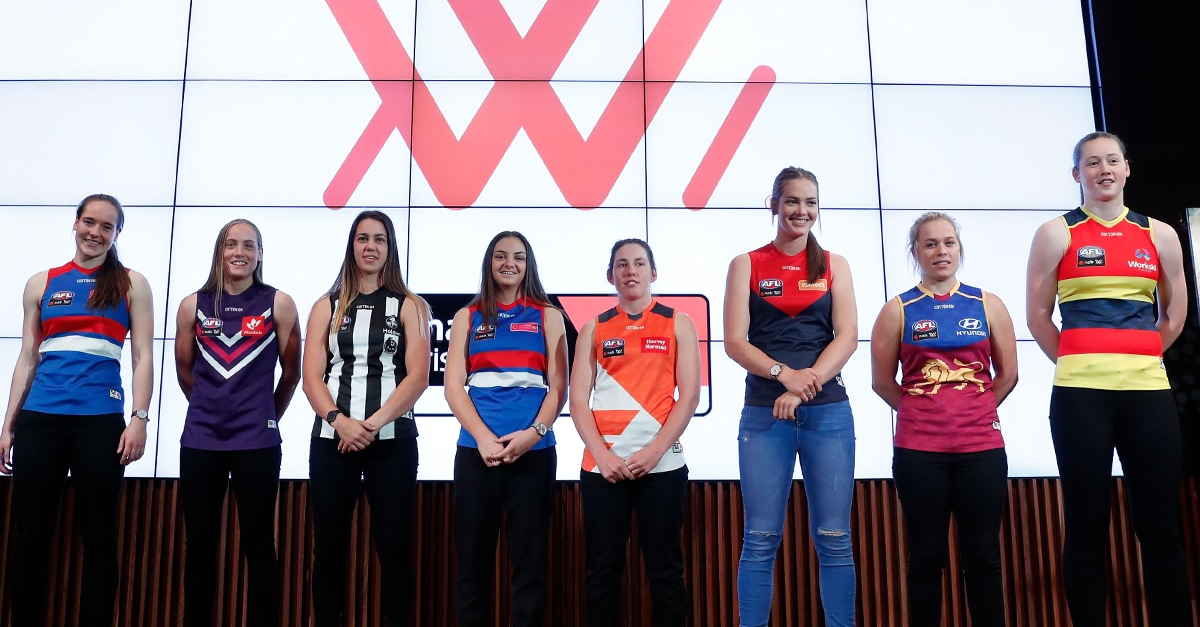 AFLW team lists are nearly complete ahead of the 2018 NAB AFL Women's Draft in Melbourne on October 23.
All clubs have now signed their two "cross-code" rookies, players who hadn't played football in the three years to May 1 this year or been involved in an AFLW high-performance program.
Last Friday the Brisbane Lions recruited their second cross-code rookie Bri McFarlene, who comes from a strong soccer background.
Here's a look at the clubs' lists and delisted players as at October 10.
BRISBANE LIONS
Players: Ally Anderson, Lauren Arnell, Bella Ayre, Emily Bates, Ruby Blair, Shannon Campbell, Arianna Clarke, Gabby Collingwood, Nat Exon, Sabrina Frederick-Traub, Megan Hunt, Leah Kaslar, Jessy Keeffe, Breanna Koenan, Kate Lutkins, Kate McCarthy, Brianna McFarlane (rookie), Emma Pittman, Krystal Scott (rookie), Sam Virgo, Sharni Webb, Jessica Wuetschner, Jordan Zanchetta, Emma Zielke.
Inactive players: Sophie Conway (ACL)
Coach: Craig Starcevich
ADELAIDE
Players: Sarah Allan, Ailish Considine (rookie), Dayna Cox, Courtney Cramey, Angela Foley, Renee Forth, Anne Hatchard, Jasmyn Hewett, Eloise Jones, Sophie Li, Rheanne Lugg, Ebony Marinoff, Jenna McCormick, Rhiannon Metcalfe, Justine Mules, Maisie Nankivell (rookie), Sarah Perkins, Erin Phillips, Marijana Rajcic, Chelsea Randall, Sally Riley, Jessica Sedunary, Stevie-Lee Thompson, Deni Varnhagen
Inactive players (will not play in 2019): Jess Allan (work), Ruth Wallace (personal)
Coach: Matthew Clarke
CARLTON
Players: Shae Audley, Amelia Barden, Lauren Brazzale, Chloe Dalton (rookie), Brianna Davey, Alison Downie, Georgia Gee, Kerryn Harrington, Tayla Harris, Reni Hicks, Jess Hosking, Sarah Hosking, Bridie Kennedy, Katie Loynes, Tilly Lucas-Rodd, Breann Moody, Natalie Plane, Gabriella Pound, Nicola Stevens, Darcy Vescio, Brooke Walker (rookie), Courtney Webb.
Coach: Daniel Harford
COLLINGWOOD
Players: Brittany Bonnici, Ashleigh Brazill, Sophie Casey, Steph Chiocci, Sarah D'Arcy, Sarah Dargan, Emma Grant, Darcy Guttridge, Nicole Hildebrand, Eliza Hynes, Melissa Kuys, Jaimee Lambert, Sharni Layton (rookie), Stacey Livingstone, Cecilia McIntosh, Georgie Parker, Iilish Ross, Sarah Rowe (rookie), Ruby Schleicher, Kristy Stratton, Holly Whitford.
Inactive players: Chloe Molloy (foot)
Coach: Wayne Siekman
FREMANTLE
Players: Ebony Antonio, Ashlee Atkins, Kiara Bowers, Tayla Bresland, Stephanie Cain, Melissa Caulfield, Cassie Davidson, Kara Donnellan, Kellie Gibson, Evie Gooch, Brianna Green, Dana Hooker, Gemma Houghton, Alicia Janz, Leah Mascall, Tayla McAuliffe, Hayley Miller, Brianna Moyes (rookie), Gabby O'Sullivan, Ashley Sharp, Angelique Stannett (rookie), Alex Williams.
Coach: Trent Cooper
GEELONG
Players: Cassie Blakeway, Maddie Boyd, Hannah Burchell, Mia-Rae Clifford, Richelle Cranston, Julia Crockett-Grills, Kate Darby, Renee Garing, Rebecca Goring, Melissa Hickey, Erin Hoare, Jordan Ivey, Meghan McDonald, Maddy McMahon (rookie), Phoebe McWilliams, Aasta O'Connor, Danielle Orr, Georgie Rankin (rookie), Anna Teague, Hayley Trevean.
Coach: Paul Hood
GREATER WESTERN SYDNEY
Players: Jacinda Barclay, Nicola Barr, Rebecca Beeson, Eleanor Bennetts, Christina Bernardi, Yvonne Bonner (rookie), Ellie Brush, Maddy Collier, Jess Dal Pos, Taylah Davies (rookie), Alica Eva, Amanda Farrugia, Courtney Gum, Tanya Hetherington, Jodie Hicks, Tait Mackrill (rookie), Erin McKinnon, Phoebe Monahan, Pepa Randall, Aimee Schmidt, Cora Staunton, Louise Stephenson, Emma Swanson, Britt Tully.
Coach: Alan McConnell
MELBOURNE
Players: Harriet Cordner, Tegan Cunningham, Meg Downie, Chantel Emonson (rookie), Maddison Gay, Madeleine Guerin, Ashleigh Guest, Kate Hore, Bianca Jakobsson, Ainslie Kemp, Sarah Lampard, Lily Mithen, Aliesha Newman, Elise O'Dea, Brooke Patterson, Karen Paxman, Lauren Pearce, Catherine Phillips, Talia Radan, Shelley Scott, Casey Sherriff, Shae Sloane (rookie), Katherine Smith, Claudia Whitfort, Eden Zanker.
Inactive players: Daisy Pearce (pregnancy)
Coach: Mick Stinear
NORTH MELBOURNE
Players: Sophie Abbatangelo, Kaitlyn Ashmore, Daria Bannister, Jenna Bruton, Alison Drennan, Jess Duffin, Jasmine Garner, Brittany Gibson, Kate Gillespie-Jones, Jasmine Grierson, Danielle Hardiman, Moana Hope, Emma Humphries, Emma Kearney, Elisha King, Emma King, Taylor Mesiti, Georgia Nanscawen, Tahlia Randall, Ashleigh Riddell, Tayla Roberts (rookie), Maddison Smith, Jamie Stanton, Jessica Trend, Jessie Williams (rookie).
Coach: Scott Gowans
WESTERN BULLDOGS
Players: Deanna Berry, Libby Birch, Ellie Blackburn, Katie Brennan, Tessa Boyd (rookie), Nicole Callinan, Monique Conti, Tiarna Ernst, Naomi Ferres, Elise Gamble, Angelica Gogos, Bailey Hunt, Isabella Huntington, Kirsty Lamb, Brooke Lochland, Emma Mackie, Kirsten McLeod, Celine Moody (rookie), Kimberley Rennie, Hannah Scott, Belinda Smith, Lauren Spark, Bonnie Toogood, Aisling Utri, Hayley Wildes.
Coach: Paul Groves
The views in this article are those of the author and not necessarily those of the AFL or its clubs