Skip to:
The Hyundai Help for Kids Lions Academy is a development and coaching program designed for aspiring AFL players between the ages of 12 and 18 years.
The Academy enables the Brisbane Lions to identify and nurture local talent within designated zoned areas throughout Queensland, constructing a pathway for young players to realise their potential in their chosen sport and perhaps become a senior player in the future.
The program involves four separate stages of involvement – from the Future Stars program at primary school level right up to Under 18 level where the most promising representatives could possibly play with the Brisbane Lions Reserves team in the NEAFL.
The Academy aims to attract promising athletes, allowing the Club to fast-track the development of up to 120 young Queenslanders each year.
Objectives
The key objectives of the Hyundai Help for Kids Lions Academy are as follows:
- Target and attract potential AFL players aged between 12 and 18 years
- Fast-track the development of these individuals by providing elite coaching, facilities, infrastructure
and support services
- Provide state-of-the-art skills coaching and analysis
- Provide leadership, teamwork and mental skills to assist in the personal development of participants
- Provide best-practice physical training and nutritional advice to support optimal performance
- Increase the number of Queensland players drafted or rookie listed by the Brisbane Lions and other AFL Clubs
Exclusive Guernsey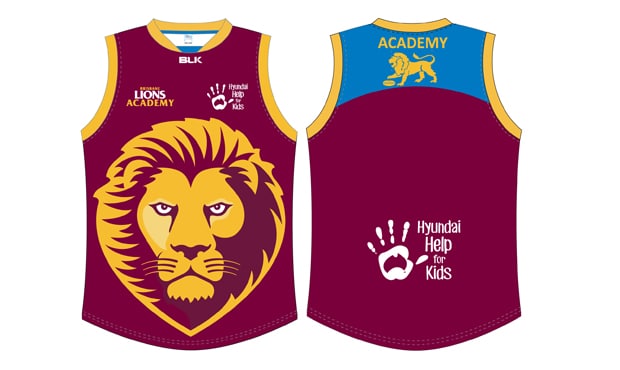 All members of the Hyundai Help for Kids Lions Academy will receive their very own Club Guernsey which has been specially designed by the Lions players and football staff to reflect a strong connection to the jumper worn by the senior team.
"Hopefully the jumper can help spur these kids further towards potentially trading it in for a senior Brisbane Lions Guernsey in a few years' time," explains Lions CEO Greg Swann.
The new Guernsey design features prominent branding from supporters Hyundai Help for Kids and will be worn exclusively by students, providing them with their first official Lions jumper.
Length of Involvement
All members of the Hyundai Help for Kids Lions Academy will be involved in the program for an initial 12 month period and will then be reviewed on aspects such as attendance levels, attitude, behaviour, skill level, development progression and performance in games throughout the year.
The post-season review will assess whether a player will continue through to the next stage of development.
Players who do exit the Academy can be invited back if they demonstrate considerable improvement in the areas identified by the Academy staff and coaches.
All players in the Hyundai Help for Kids Lions Academy will participate in AFL Queensland's regional talent programs and play in the state development championships at Under 14 & 16 levels. Academy players aged 17 & 18 years of age will participate in the joint Academy and AFLQ Under 18 summer development program in the lead-up to the selection trials to pick the State U18 championship squad.
Hyundai Help for Kids
Created in 2014 as a joint initiative between Hyundai Motor Company Australia and the Hyundai National Dealer Network, Hyundai Help for Kids was established to provide grants to a range of organisations focused on delivering assistance to children and the families who support them through sport, culture, community engagement, education, health and social welfare initiatives.
As a Proud Partner of the Lions Academy, Hyundai Help for Kids will support their work at a grassroots level with a strong commitment to the community and to promoting sport as a key measure of young adult development.
For more on Hyundai Help For Kids, visit the website: http://www.hyundaihelpforkids.com.au/