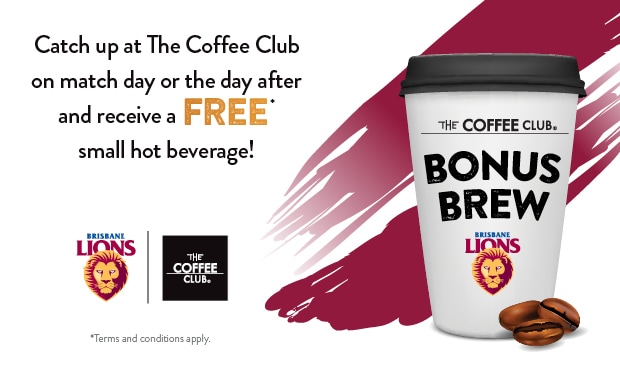 Thanks to the Brisbane Lions Coaches Partner, The Coffee Club, you will receive a FREE* small hot beverage from participating stores across Brisbane and Melbourne when the Lions play a game in that city.
This offer is valid on match day or the day after, and only valid in Brisbane when Home Games are played, or in Melbourne when the Lions play at the MCG or Marvel Stadium.
BRISBANE BASED FANS
Simply present your game day ticket and 2019 Brisbane Lions membership card (including seasonal, 3-game and flexi memberships) to redeem on Saturday 7th or Sunday 8th September, 2019.
See list of participating Brisbane stores.
*Terms and conditions apply for both Brisbane and Melbourne.