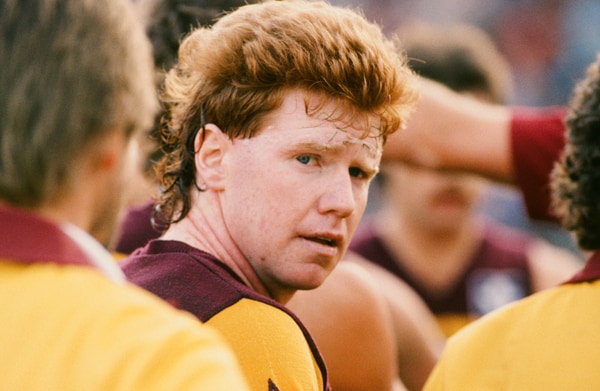 It was Friday night, 27 March, 1987. A new era in Australian Football was born when the Brisbane Bears stepped onto the MCG for the clubs very first game against North Melbourne.
A team branded 'misfits and 'rejects took on the powerful Kangaroos and, against overwhelming odds, they triumphed by 33 points.
It was an unforgettable post-match scene as 20 players and a largely inexperienced coaching staff, administration and support staff clutched pieces of paper carrying the words to the new club song.
For about 20 hours, until other first-round matches in season 87 were played, the Bears sat on top of the AFL ladder. Or to be more particular, they sat on top of the VFL ladder, as it was in those days.
Vice-captain Mark Williams had the first Bears kick, rover Bernie Harris kicked the first Bears goal and Brenton Philips was best afield as they led at every change and got home 19.23 (137) to 15.14 (104) over a shell-shocked North.
It was a fairytale beginning for a side which would beat Geelong at Kardinia Park the following week before the thunderous reality of League football hit home at Moorabbin in Round 3, when they were beaten by 50 points by StKilda.

FINAL SCORE

| | | | | |
| --- | --- | --- | --- | --- |
| BRISBANE BEARS | 4.6 | 10.11 | 15.17 | 19.23 (137) |
| NORTH MELBOURNE | 3.5 | 6.9 | 10.13 | 15.14 (104) |

GOALS
Bears: Phillips 5, Edmond 3, Williams 2, Hardie 2, Harris 2, Hein 2, McCarthy, Campbell, OKeeffe.
Roos: J Krakouer 2, Larkin 2, Schimmelbusch 2, Harris 2, Crocker 2, Holt, Mossop, Smith, Arceri, Stevenson.

BEST
Bears: Phillips, Harris, Walsh, Williams, Fidge, Edmond.
Roos: Schimmelbusch, Steele, Holt, Smith, Harris, J Krakouer.

FIRST BRISBANE BEARS TEAM

| | | | |
| --- | --- | --- | --- |
| B | Peter Banfield | Mark Roberts | Dale Dickson |
| HB | Cameron O'Brien | Steve Reynoldson | Matthew Campbell |
| C | David O'Keeffe | Geoff Raines | Phillip Walsh |
| HF | Brenton Phillips | Mick McCarthy | John Fidge |
| F | Neil Hein | Jim Edmond | Mike Richardson |
| FOLL | Mark Mickan (c) | Mark Williams (vc) | Bernie Harris |
| INT | Brad Hardie | Chris Waterson | |
| COACH | Peter Knights | | |