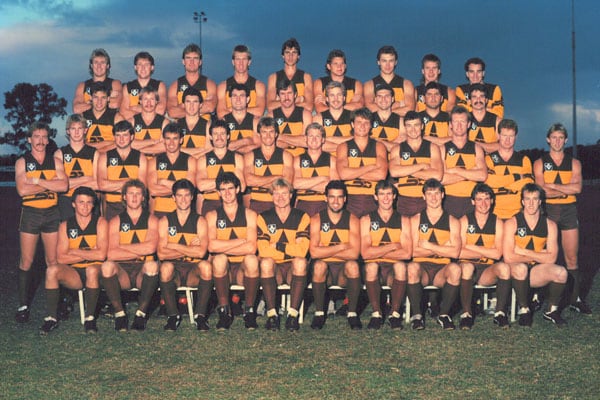 The Brisbane Bears Football Club was formed on 6 October, 1986, when, after a protracted battle, a licence for a Queensland-based club in the then Victorian Football League was awarded to a joint syndicate headed by businessman/actor Paul Cronin, the inaugural chairman, and the QAFL.

Christopher Skase bank-rolled the club via his company Qintex, and was the inaugural deputy chairman. Former QAFL general manager Ken Murphy headed the full-time administration, while ex-Hawthorn champion Peter Knights was the club's first coach.

The off-field football football 'team' included Shane O'Sullivan (general manager - football), Mark Maclure (assistant-coach) and Jim Sewell (football manager).

And so it was, on Friday 27 Marck 1987, that a new era in Australian Football was born when the Brisbane Bears stepped onto the MCG for their first official VFL match against North Melbourne.

A team branded 'misfits and 'rejects' took on the powerful North Melbourne Kangaroos and, against overwhelming odds, triumphed by 33 points.

It was an unforgettable post-match scene as 20 players and a largely inexperienced coaching staff, administration and support staff clutched pieces of paper carrying the words to the new club song.

It was a fairytale beginning for a side which would beat Geelong at Kardinia Park the following week before the thunderous reality of League football hit home in the following years.

The Brisbane Bears' ten years existence saw a number of jumper design changes, mixed results on the field and a move from Carrara to the Gabba.

The Bears experienced Finals for the first time in 1995 before mounting a serious challenge for the premiership in 1996. That same year, a young midfielder by the name of Michael Voss won a Brownlow Medal at the age of 21.