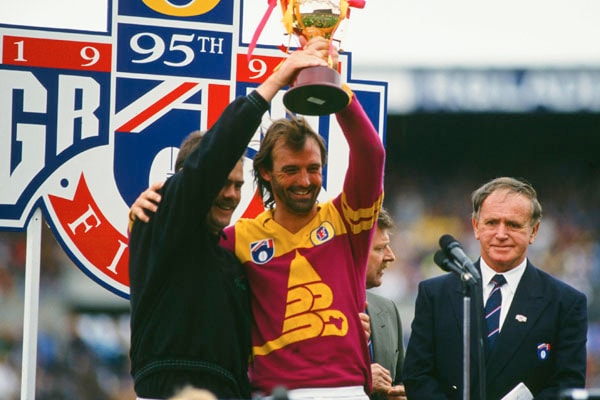 It was 1.50pm on Saturday, 28 September, 1991. The Brisbane Bears did a lap of honour at Waverley. A crowd of 75,000 applauded raucously for 10 minutes as they trudged around the perimeter, premiership cup held proudly aloft.
To 20 ecstatic Bears players and their small band of Melbourne-based supporters it didn't matter that it was only the Reserves. It was still a flag. And it was history in the making.
Indeed, it was a day the Bears enjoyed a special moment of glory when the Reserves claimed the first AFL premiership flag to travel outside Victoria.
Coached by Rodney Eade and skippered by Rod Lester-Smith, the Bears Reserves beat Melbourne in emphatic fashion 16.13 (109) to 11.9 (75) in just their third year in the competition to claim the fledgling club's only pennant.
Why Waverley? Because the new Southern Stand was under construction at the MCG, meaning the AFL had to move that 'one day in September' to an alternative venue.
It was a Bears side with an average age of 23, with an excellent mix of experienced AFL players and up-and-coming youngsters.
They were strong sentimental favorites with the sell-out crowd, and they did their adopted fans proud, kicking 8.5 to 2.0 in the final quarter to split open a fluctuating contest that will be remembered more for the result and the magnificent second half commitment of the 'northerners' than any glowing football skills.
The Bears had kicked only three goals to halftime and trailed by 10 points, but they responded to a verbal battering from coach Eade to avenge a 112-point hiding from the Demons in the second-last game of the home-and-away season.
The Bears' barnstorming finish was a forerunner to Hawthorn's success over the West Coast Eagles and the influence of the AFL's premier club at the time, the unashamed Brisbane role model from the day favorite son Peter Knights was appointed the inaugural coach, was enormous.
Eade was a magnificent coach, Lester-Smith an equally inspirational skipper with four goals in his last game, and fellow ex-Hawk Peter Curran was best afield by a whisker from Alex Ishchenko.
Coach Eade, himself a four-times premiership player at Hawthorn, summed it up nicely: "I am not only delighted with the performance of the team but I am pleased that many of our young players were able to experience playing in front of a grand final crowd. For many of them, it is the highlight of their career to date, and it is what football is all about.
Indeed, from this side would come players who would become senior regulars with the Brisbane Bears, and later the Brisbane Lions, most notably, Shaun Hart, who suffered a foot injury early in the game, Matthew Kennedy and Troy Clarke.
And it was a fitting and fantastic farewell for Brenton Phillips and David O'Keeffe, members of the very first Brisbane Bears side in 1987, who joined the likes of Lester-Smith, Curran and Ishchenko in providing leadership to help overcome the customary grand final day nerves.
Curran, with 25 possessions and three goals, was a wonderfully creative player at centre half forwardbut best afield honours went to Ishchenko, who had 13 kicks, nine marks and 12 handballs as he controlled the ruck and aerial duels all day.
Ironically, it was Ishchenko's last game for the club before he was released under the club's 'it's time for youth' policy and later snapped up by North Melbourne.
Midget rover Corey Bell, described by Eade as 'the littlest player in the AFL with the biggest heart", defied a vomiting attack at halftime to finish with 28 possessions, equal with ruck-rover David Ogg.
O'Keeffe did a superb second half defensive job on early dangerman John Howat and became a damaging player himself, while Steve McLuckie responded to an Eade rocket at halftime to play a key role in the second half, snapping two mercurial goals. Ray Windsor kicked three huge goals, and Clarke and Lachlan Sim worked tirelessly around the packs.
Eade, too, had a big part to play. At three-quarter time he pulled a masterstroke which turned the game around. He swung out-of-sorts centreman Brad Rowe to full forward and instructed his other forwards to play outside the 50m line. Suddenly, an ineffectual forward set-up become thoroughly functional as the Bears kicked the ball long to space and almost doubled their score.
Andy Lovell (22 possessions), Rod Keogh (21), Brett Heaver (27) and Queenslander Stephen Wearne, playing against brother David, were the pick of a Melbourne side which lacked the same finish after looking much the more convincing combination to halftime.
Still, in cold, hard terms the Bears victory was a bonus. The real benefit was just being there. With 10 players aged 21 or younger, including seven homegrown Queenslanders, it was an invaluable learning experience.
The celebrations lasted until well into Sunday morning at the North Star Hotel, the regular Bears watering hole near their North Melbourne 'home' at City Gardens Apartments. A rare chance for the fledgling club to celebrate in style. And they did it well!

FINAL SCORE

| | | | | |
| --- | --- | --- | --- | --- |
| BRISBANE BEARS | 2.4 | 3.7 | 8.8 | 16.13 (109) |
| MELBOURNE | 2.3 | 5.5 | 9.9 | 11.9 (75) |

GOALS
Bears: Lester-Smith 4, Curran 3, Windsor 3, Ogg 2, McLuckie 2, Rowe, Dickson.
Demons: Sullivan 2, Gorozidis 2, S Wearne 2, Howat 2, Lovell, Lamb, Keogh.
BEST
Bears: Ishchenko, Curran, Bell, Clarke, Lester-Smith, Ogg.
Demons: Lovell, Keogh, Heaver, S Wearne, Hopgood, Mahoney.

BRISBANE BEARS RESERVES' PREMIERSHIP TEAM

| | | | |
| --- | --- | --- | --- |
| B | Lachlan Sim | Simon Luhrs | Ben Thomas |
| HB | Brenton Phillips | Matthew Kennedy | Shaun Hart |
| C | Steve McLuckie | Brad Rowe | Troy Clarke |
| HF | Ray Windsor | Peter Curran | Andrew Taylor |
| F | Rod Lester-Smith (c) | Cameron O'Brien | David Ogg |
| FOLL | Alex Ischenko | David Wearne | Corey Bell |
| INT | David O'Keeffe | Robert Dickson | |
| COACH | Rodney Eade | | |