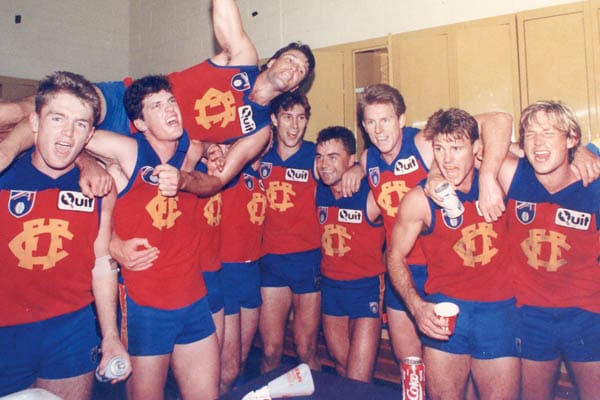 We are the boys of old Fitzroy
We wear the colors maroon and blue
We will always fight for victory
We will always see it through
Win or lose we do or die
In defeat we always try
Fitzroy, Fitzroy
The Club we hold so dear
Premiers, we'll be this year

These are the words of the old Fitzroy club song. And in nine short lines they say a lot about the Fitzroy Football Club. Above all else, it was a club for the people…the club they held so dear.

Perhaps Len Smith, coach of the Fitzroy Team of the Century, put it best when he said:
"Fitzroy is not a club big in numbers, but what we lack in numbers we make up for in goodness, and you, the players, are the core of that goodness."

It wasn't a club for high-rolling corporates or celebrities. It wasn't a trendy club. It was a club for the grassroots football supporter. The person with a real passion and loyalty for the team that wore maroon and blue, and, in latter years, a touch of gold.

Formed on 26 September 1883 at a meeting organised by businessman George Toms at the old Brunswick Hotel, Fitzroy Football Club played initially in the old Victorian Football Association and was a founding member with Carlton, Collingwood, Essendon, Geelong, Melbourne, South Melbourne and StKilda in the Victorian Football League, formed in 1897.

They wore blue caps and knickerbockers (shorts), a maroon jersey and hose (socks), and made their home at Brunswick Street Oval, in the heart of one of Melbourne's oldest suburbs, Fitzroy.

They won the VFA premiership in 1895 and made the VFL finals nine times in the first 10 years for four premierships in 1898-99 and 1904-05, and three losing grand finals. After a six-year drought they were finalists nine times again from 1913-24, winning a further three flags in 1913-16-22 and losing two more grand finals.

They were the power club of the competition with seven flags – two more than Carlton and Collingwood.

Thereafter, though, success dried up. In 1936 the club won the wooden-spoon and it wasn't until 1943 that they appeared in the finals once again. The claimed their eighth flag in 1944. But it was to be their last. And in the 52 years that followed they only played in the finals just nine times - 1947, 1952, 1958, 1960, 1979, 1981, 1983, 1984 and 1986.

But still they played a pivotal history of the game as it unfolded. They were featured in a number of League 'firsts', and produced some of the great characters of the game. And their premiership sides included some of the greatest players of their era.

Initially known as the Maroons, Fitzroy changed their name to Gorillas in 1939, following the lead of other clubs in adopting a more fierce mascot. But this only led to public ridicule – 'you're playing like a bunch of apes,' said the detractors – and so unofficially they went back to Maroons until they became the Lions in 1957. This was a move encouraged at the time by treasurer Bill Jacobs and vice-president Bert Walters. The club adopted the lion because, like the lion, Fitzroy had a never-say-die spirit.

For 84 years Fitzroy played at Brunswick Street Oval until they moved to Princes Park as joint tenants with Carlton in 1967. This followed a breakdown in negotiations with the Fitzroy City Council over the club's request for a 40-year lease and a $400,000 loan to develop the Brunswick Street ground that was still their training headquarters.

Within two years Fitzroy were negotiating another move to Junction Oval. The Fitzroy Council interjected, offering to help get the club back to Brunswick Street, but again negotiations broke down over ground improvements and in October 1969 the VFL granted permission for the club to play home games at Junction Oval in 1970. Supreme Court action from Carlton to overturn the decision failed.

Still the team struggled as the modern day game evolved and the costs of running a VFL/AFL team escalated. In 17 years from 1962-78 Fitzroy finished in the bottom three no less than 11 times. Only once did they escape the bottom five – when they finished sixth in '71, three games outside the finals.

In 1978 Fitzroy president Frank V. Bibby launched a major recruiting drive, headed by Robert Walls and Bernie Quinlan. He said later: "I make no apologies for mortgaging the club to buy players as we did in 1978 and early 1979 as I was heartily sick of the club being held in ridicule by all but our supporters. Fortunately, the game was rewarded with success on the field and to some extent in our bank account. But unfortunately our overall financial position did not improve".

Fitzroy won the 1978 VFL night premiership, beating Tasmania, South Melbourne and Richmond in the qualifying rounds before upsetting North Melbourne 13.18 (96) to 2.8 (20) at Waverley. Walls was best on ground as the club collected a $50,000 winners' cheque.

In 1979 on-field success continued as they won an equal club record nine games in a row and in Round 17, on Saturday, 28 July, posted what was then the highest VFL/AFL score and the League's all-time biggest winning margin in thumping Melbourne 36.22 (238) to 6.12 (48) at Waverley.

Ironically, while their record 190-point margin stood unchallenged into the next century, the highest score was bettered by one point by Geelong - 37.17 (239) - at Carrara in 1992 against the Brisbane Bears, who would later play a key role in the club's evolution.

The biggest margin record, however, remains to this day.

But success came at a cost. They were reportedly $400,000 'in the red' and supporters were told of the possibility of the club playing home matches on Sundays in Sydney to gain live television exposure in Melbourne.

In early 1983 the VFL took over the club in a bid to rescue it from financial ruin, and president Bibby announced that, because of the 'disastrous financial situation', the club was considering (a) a move to Sydney, (b) sharing Junction Oval with another club – possibly South Melbourne, (c) moving to another ground or VFL Park to share with possibly Collingwood, North Melbourne or South Melbourne.

In July 1980 president Bibby declared that the club was effectively bankrupt. Again the Sydney option was raised but a fund-raising campaign at Camberwell Civic Centre attracted 1200 supporters and put the issue to rest. Bibby resigned in a major administrative shake-up.

Keith Wiegard took over as president and announced that the club would play at Junction Oval in 1981-82. Walls took over as coach in 1981, Quinlan won the Brownlow Medal and the club turned a loss of $350,000 into a profit of $62,000. Optimism was high, and after a temporary slide in '82 Fitzroy celebrated their 1983 centenary with another finals appearance. In fact, they played in the finals in 1983-84-86 and were quite a force at the time.

In 1985, as the financial situation worsened, they opted to play home matches at Victoria Park, and in June '86 president Leon Wiegard admitted the club had only a 50% chance of survival.

Fitzroy looked set to move to the Gold Coast. Even the players had endorsed the move, but a 'white knight' saved the day at the 11th hour with a sizeable cash injection and instead they moved to Princes Park in 1987 as the Brisbane Bears and West Coast Eagles joined the competition.

But the financial woes continued and a lot of good players moved on, keen to experience finals football. In 1991 the writing was on the wall until a 'Save the Lions' appeal raised $800,000 to keep the club afloat. In '92 there was a rare bright spot – a place in the pre-season cup grand final. They were beaten by Hawthorn.

In '94 Fitzroy moved to Whitten Oval as co-tenants with Footscray, who at one time had been suggested as a merger partner. They battled on defiantly until the Nauru Insurance Corporation provided a sponsorship that promised to keep the club afloat.

It didn't. And in the end it was the final straw that forced Fitzroy into a merger. The Nauru Insurance Corporation, owed $1.25m by Fitzroy under terms of the agreement, appointed an administrator to recoup their debts. It was an emotional time for a club that had walked a financial tightrope for longer than they cared to remember. Eventually, after initially Fitzroy seemed bound for a merger with North Melbourne, a 'marriage' with the Brisbane Bears was ratified by the AFL.

Fitzroy, a foundation member of the VFL/AFL, ceased to exist as a separate entity. But the club and it's proud history and tradition lived on through a new identity - the Brisbane Lions.