Playing up to five practice matches across the preseason has afforded the Brisbane Lions coaching staff the luxury of shuffling the magnets according to Lions' Strategy Coach Danny Daly.
The Lions played their latest intra-club hit-out last Friday in 28 degrees at Moreton Bay Central Sports Complex and a bevy of new players trialled in new positions across the field were among the standouts from the contest.
It was their last in a series of hit-outs that included two match simulation games during the team's preseason camp in Tasmania before a final trial game against the Gold Coast SUNS next Saturday, prior to the JLT Community Series.
"It's a great opportunity in these games to try different things. It's a good chance to throw things around and we might find a position for a player that we might not know, so that's what we've sort of being trying to do," Daly told lions.com.au.
"Rather than just going with the same 18-20 players very week, we sort of bring four in and take four out and keep looking at different blokes… You don't just to pigeonhole players into positions.
"It's like a jigsaw puzzle. We're just trying to find the right pieces in the right places to make us a better team."
Among the most notable changes during Friday's intra-club game was the deployment of Zac Bailey to a half-back where his run and carry out of defence was a noticeable addition to the defensive unit.
The second-year Lion was thrown in a multitude of positions across the field throughout his debut season.
After being drafted as a midfielder, Bailey played most of his 12 games at AFL level as a medium-sized forward but has found a new home at half-back across the summer.
"We feel that with his run and his ability to break lines we'd give him the opportunity down back," Daly said.
"If we have that guy off halfback that can just run and carry, it's important for the team.
"It's been in the back of both the boss's minds about potentially having a look at him at halfback."
Previously, Bailey had gotten a small taste as life in the defensive 50 in Round 22 last season where he was thrown back after Alex Witherden went down in the first term with a hamstring injury.
Lewy Taylor was also given the opportunity to ply his craft higher up the ground where his speed on the outside combined well with the inside midfielders.
Lewy Taylor fends off Ely Smith during pre-season training last week.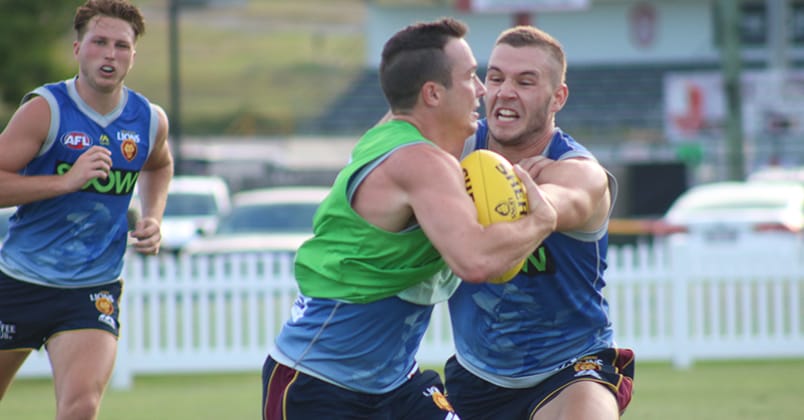 Usually a forward, Taylor was pinpointed by Daly as one of the best players on the ground in the practice game.
"Squizzy Taylor had a fairly good game playing forward and a little bit more through the midfield than what he had in the past," Daly said.
"He was probably the one player that took my eye more than on the weekend, but it was a pretty solid effort from all of our players as well."
Other notable performers from the intra-club game included Charlie Cameron, Eric Hipwood, Harris Andrews and Archie Smith.
The Lions will play a practice games against the Gold Coast SUNS at Metricon Stadium on Saturday, February 23 at 3:00pm AEST. Entry to the game is free.
Charlie Cameron looking fit at pre-season training last week.