ALEX Witherden's plans of spending a year on the ball to show recruiters his midfield talents were undone a little more than a month into the season.
The Geelong Falcons product broke his leg playing in a school game for Geelong College in May, and required surgery to repair the fractures. He did not play again for the season, and played only two games for the Falcons and two for the NAB AFL Academy before that.
It has left the 18-year-old as one of the more interesting draftees in this year pool given his lack of exposed form but high level of talent.
Witherden was added to the national academy last year as a member of its level two squad following a promising season for the Falcons as a bottom-ager, when he played 12 games including their two finals.
Witherden is a smart player who is best used across half-back, where he can control the play with his foot skills and game sense. He likes to read the play but also make the next step: with ball in hand he can direct his team's next move and he is trusted with the role of creating out of the backline.
He's a confident player and at 187cm he is a nice size to take on a few different types of forwards in that backline role. In time clubs see him moving in the midfield as well, where his kicking and natural read of the game will be useful. Witherden likes to take the game forward: he enjoys being the guy in control and can move into all areas of the ground to help his side.

Improving his running will be a priority for Witherden over the pre-season. Given his injury he didn't get a chance to build up his endurance this season, having started the year by running a 12.7 beep test at TAC Cup testing day.
Witherden's leg will need to be ticked off by clubs from a medical perspective, but he has progressed seamlessly in the months since the injury and he aims to be right to go by the start of the pre-season. His absence from the field means that clubs really haven't seen much of him as a midfielder, either.

There's a bit of Brendon Goddard in the way Witherden is developing as an attacking half-back. Goddard started his career stationed across half-back directing the play as that set-up kicker before moving into the midfield permanently. Witherden will hope to follow a similar course.

Despite the injury, Witherden still has plenty of clubs who view him as a first-round pick. His range seems likely to be from 14 to 25.

Quality kicks never go out of fashion, so Witherden brings something a little different to the first round of this year's draft given there isn't heaps of class out there. He will take a bit of time but has the polish and footy smarts to be a natural fit at the next level off half-back.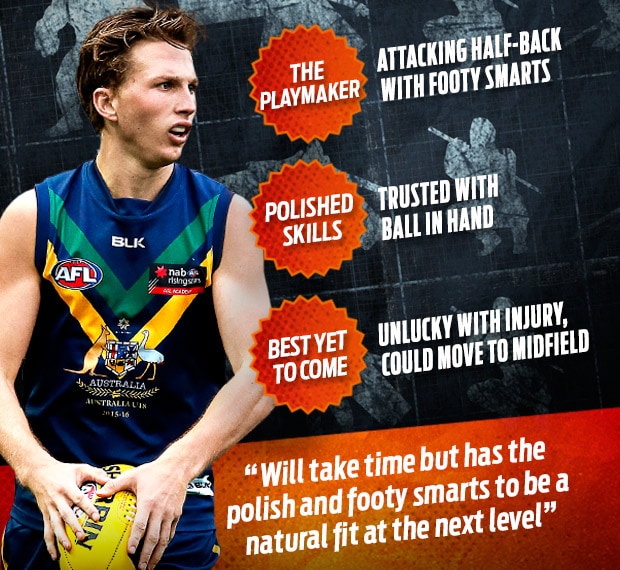 Latest Draft News:

Draft day - A retrospective

Berry learns to curb his enthusiasm