In 2001 the Brisbane Lions grand final motivational tape was set to the song 'Dare to Dream'.
It was the same song sung by John Farnham and Olivia Newton-John at the Opening Ceremony of the 2000 Olympic Games in Sydney.
Remember the stirring first verse that Leigh Matthews' team embraced and lived all the way to a premiership in 2001 and followed up again in 2002-03?
I am my own believer
In my heart the reason
I will follow the light from within
I'm not afraid of weakness
I'm gonna taste the sweetness
Of the power not to give in
Oh I will see it through
I believe this is my moment of truth
And the chorus?
Dare to dream
Dare to fly
Dare to be the hier the chosen one to touch the sky
Dare to reach
Dare to rise
Find the strength to set my spirit free
Dare to dream
The second verse?
I will go the distance
Embrace resistance
I will lay my soul on the line
When the wait is over
And the hunger has spoken
If I give my all, I will shine
Oh I will see it through
I believe, this is my moment of truth
It was such a stirring track, and 18 years on anyone fortunate enough to be involved with the Lions team at the time, or to have seen the tape put together especially for the players, cannot hear it without thinking of the unbelievable football joy that followed.
Finally, it might be time to get it out again!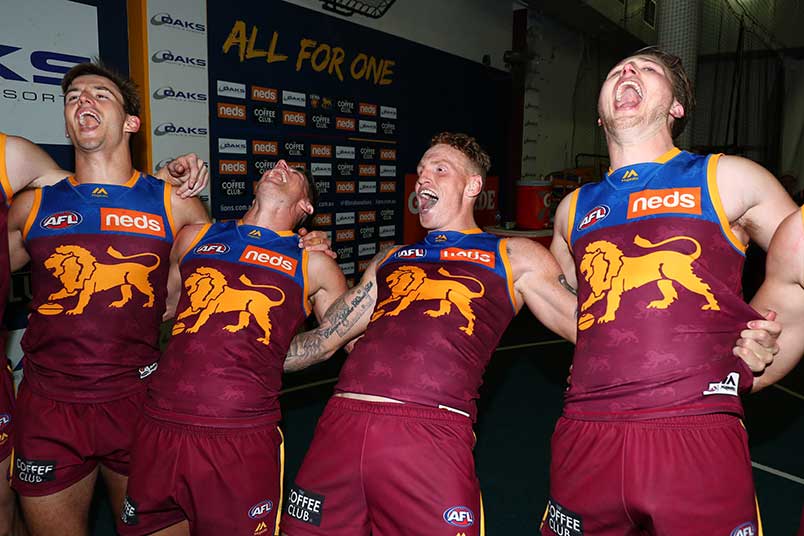 Certainly, if he could add a "we'll just take it one game at a time" line somewhere coach Chris Fagan would love his team to embrace the 'Dare to Dream' sentiments.
After a year in which Fagan has steadfastly downplayed his team's astonishing climb up the AFL ladder even he let his guard down at the final siren on Saturday when he charged onto the field to embrace his players after Saturday's stunning one-point win over Geelong at the Gabba.
Fagan said on Monday he was "a bit disappointed" with his outward show of emotion and "should have shown more control", but there won't be anyone in the Lions camp who would want to deny him such a moment.
It is an undeniable fact now that Lions are in a position whereby if they beat Richmond at the MCG on Sunday they will win the minor premiership for the first time.
Indeed, it is a dream.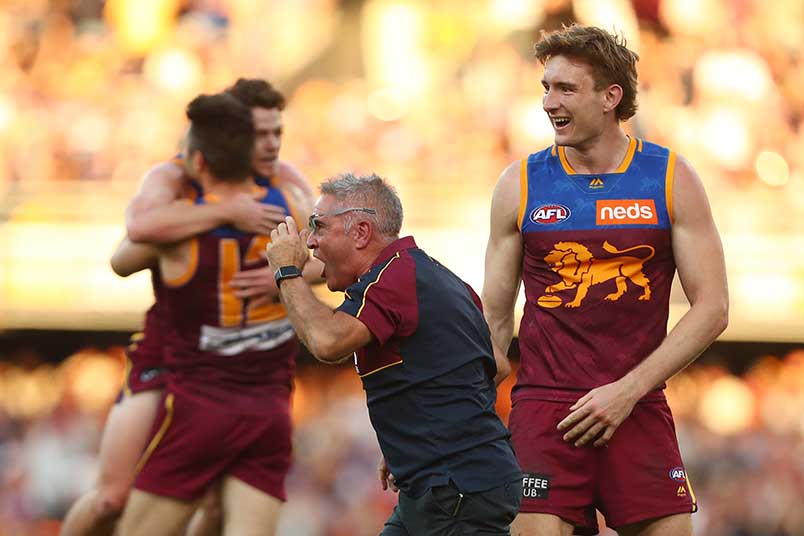 It is something the club did not achieve even in the run of four consecutive grand final appearances in 2001-02-03-04, when they finished 2nd-2nd-3rd-2nd.
A win over the Tigers would see them finish a game clear on top of the home-and-away ladder and equal the club record of 17 home-and-away wins in 2001 and 2002.
And they are in a position to post the biggest year-to-year ladder turnaround in AFL history.
This mark stands at 12 spots and already is owned by the Lions in partnership with four other clubs.
Brisbane went from 16th in 1998 to 4th in 1999 in their first season under coach Leigh Matthews.
This equalled the huge climb by Western Bulldogs to finish 3rd in 1997 and Melbourne when they finished 4th in 1998, and was subsequently matched by West Coast when they finished 4th in 2011, and Richmond, when they won the flag in 2017.
Having finished 15th last year with just five wins the Lions will need to play in the grand final to take this year-to-year mark outright.
As much as the Lions' stunning on-field turnaround is what it's all about, the Lions administration will be similarly pleased by the sell-out crowd of 34,274, which was the biggest ever to attend a match against Geelong at the Gabba.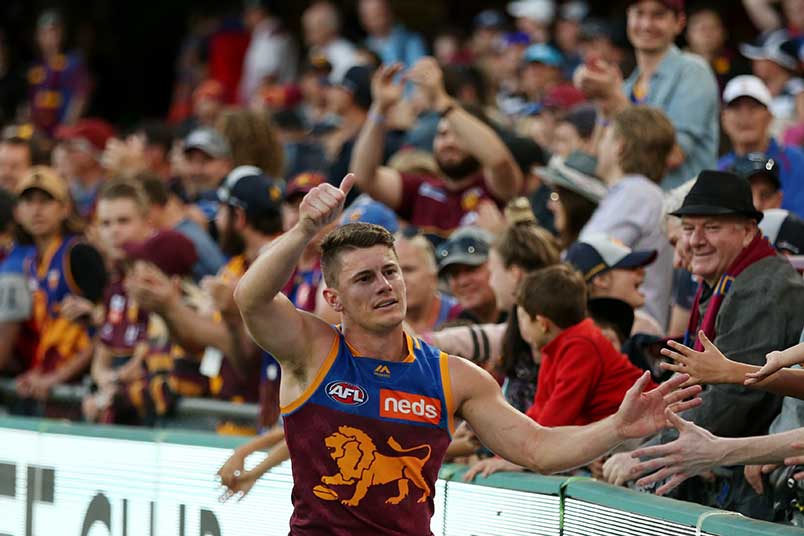 It was also the biggest AFL turnout at the Gabba since Carlton's visit in 2010 attracted 36,.780, and, unlike the Easter Thursday clash with Collingwood this year, when a good portion of he 34,071 sell-out were barracking for Collingwood, the vast majority of the crowd on Saturday was pro-Lions.
Importantly, Saturday's crowd pushed the 2019 home-and-away average to 24,745 – up from 18,406 in 2018 to the biggest season average since 2010.
It was a day of countless statistical and historical highlights, including:-
The Lions found themselves on top of the AFL ladder for the first time since Rounds 1-2 of 2007, and now with a nine-game winning run that is the third-longest in club history behind the 20-game streak in 2001-02 that including the 2001 flag, and the 10-game streak in 1999.
The Lions' one-point win ended an eight-game losing streak against Geelong. Not since the famous 'Miracle on Grass' game in Round 13 2013, when Ash McGrath kicked a 50m+ goal after the siren in his 200th game to clinch a five-point win. Amazingly, prior to Saturday the Lions had lost their previous six games against the Cats by an average 62 points.
It was the first time since Round 15 2017 the Lions have trailed at every change and won. That was against Essendon at Marvel Stadium in Harris Andrews' 50th Dayne Zorko was best afield with 30 possessions and two goals. Alex Witherden, who played his 50th game against Geelong on Saturday, was in his 2nd game.
Stefan Martin celebrated his first career win over Geelong after 10 consecutive losses dating back to his 6th game in 2008, when the Demons lost by 116 points. No less than 14 Lions players enjoyed the first win over the Cats – ex-Cats Allen Christensen and last-goal hero Lincoln McCarthy, plus Harris Andrews, Noah Answerth, Zac Bailey, Jarrod Berry, Darcy Gardiner, Eric Hipwood, Martin, Hugh McCluggage, Oscar McInerney, Dan McStay, Cam Rayner and Alex Witherden.
It was the first time since Round 16 2010 that the Lions have fielded a side with 11 100-gamers – or half the side. That was in a 75-point loss to Hawthorn in Launceston, when Luke Power, in his 256th game, led the experience list from Travis Johnstone (208), Brendan Fevola (202), Jonathan Brown (196), Ash McGrath (150), Amon Buchanan (127), Brent Staker (126), Jared Brennan (113), Justin Sherman (111), Matt Maguire (110) and Michael Rischitelli (105). Daniel Rich, who played his 40th game that day, was the only player from that game to play against Geelong on Saturday.
Dan McStay became the 52nd player to post 100 games for the Brisbane Football Club, and the first player in the combined Brisbane/Fitzroy family to play 100 games in jumper #25. Following in the Brisbane footsteps of Matthew Campbell (79 games), Andrew Bews (75), Martin McKinnon (17), Dylan McLaren (46) and Wayde Mills (16), McStay has ever bettered Eddie Hart's 92 games in #25 for Fitzroy in the 1940-50s after he started his career in #9 in 1941 and #37 in 1944.
Marcus Adams, outstanding in his seventh game for the Lions with 19 possessions (10 contested) and nine one-percenters, stretched his unbeaten run in Lions colors to seven games as he chases the club's all-time best from debut of nine, held by 2004 grand final player Dylan McLaren.
Charlie Cameron kicked five goals to give him 15 in the last three weeks and his first 50-goal haul in a season. He is just the eighth Brisbane player to kick 50 goals in a season behind Alastair Lynch, who did so five times after one half-century at Fitzroy, Jonathan Brown (4), Daniel Bradshaw (4), Brad Hardie (1) Roger Merrett (1), Justin Leppitsch (1) and Luke Power (1). Brown holds the club record for most goals in a season with 85 in his Coleman Medal year of 2009. Cameron now sits equal fourth in the Coleman Medal race with 53 goals behind North Melbourne's Ben Brown (62), GWS' Jeremy Cameron (58) and Richmond's Tom Lynch (53), and level with Geelong's Tom Hawkins and West Coast's Jack Darling.
Jarryd Lyons, who continued his rich vein of form with 28 possessions (19 contested), a goal and a team-high 11 tackles and nine clearances, topped 500 possessions in a season for the first time. Lyons joins Lachie Neale as a 2019 addition to the Brisbane 500 Club, stretching the membership to 21. Simon Black, with eight 500-possession seasons, leads the way from Michael Voss (6), Nigel Lappin (5), Luke Power (5), Tom Rockliff (5), Adrian Fletcher (2), Marcus Ashcroft (2), Jack Redden (2), Dayne Zorko (2), Dayne Beams (12), Scott McIvor (1), David Bain (1), Michael McLean (1), Danny Noonan (1), Craig Lambert (1), Chris Scott (1), Jason Akermanis (1), Michael Rischitelli (1) and Pearce Hanley (1).
It was the Lions' second one-point win of the season, coming on top of the Round 9 win over Adelaide at the Gabba, and the seventh in the club's 748-game history. Others were against Footscray at Carrara in 1988, Fremantle and Essendon (in a qualifying final) at the Gabba in 1996, St.Kilda at the Gabba in 1998, and North Melbourne at Marvel Stadium in 2006.
Note, in Fitzroy history, 15 players had a total of 45 50-goal seasons, including Bernie Quinlan's 116 goals in 1983 and 105 goals in 1984. He also topped 50 four other times. Jack Moriarty had most half-century seasons with eight, followed by Quinlan (6), Richard Osborne (5), Eddie Hart (5), Bob Beecroft (4), Claude Curtin (4), Jimmy Freake (3), Mick Conlan (3), Lynch, Doug Searl, Fred Hughson, Allan Ruthven, Keith Stackpole, Bob Merrick and Tony Ongarello (1).
Linc! pic.twitter.com/78sujjll1l

— Brisbane Lions (@brisbanelions) August 17, 2019