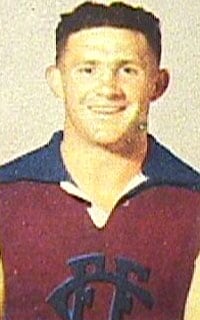 The Brisbane Lions mourn the passing of Fitzroy great Norm Johnstone, who sadly passed away early on Friday morning aged 86.

Johnstone – the grandfather of former Lions and Melbourne midfielder Travis – was a rugged and reliable ruckman who was also a noted goal-kicker on occasions when he would venture forward.

He played a total of 228 games and kicked 195 goals in 14 seasons with Fitzroy from 1944-57, predominantly in the Number 17 guernsey.   

Despite being built like a tank, he could move quickly over the ground and never shirked the issue. His forceful style of play was known to spread many packs during his day.

Even Richmond Legend 'Captain Blood' Jack Dyer recognised Johnstone as one of the toughest players of his era, saying that he enjoyed hurting the opposition.

He was notorious for arriving late for the coach's address, but was a great team man and was Vice-Captain of Fitzroy on a number of occasions.

He won Fitzroy's Best and Fairest in 1947 and represented Victoria in 1948. He even led the Club's goal-kicking in 1955 with 32 goals.

In 2001, Johnstone was honoured by being named in Fitzroy's Team of the Century.

The entire Brisbane Lions AFC extends its deepest condolences to the entire Johnstone family. May he now rest in peace.