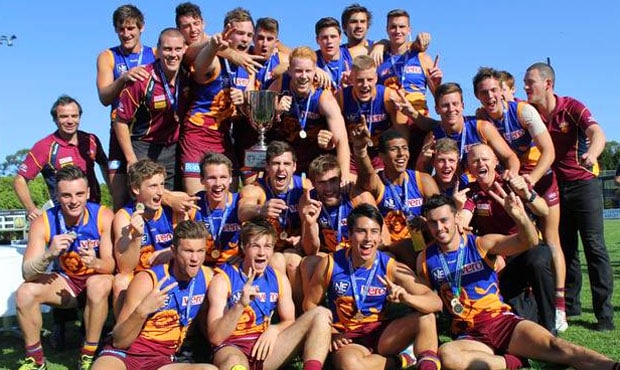 I didn't come here to win premierships exactly, I came here to develop young guys into AFL players.
Leigh Harding
Once again the Brisbane Lions Reserves have asserted their NEAFL dominance by defeating the Eastern conference premiers, the Sydney Swans Reserves in the NEAFL Cross Conference Championship.

The 12.9 (81)  to 10.13 (73) victory concludes another outstanding year for the team, where they have defended both of the NEAFL titles they won in 2012.

The game was a tightly fought affair played in brilliant conditions at Aspley Oval.

After kicking on to a 19 point lead in the first quarter the Lions would find themselves on the wrong end of a two-point deficit coming into half-time, the Swans improved defence restricting them to a single point in the second term.

However after a see-sawing second stanza the Lions would run out the 8-point victors, their experience and culture of success overcoming the plucky Swans.

Jordan Bourke was intimidating at fullback, his uncompromising defence undoubtedly restricting the Swans from converting more of their chances.  

Delisted Lion Richard Newell also farewelled the crowd with a fantastic long-range goal from the sideline at a crucial tight period in the third quarter.

First head coach Leigh Harding was ecstatic with the competition of his flawless transition into coaching but maintained that the pleasure of mentoring the Lions young players was the real reward.

"I didn't come here to win premierships exactly, I came here to develop young guys into AFL players,"

"That said, it feels pretty great to get the win." he said,

Harding also spoke of his relief at the fulltime siren, after the Swans refused to give the Lions easy passage.

"I'm not sure that we did really turn it around, they were always within a sniff, I think it's a case of we were lucky that the siren went and we happened to be ahead."

The delisting of Reserves stars Callum Bartlett, Niall McKeever and Newell could have become a negative shadow over the team but Harding refused that the decision had any effect on the team.

"We didn't really speak about it, so it wasn't a distraction. Two of those guys played which is a great measure of their character and their experience really helped." he said.  

Harding also was hopeful for the future of the Reserves.

"Obviously there will be big changes coming to the club for next season, but we'll begin the process again, develop new talent and continue to improve." he said.

One suspects that it would take a brave soul to predict anything but success for the Brisbane Lions Reserves in 2014.