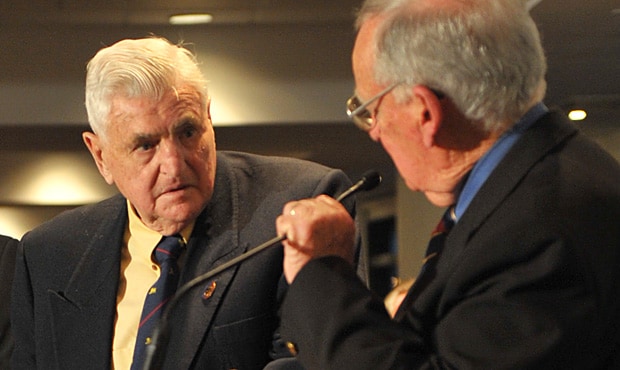 George was the best mate I had, and was a mentor to me during my period (at Fitzroy).
Arthur Wilson
The Brisbane Lions AFC mourns the passing of ex-Fitzroy player, Club stalwart, and Life Member George Coates, who passed away on Sunday evening, aged 90.

Coates was a talented rover who played 128 games and kicked 128 goals in eight seasons at Fitzroy from 1947-54.

He was selected to represent Victoria in 1949 and finished Runner-Up in the Club's Best and Fairest award in 1953.

After retiring as a player at the end of the 1954 season, he became a highly devoted servant of the Fitzroy Football Club in a variety of administrative posts.

In 1987, Coates became the first person in Fitzroy history to be awarded the AFL's Jack Titus Award for outstanding service to the game, and remains one of only two individuals in the Club's combined history to have received this great honour (along with Bill Stephen who won the award in 1996).

Following the merger agreement in 1996, Coates played an active role with the newly former Brisbane Lions to ensure Fitzroy's rich history was preserved. 

Along with fellow long-serving Fitzroy official Arthur Wilson, he was approached by the Lions' Board to help establish the Historical Society in Melbourne.

The Historical Society has since been responsible for the safe-keeping, repairing and ongoing maintenance of all items of Fitzroy memorabilia and currently boasts in excess of 300 members.

Part of Coates' legacy now rests at Etihad Stadium, where the Historical Society's magnificent display of Fitzroy memorabilia is now housed. 

"George was the best mate I had, and was a mentor to me during my period as Secretary and Football Manager," good friend Arthur Wilson told lions.com.au.

"He served Fitzroy for 40-plus year and was an outstanding administrator who was Vice-President for 21 years and a member of the Match Committee and Chairman for several years.

"He was also instrumental in the formation of the Historical Society and we're very grateful for the wonderful contribution he has given to the Fitzroy Football Club and the Brisbane Lions."

The Club extends its heartfelt sympathies to George's wife Judy, his four children, and the entire Coates family at this difficult time.

He will be officially laid to rest in Melbourne this Friday 21 February from 10:30am at the Box Hill Salvation Army Citadel (17-23 Nelson Road).