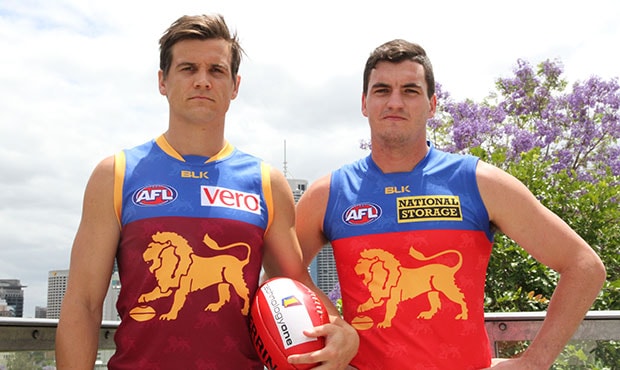 The members are the voice of the club and it's important to hear the voice and put into action what they want.
Jed Adcock
RETURNING to their original merged guernsey for season 2015, the Brisbane Lions have almost completed a 180 degree flip from one of their darkest periods 12 months ago.

But vice-captain Tom Rockliff says the club now has to start winning matches.

This time last year the Lions were in disarray, with five young players walking out, the boardroom in tatters, and rookie coach Justin Leppitsch about to embark on football's equivalent of Mt Everest.

But after a positive season that netted seven wins, a Rising Star winner in Lewy Taylor, the appointment of Greg Swann as CEO, and the trade period signings of Dayne Beams and Allen Christensen, everything is looking rosy at the Gabba.

And now the old jumper is back.

After significant member unrest at the controversial 'Paddlepop Lion' guernsey, the club unveiled its 2015 version in Brisbane on Tuesday.

It's a return to the traditional Fitzroy lion and back to the 1997 merged jumper.

"You've got to remember your past but you've also got to build on the present, and that's the most important thing for us," Rockliff told reporters at the top of the Kangaroo Point cliffs.

"This time last year a lot of people were writing us off … it's nice to have a bit of positive media around the footy club.

"You can do all the talking you want, but it's most important you go out there and perform on the weekend during the season."

Captain Jed Adcock said it was a combination of on and off-field improvements that had helped the club begin to right the ship.

He said one of its most important steps was listening to members.

"They make your footy club," Adcock said.

"The members are the voice of the club and it's important to hear the voice and put into action what they want.

"People (at the club) seem a bit happier, whether that's winning a few games late in the year you don't know, but things just seem to be in a good place."

Supporters' advocacy group The Lion's Roar said the guernsey change was a huge win for members and supporters.

"We are absolutely thrilled to see the traditional lion back on our guernsey," a spokesperson said.

"We hope this is a really tangible sign to all members that the club is now listening and their voices can make a difference."
The views in this article are those of the author and not necessarily those of the AFL or its clubs