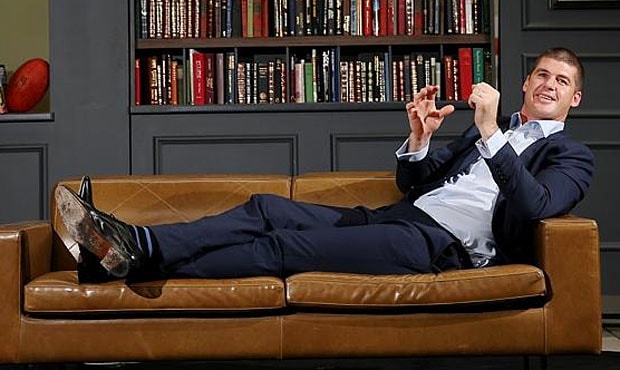 I am not out to wreck a bloke's career or pump them up, I will tell it as I see it.
Jonathan Brown
He might be retired from playing, but Brisbane Lions fans can still expect to see plenty of Jonathan Brown in 2015 and beyond.

Brown was unveiled as the latest member of Fox Footy's commentary team on Friday, and is also set to replace retired journalist Mike Sheahan on their popular On the Couch program.

Brown will sit alongside host Gerard Healy and fellow panellist Jason Dunstall On the Couch each Monday night to discuss all the big issues in football – and says he won't be holding back with his opinions.

"It's important to give fans a glimpse of what goes on behind the scenes. I will talk honestly, I am not out to wreck a bloke's career or pump them up, I will tell it as I see it," Brown told The Herald Sun.

"I am looking forward to working with Jason Dunstall. He is very knowledgeable with footy but also as an administrator. They might have to widen the couch though. Mike (Sheahan) looked like a little paperboy sitting alongside Jase."

Brown will also provide special comments on at least one game on Fox Footy each weekend, as well as appearing on Friday night football.

"As a player you hardly watch any footy live and Fox Footy has given me the chance to do that. I like breaking down footy and having fun with it," Brown said.

Brown's universal appeal across the football community will almost guarantee that even more football fans across Australia will be tuning in each Monday night to see what the champion centre-half forward has to say On the Couch.

Lions fans in both Brisbane and Melbourne will get the chance to farewell Browny one last time at special tribute lunches in 2015.

Book now for the Browny Tribute Lunch in Brisbane on Tuesday 31 March

Book now for the Browny Tribute Lunch in Melbourne on Friday 8 May