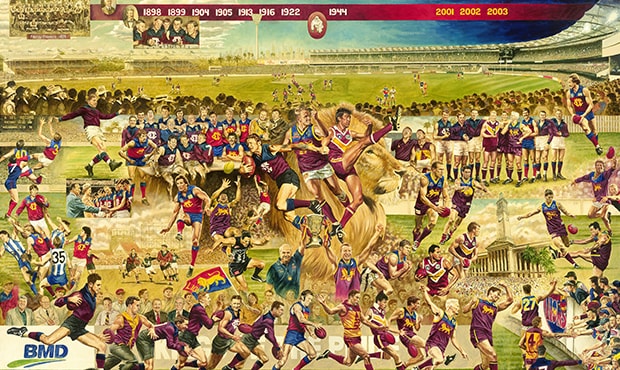 Back in 2007, over 1,000 guests enjoyed one of the largest ever reunions of VFL/AFL players at the Brisbane Lions' Kings of the Pride function held at the Melbourne Convention Centre.
The event served to not only bring together players from across all arms of the Club's rich history (Fitzroy, Bears, and Lions), but also recognise the individuals who were regards as kings of their respective eras.
The recipients of these awards – as voted on by the players who were part of those eras themselves – were as follows:
Fitzroy 1897-1926: Percy Parratt
Fitzroy 1897-1926: Percy Trotter
Fitzroy 1927-1956: Haydn Bunton
Fitzroy 1927-1956: Allan Ruthven
Fitzroy 1957-1966: Kevin Murray
Fitzroy 1967-1976: John Murphy
Fitzroy 1977-1986: Garry Wilson
Fitzroy 1987-1996: Paul Roos
Brisbane Bears: 1987-1996: Roger Merrett
Brisbane Lions: 1997-2006: Michael Voss
Given it's been almost a decade since the function, and with the Lions set to host their bi-ennial Hall of Fame event in Melbourne on 25 June this year, it was decided an opportune time to bestow the honour on a new 'King'.
Over the past couple of months, Lions players (both past and current) from the period between 2007-2016 have submitted their votes for who they believe has been the King of the Pride during this time.
The winner will be revealed for the first time at this Saturday's Hall of Fame event.
The Brisbane Lions Hall of Fame Event has officially sold out. You will be able to follow the event live on lions.com.au and on our social media channels.

The views in this article are those of the author and not necessarily those of the AFL or its clubs