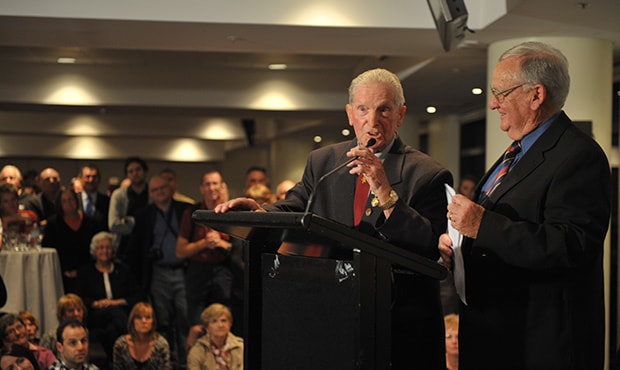 The Brisbane Lions are deeply saddened by the loss of Fitzroy's oldest living player and Club Life Member Des Calverley, who passed away last week aged 96.
Des played 52 games and kicked 16 goals in seven seasons with the Club from 1940-46 and was an emergency for Fitzroy on the day they claimed the 1944 premiership. He later went on to play 18 games in a couple of seasons with Richmond, but always remained a Lion at heart.
His contribution to the Club extended far beyond just his playing days, with Des performing a number of roles on selection committees, co-founding the Fitzroy Past Players' Association, and supporting the Fitzroy-Brisbane Lions Historical Society.
He remained a staunch Brisbane Lions supporter post-merger, and took great joy in watching the Club break a 57-year premiership drought in 2001.
"To get three premierships under the Lions name (in 2001-03) made us feel really good," Calverley told lions.com.au back in 2011.
"As a club, we hadn't won a premiership since 1944, so it had been a long wait, but it was worth it."
The Calverley name is a famous one at Fitzroy, with Des' brother Bruce Calverley also a former senior player of 88 games and Life Member.
Des' sons Graham and Ray also played senior football for Fitzroy in the 60s (10 and 21 games respectively), with Graham the third of the Calverley Clan to earn Club Life Membership in 1994.
The Brisbane Lions extends its heartfelt sympathy to the entire Calverley family, with the team set to acknowledge his contribution to the Club by wearing black armbands this Sunday against Geelong at the Gabba.
The views in this article are those of the author and not necessarily those of the AFL or its clubs