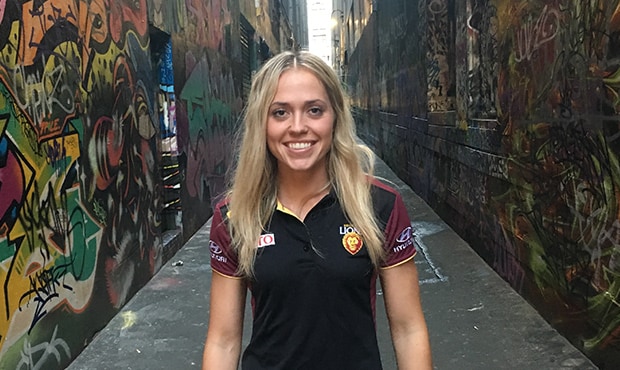 The Brisbane Lions have secured elite midfielder Kaitlyn Ashmore as our second priority pick ahead of the 2017 National Women's League.
Hailing from Ballarat, Ashmore plays for Melbourne University in the VFL Women's League and is a Vic Country representative.
An elite runner with outstanding foot skills, the AFL have touted Ashmore as "one of the hardest running players in women's footy who regularly outworks opponents off half-back or on a wing."
Formerly a javelin thrower, Ashmore gave up her Olympic dream to pursue her career in footy, back when a national women's competition was just a pipe dream.
Ashmore's dream started to become a reality when she was selected in the inaugural women's draft in 2013 for the first exhibition game between Melbourne and the Western Bulldogs.
In 2015, Ashmore was drafted to the Western Bulldogs with pick number 13 in the Women's AFL Draft and has since become one of the most influential players at club level and in exhibition matches.
In their search to build a strong midfield, Women's CEO Breeanna Brock said Ashmore stood out due to her nature as a fierce competitor and a hard running midfielder.
"Kaitlyn has a massive engine, a huge running capability – she's one of the girls who's at an elite running standard," said Brock.
"Also particularly because we're missing one of the best midfield players in Queensland in Jordan Zanchetta, with a knee injury, so we needed to be able to strengthen up the midfield."
In addition, Ashmore has played under Women's Coach Craig Starcevich at the Western Bulldogs which Brock believed was an integral part in securing the Victorian.
"(Ashmore) took her game to another level under Starcevich's tutelage and they have a really good relationship, so it was a pretty easy decision to pursue her and get her to come up," said Brock.
"It'll be a big change for her, she's originally from Ballarat and a couple of years ago changed clubs to play for Melbourne University to improve her footy, which I think has been a pretty good move."
You will be able to see Ashmore in action on the weekend, when she play's in the Women's All-Stars Match.
This now takes the playing list to four, after the Brisbane Lions secured two marquee players in Tayla Harris and Sabrina Frederick-Traub as well as priority pick, Emma Zielke.
The next round of players will be selected through a state based draft on Oct 12th. Players can nominate for the draft which the AFL will launch in the coming week.
Latest Women's Team news:
The views in this article are those of the author and not necessarily those of the AFL or its clubs