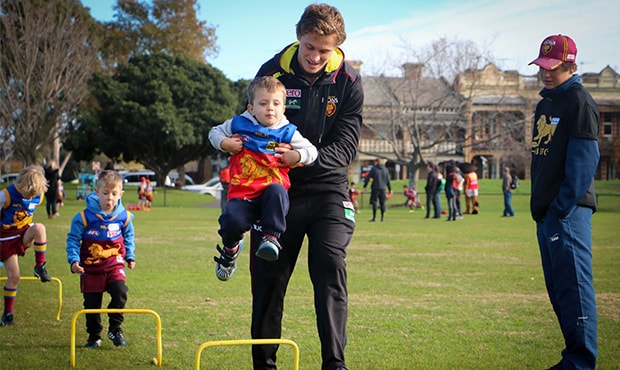 The Brisbane Lions are once again holding their annual Junior Footy Clinics, hosted in Victoria and Queensland with all Young Lion and Lion Cub members invited for FREE.
The Junior Footy Clinics which are assisted by the 2017 Brisbane Lions players and their mascot Roy are much anticipated fixtures of the Lions' event calendar each year, attracting hundreds of youngsters keen to learn skills and play fun games with their heroes. There's also the chance for photos and autographs with the players afterwards!
While the details for Queensland are yet to be announced, the Victorian Clinic is already taking registrations, so don't miss out on being part of it! Key details will be communicated in confirmation emails upon registration or once upgraded:
Melbourne, Victoria: Saturday 4 March, 2017
Brisbane, Queensland: Tuesday 27 June, 2017
Any Brisbane Lions Juniors with a Young Lion membership are eligible to attend for FREE. For those who aren't eligible, you can upgrade for just $20 which not only means you can attend the Junior Footy Clinic in your state for FREE, but also entitles you to a Young Lion membership pack filled with heaps of great goodies!
To find out if you are eligible, sign up to the Clinic, or to upgrade to a Young Lion membership so you can attend, please contact the Membership team on 1800 216 885 or email membership@lions.com.au.
The views in this article are those of the author and not necessarily those of the AFL or its clubs