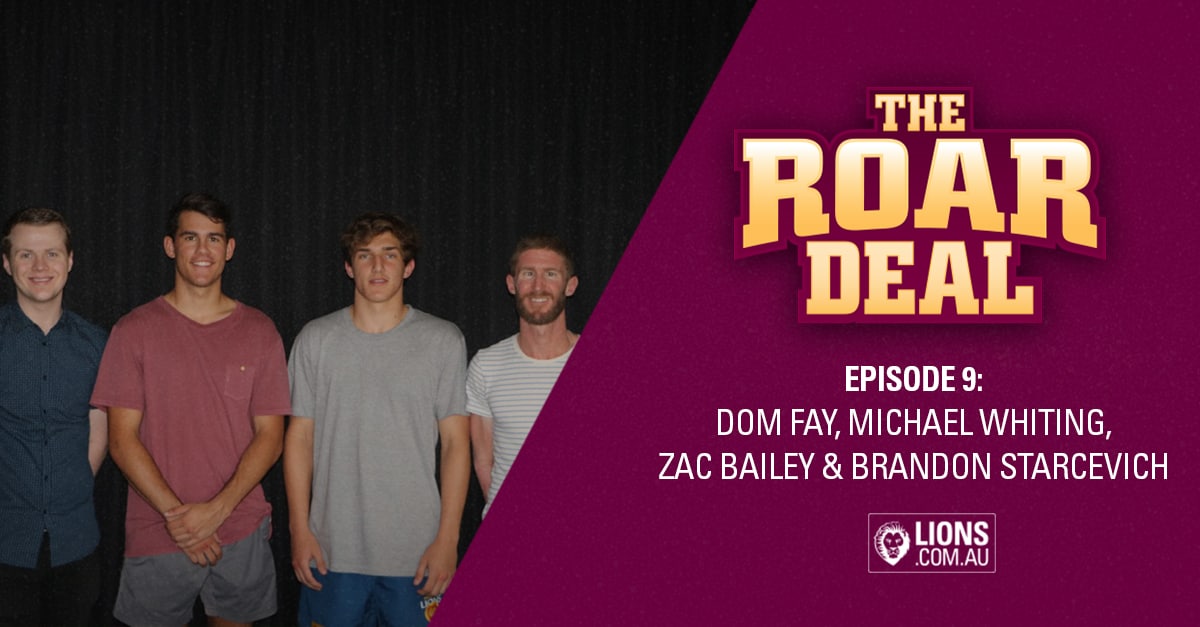 After their first and very surreal week at their new Club, Brandon Starcevich and Zac Bailey sat down with Dom Fay and Michael Whiting on The Roar Deal podcast.
The 2017 Draftees have been easing their way into training since arriving, taking part in some pre-season training both on the oval and in the gym.
"They've been really good with transitioning us into the intensity the main boys are training at," Bailey said.
"We've done probably just over half the intensity of the other boys training.
"We pull out for most of the game play and just do a bit of running on the side."
Although fresh faces at the Lions, the duo were quick to mention they had already developed positive perceptions about the Club before being drafted.
"What I did know is there was a really good, young group of players," Starcevich said.
Brandon's uncle and AFLW Lions Senior Coach, Craig Starcevich, had shared plenty of knowledge with his nephew before his arrival.
"Talking to Craig, he was saying that it's a great time to be here, there's a lot of opportunity for young players to step-up and take their chances, so I was really excited," he said.
Bailey was in agreeance with Starcevich's comment, saying: "the Lions are trying to build a good culture and I think over the last years they've picked up some very good players."
Whiting and Fay also discussed Whiting's article on the best 22 Lions team.
Whiting had approached Chris Fagan when writing the article to ask the Senior Coach who he thought would make the cut.
"I thought about what he said and you know it just showed me that he is probably not as fixated on positions as I am and others are," Whiting said.
"Chris Fagan is clearly trying to get a lot more versatility within the playing group, he wants them to be able to play half-forward, midfield, half-back.
"These six new Draftees fill that versatility factor very well, many holding the capability to play both forward or in the midfield."
The views in this article are those of the author and not necessarily those of the AFL or its clubs