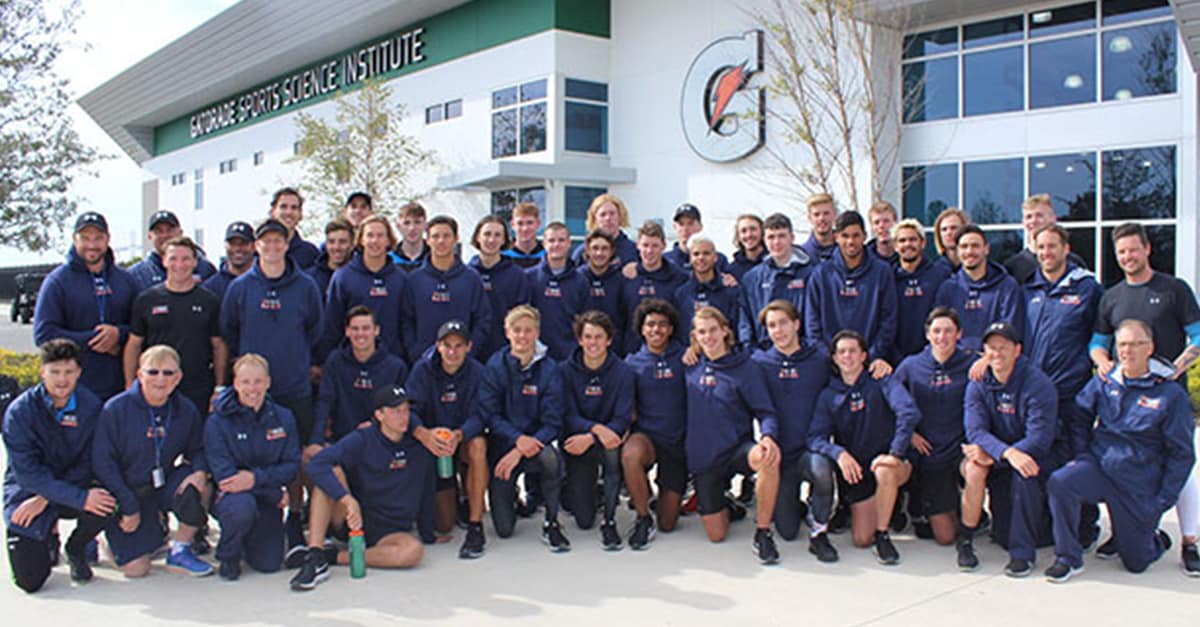 Recruiters who have travelled to America to follow the NAB AFL Academy's high-performance camp say they have gained a valuable insight into what shapes as an exciting 2018 draft pool.
Brisbane Lions' Recruiting Manager Stephen Conole and Collingwood's Derek Hine were among nine recruiters on the 10-day trip, which has seen 29 prospects train in Florida and Los Angeles.
Fremantle, Geelong, Gold Coast, Greater Western Sydney, North Melbourne, Essendon and Richmond also sent recruiters to observe and study the players, who stayed at the IMG Academy in Bradenton before having several sessions at the University of California, Los Angeles.
Hine, who is the Pies' Recruiting Manager, said the trip presented a way for clubs to get an early read on some of the best teenagers from different parts of Australia.
"Just to be able to see the boys and the way they integrate with each other, the way they travel ... it's been a terrific tour and really well handled by all the coaching staff. It's been really worth coming," he said.
"As with all the clubs, we've taken notes and been adding vision to the players' profiles, and it's all just a part of the picture. You start the year and it's a box we can tick and then move on to the next stage of the season."
A group of exciting taller types – including Jack Lukosius, Nick Blakey and Max and Ben King – combined with players such as midfielder Sam Walsh and forwards Izak Rankine and Ian Hill, has had many talking about this year's draft crop with excitement for months.
First main footy training session for the NAB @AFL Academy today in Florida. Izak Rankine and Ian Hill standouts in some of the drills with pace and movement. They sit very close to the top of the crop right now. pic.twitter.com/xL8QRwAGpl

— Callum Twomey (@CalTwomey) January 16, 2018
Hine said others had also lifted their stocks while overseas.
"It's been really good in that there might have been some guys who you thought, 'Maybe you're not quite up to it', but they've developed over the tour and that's really pleasing to see them from day one and to the last day of the tour. To see how they've progressed, you really don't get that chance at home," he said.
Lions head recruiter Conole said he had been able to gauge the personalities within the group as well as starting to focus on their football prowess.
"It's been really good to have the opportunity to mix with kids who come from all parts of the country and see how they've gelled on and off the field," he said.
"For us to be able to spend almost two weeks with these boys is invaluable in terms of their transition and the introduction we're going to have to them throughout the footy year.
"On the surface, it looks like a really talented group and training has been at a really high standard and they've mixed well with the coaches."
Ahead of their last main training session of the camp, the AFL Academy headed to Staples Centre to watch LA Lakers take on the New York Knicks. (Picture: Callum Twomey)

Conole travelled on last year's trip to America to follow the group, which included Cam Rayner, the Lions' No.1 pick last year. Conole said the opportunity to see Rayner at the start of the season gave the club a reference point for the rest of the year before their final decision.
"It was a piece of the puzzle that we used for the whole year, and it definitely developed our relationship with Cam," he said.
"And also to see how he came along with his footy aspects and his athletic profiling, we got a really good feel for that this time last year and being able to ask him some quite pointed questions about where his year was and what he was targeting and following that up through the year certainly assisted us."
The Academy, under head coach and three-time premiership player Luke Power, will head home on Wednesday.
The views in this article are those of the author and not necessarily those of the AFL or its clubs