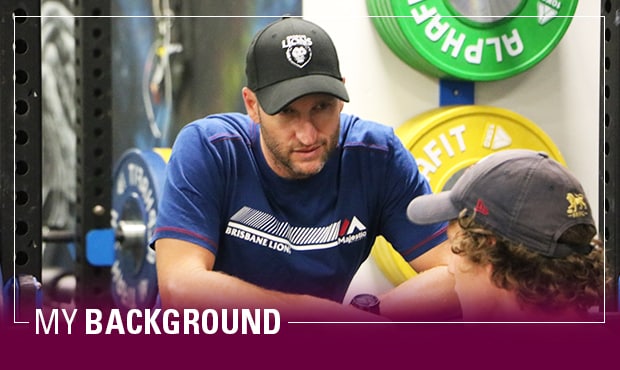 AFL players run up to 15 kilometres in just one game. Not only do they run more than a third of a marathon, they are tackled and need bursts of speed when trying to evade defenders.
So how do they get to a place where they can survive four quarters and not burn out or risk injury?
Dirk Spits is the Lions' High Performance Coordinator and says his job is much more than leading the players' out for running sessions each day.
"I suppose one of the misconceptions of our industry is that we're out there getting paid to be fit and run with the athletes," Spits told lions.com.au
"We spend a lot of time indoors on the computer so it's a lot of data analysis and a lot of spreadsheets."
In his role, Spits is responsible for making sure all disciplines of high performance compliment each other, to achieve the best of every player each week.
"Whether it be nutrition, rehab, strength and sports science and bringing in all those disciplines together and ensuring that we're all heading towards the same outcome," he said.
Spits watches on during the Lions' pre-season training last week.

Spits has been in the elite sporting industry for 18 years.
Before coming to the Lions, he was often a one-man high-performance department.
Was it stressful? Yes. But in turn, provided an appreciation of the importance of each discipline to an athlete's overall success.
Spits has not always worked in AFL either, he's just started his second year at the Lions.
The 43-year-old started off part-time working with Queensland Cup Rugby League teams but amazingly, got his big break working with an aspiring short track speed skater.
Her name was Emily Rosemund, a teenager at the time, and she wanted to go to the 2006 Winter Olympics in Torino.
Rosemund's mother met Spits while he was delivering lectures on in anatomy and physiology at a private college.
Spits explains, "She said 'I like the way you go about things, I want you to train my daughter. That's how it started, and it went from there."
He had barely set foot on an ice rink, let alone knew the intricacies of the niche speed skating scene, but Spits accepted the challenge.
"They're skating on 1.1mm of blade at 30 to 40 kilometres an hour," he said.
To understand what Rosemund was expected to do, he hit the rink.
"I did, which was interesting. I did it to understand what it was like.
"You immerse yourself with coaches and get a look at the equipment. You sit down and watch videos of what you do.
"You get an idea of the physiological idea of the situations and the demands the athletes are being shaped in," he said.
Spits developed a program that would help Rosemund realise her potential on the ice.
Not only did she make the 2006 Winter Olympics team, she contested two events.
She eventually traded the ice for the track and became a professional cyclist.
Rosemund's success opened the door of professional sport for Spits.
Since then he's worked pretty much everywhere in every code – the Queensland Reds; the Wallabies; the Firebirds; the Australian Diamonds; swimming and Tennis Australia, you name it.
Although each sport appears so different, at the crux Spits says the work has more similarities than not.
"So first and foremost, I believe you're working with athletes. So once you've got an athlete, then you can start to mould them into a netball or AFL player," he said.
"If we don't have the physiological or mental bases of an athlete, then they begin to break down or struggle."
One of the most rewarding moments in Spits' career was at the Queensland Reds.
It was 2007, a World Cup year, and Chris Latham was at Ballymore.
"At this stage he was regarded as one of the best fullbacks in the world for rugby union. He did an ACL just before the World Cup.
"We had pretty much about six months to get him back to be able to trial to be eligible to play in the World Cup."
Spits, alongside Cameron Lillycrap at the Reds, worked together with Latham, at times for almost six hours a day for nearly six months.
Within that time the expectations and deadlines kept changing, which was frustrating.
There were days they all couldn't stand the sight of each other, but continued to persevere.
"He just put his heart and soul into it," Spits said.
"We ended up rehabbing him and he ended up making the World Cup.
"The emotion he showed, from a guy who shows no emotion, to get through his first club game, to get over to play the All Blacks in New Zealand."
Before the injury, Spits admits Latham was not the most diligent in terms of nutrition.
But his mindset and behavior completely changed after the injury.
"The sacrifices he made to be able to achieve a sporting goal was quite remarkable," Spits said.
"It was good to see. He gave us, the physio and I, signed World Cup jerseys from the first game he played."
At the Gabba, Spits has noticed the players' engagement with the programs he and his team put them through.
"The professionalism amongst the guys has been great but the enthusiasm has been awesome," he said.
"I think the guys are buying into our change in philosophy.
"We're firm believers in providing education to the guys, as opposed to just telling them what to do."
Spits chats with Darcy Gardiner in the gym.

This time of year, is critical for the high performance team, with season kick off under two months away.
"Pre-season is pretty full on. What we do now affects what happens at the start of the season, what happens mid-season, end of season," he said.
"We look at players and where they physically are arriving from in their off-season. We talk to coaches about what they're seeing, in terms of deficiencies on the field.
"And then look at physically, how do we address those deficiencies? Do they need more muscle, do they need to be fitter, do they need to have more repeat efforts?"
With so many questions to be answered, the accurate collection of data is crucial.
The team at the Lions use GPS, lifting data from the gym, body weight, urine samples to test hydration, skinfolds, and running volume data.
"It's sitting down and looking at spreadsheets or importing data from nutrition, fitness, strength and the coaches' information in one spreadsheet and overlaying that," he said.
"We spend a lot of time at a computer either to confirm what we already know or to try and find any problems that may be arising."
Without a doubt, technology has changed the fitness industry, but Spits is wary of becoming dependent.
"Technology can be great but I think where our industry is going, I think there's a bit of a trend where we are relying on technology to do our job for us," he said.
"There's apps to tell 'The Wellbeing of an Athlete'. Every day this is 'how much I slept, these are my energy levels, this is how I'm feeling,' all this type of information which is great.
"[But] I think we've got to be wary of technology not replacing that human interaction."
Spits likened an AFL player's fitness and on-field performance to a puzzle. Each piece; nutrition, conditioning, mobility and well being; has its place and is integral to overall success.
The views in this article are those of the author and not necessarily those of the AFL or its clubs