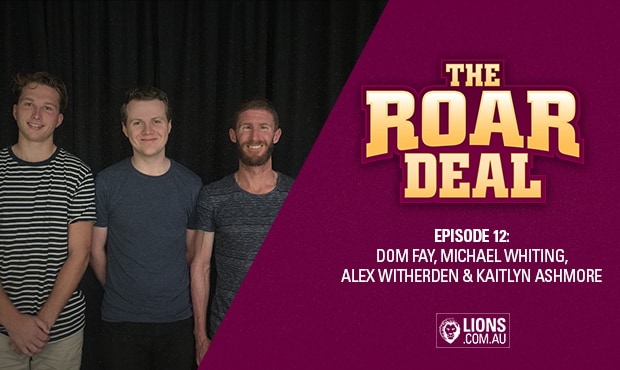 Recently re-signed young gun Alex Witherden and AFLW star Kaitlyn Ashmore joined hosts Dom Fay and Michael Whiting for this week's episode of The Roar Deal.
Witherden's re-signing came as a surprise to many and he explained how the deal came about and who influenced his decision.
"It was a very quick process. I think we started talking about it on Tuesday and had it done by the Friday," Witherden said.
"It was something we wanted to get done for a while, but I just had to tick it off with certain people and speak to my family.
"I let my manager know and the Club were really good – they didn't mess around, they wanted to get it done as well. We were both on the same page.
"I don't think one person [I spoke to] said this isn't the best place to be. I totally agree with all of their opinions.
"I don't see any reason why you would want to leave this footy Club. It was an easy decision in the end."
Captain Dayne Beams was one of the key figures in helping Witherden make his decision.
"When I first got to the Club I struggled with moving away from home. Dayne was always really good at staying in touch and helping with the process of moving away," Witherden said.
"He messaged me in the offseason and said 'you're going to have a lot of pressure next year with your contract. I'll give you an unbiased opinion.'
"We ended up getting a coffee and he spoke through that the opportunity we have up here is amazing. He spoke about the benefits of going home, which aren't many except for seeing your family.
"In the end we couldn't really come up with any particular reason to go home."
Witherden's appearance on The Roar Deal wasn't all serious, as he also shared his latest movie and TV series recommendations.
Ahead of Sunday's home opener against the Bulldogs, Ashmore spoke to Dom and Michael about Round 1's brilliant victory over the Adelaide Crows.
"I think we overused the footy a little bit too much with our hands. We reassessed at halftime and went back out – I loved the way we looked in the second half," Ashmore said.
"We just have to keep going the way we are going and hopefully change the doubters towards the Brisbane Lions.
"We are all on the same level and we all want to do it for each other. We are pretty much like a family which I think gets us over the line."
Dom and Michael also chatted about the upcoming AFLX tournament and shared a couple of key tactics on how they are planning to beat the heat at Sunday's AFLW game.
The views in this article are those of the author and not necessarily those of the AFL or its clubs