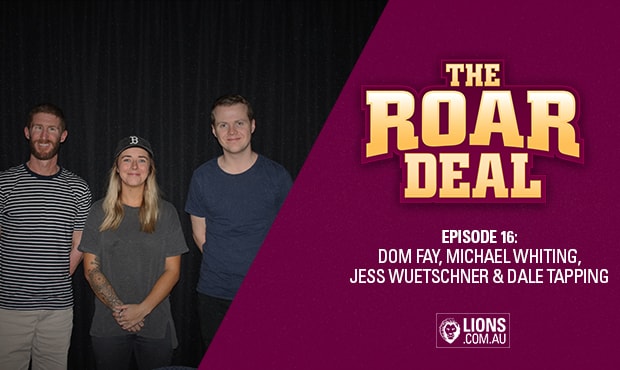 While the Brisbane Lions' AFLW side sits in second place on the ladder behind a strong Western Bulldogs outfit, forward Jess Wuestchner would be amongst one of the first to admit that anything is possible within the final two rounds of the season.
Wuetschner joined The Roar Deal podcast with hosts Dom Fay and Michael Whiting ahead of this weekend's home match against the Magpies.
Both hosts were curious to know whether Wuetschner was feeling the pressure of getting percentage points on the board in order to secure that Grand Final spot.
"It does drive me more knowing we do have to win and by a good margin." Wuetschner answered.
"It does put a bit of pressure on us, but I think that this is when you'll see the big guns and young players put their hands up and try to get the win."
The Lions sit only percentage ahead of Melbourne on the ladder, but Whiting was confident that the Lions were still in a very positive spot considering this year's competition.
"If you told a team at the beginning of a season that they'd be in the Lions' current spot [on the ladder] and all that's left to do is win the final two games, you'd be very happy," Whiting said.
"It's a good spot to be in."
Wuetschner agreed but pointed out that no team should be overlooked at this late stage in the competition.
"For a team [like Collingwood] that's sitting at the bottom of the ladder with only one win, they're a pretty good side," Wuetschner said.
"That's something we've got to be wary of, I don't think it really matters that they have only had one win.
"Just have a look at the team they beat [Melbourne], who we lost to last weekend."
Wuetschner also spoke about her life outside of football and the difficulties of balancing training with work hours.
Fay and Whiting were shocked to realise that Wuetschner has often finished a football game on a Saturday afternoon and headed straight to work to pull an all-night shift that carried through till sunrise.
"I love my job, I'm blessed to have it but in the season it can be tough to juggle it out," Wuetschner said.
"I certainly find that at about 4 am, when I'm struggling to get through the night.
"It's like having a two-day hangover."
The Lions play at Moreton Bay Central Sports Complex in Burpengary for the first time this weekend.
"It'll be our last home game of the regular season and we really thrive on the fans' support at our home games."
"We just want to see all our fans down there, enjoying it with us."
Assistant Coach Dale Tapping also joined the podcast, discussing the opportunity Chris Fagan has provided him to coach the second JLT Community Series match this weekend.
"It's a great opportunity and this has all sort of been part of our development over the pre-season," Tapping said.
"The preparation this week and the week going into Round 1 have become very important for us."
Tapping spoke fondly of the new approach to coaching which Fagan has brought to the Club. In particular, the way in which he listens and seeks advice from his colleagues.
"If he is sitting in front of his computer, Fagan will get up and move over to the couch and completely commit to listening to you," Tapping said.
"Most people might not even notice or consider that, but I think that's the thing that stands out most for me.
"He might not always agree with you but that okay, you move on.
"You just know that his door is always open."
This Sunday the Men's team face off in their second JLT match against the SUNS at Fankhauser Reserve in Southport.
The views in this article are those of the author and not necessarily those of the AFL or its clubs