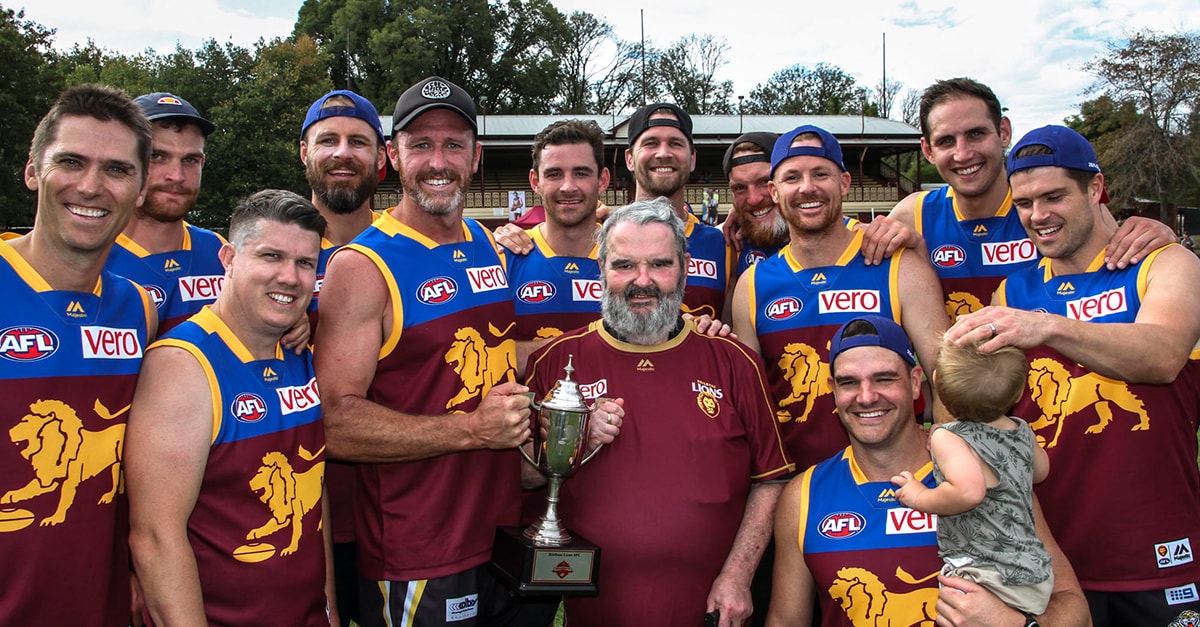 The Fitzroy spirit was alive and well on Sunday as more than 1,000 people flocked to the Brunswick Street Oval for the Brisbane Lions' first-ever Brunswick Street Bash.
Fans made the most of a warm Autumn weekend in Melbourne by flocking to Fitzroy's spiritual heartland to watch a total of 86 players across six teams battled it out in an AFL 9s tournament.
Among the teams were some familiar faces from Fitzroy and Lions days gone by, coupled with eager supporters of all ages and abilities and a sprinkling of representatives from Fitzroy FC's senior men's and women's teams.
Even some of the Fitzroy Junior U12 players trialled the modified AFL 9s format in the Bash's own version of Little League.
Triple premiership star Simon Black and former Lions teammate Scott Clouston ended up forming part of the all-conquering 'Team Phat' who went through the competition undefeated to claim the perpetual trophy.
It came as little surprise considering the corporate team (coached by long-time Lions supporter Kevin Wise) was filled with recently retired premiership players from the Balwyn Tigers in the Eastern Football League, including past Lions rookie and Carlton player, Stephen Kenna.
'Team Phat' were relentless in their approach against the much less experienced opposition and can claim bragging rights as the inaugural winners of the title.
They were challenged by 'Kashed Up' – the aptly-named team led by AFLW star Kaitlyn Ashmore and Brent Staker who finished just five points shy of knocking off the premiers in the preliminary rounds, before falling to them again in the Grand Final.
The Runners-Up were also well served by another familiar face at the Gabba, Shaun 'Mugsy' Mugavin, who showed the same form in front of goals on Sunday as he had for countless matches with Morningside in the local Queensland competition.
You could argue that 'Mugsy' saved his best work for the Bash's post-match recovery at the Royal Derby Hotel in Fitzroy, when he performed an impression of his famous cousin Jonathan Brown – complete with costume and wig.
'Kashed-Up' qualified for the premiership decider with a tight win over second-placed Aker's Army', in the Preliminary Final.
The players gather for a photo on the historic Brunswick St Oval.

Even at 41 years of age, Brownlow Medallist Jason Akermanis showed that he'd lost none of his ability, and formed a dominant pairing with former teammate Marty Pask, who would probably have been the competition's leading goal-scorer (had we been keeping stats).
Gold 104.3's own Craig Huggins battled through severe back pain to be a good contributor to 'Aker's Army', as well as entertaining fans on the microphone – along with non-playing MC Kuz Kapoor.
The fourth-placed 'Cheap Shots' was made-up largely of representatives from the event sponsor Chemist Warehouse, along with former ruckman Cameron Wood and a heavily bandaged Scott Harding.
Triple premiership star Chris Johnson was also a member of the 'Cheap Shots', but only managed a couple minutes of game time in their Preliminary Final after being delayed.
The battle of fifth and sixth place was played between the 'Fitzroy Lions' and 'September Specialists', with the former avoiding the wooden spoon.
The 'Fitzroy Lions' boasted a number of former Royboys, including Martin Pike, Darren Wheildon, Jeremy Guard and Brett Stephens, with Mark Zanotti proving some wise words for them in a non-playing capacity.
The 'September Specialists' were named after Mr September himself, Clark Keating, and fellow past players Simon Hawking and Anthony McGregor. Sadly for them, it was in April – so their time may still come in five months' time.
Aside from the fierce action on the field, there were also plenty other past players and guests around the ground mingling with fans and enjoying the sunshine.
Lions Legend Kevin Murray was as generous with his time as ever, signing autographs and handing over his Brownlow Medal for photographs until it was time for him to present the winners with their medals.
Former Brisbane Lion Brent Staker (L) with Fitzroy great Kevin Murray.

Spectators would also have seen countless other past players floating around, including Laurie Serafini, Ross Thornton, and Norm Brown to name a few.
  The Club wishes to thank all players (past and present) who took part in, and survived, the first ever Brunswick Street Bash, and to all the spectators who helped create a fantastic footy environment.
Special thanks also to Fitzroy FC, who assisted with catering (the BBQ and canteen were a hit) and the production of the event, and AFL Victoria whose staff and umpires ensured all matches ran smoothly and without incident (well, mostly).

FINAL LADDER
1. Team Phat
2. Kashed Up
3. Aker's Army
4. Cheap Shots
5. Fitzroy Lions
6. September Specialists

INJURIES
Tim Renwick (knee), Phil Carydis (hamstring), Steve Loney (hamstring), Adam Lord (hamstring)
Download your copy of the Brunswick St Bash Record.
The views in this article are those of the author and not necessarily those of the AFL or its clubs