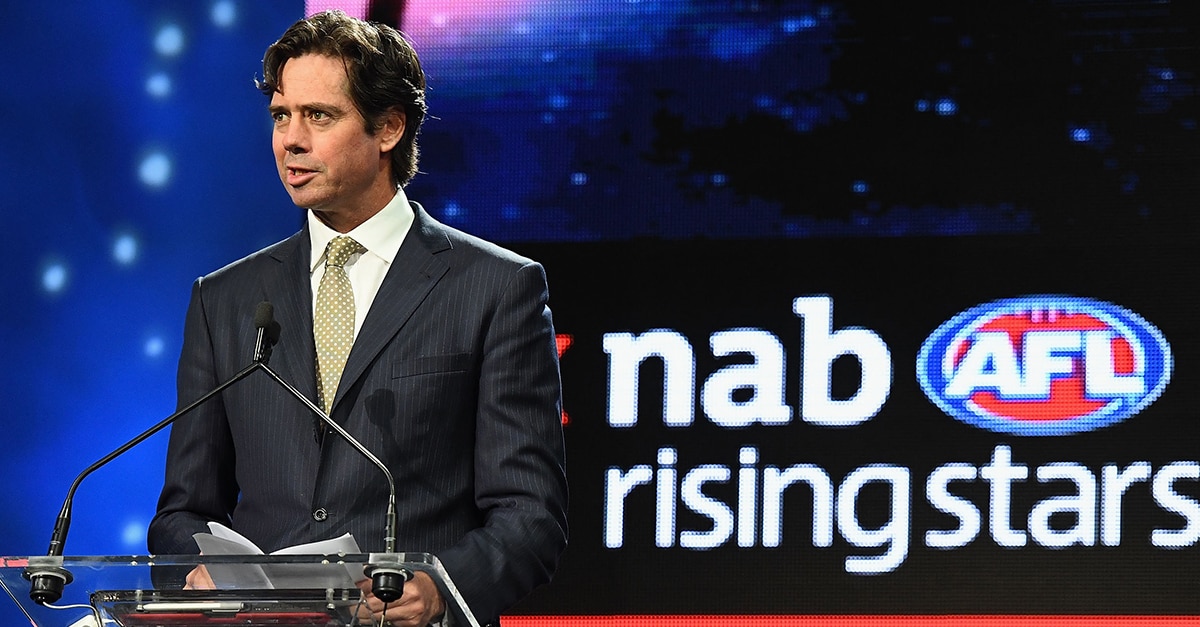 Non-Victorian clubs believe they would be disadvantaged if the AFL introduces a mid-season trade period next year.
The AFL wrote to clubs recently outlining a range of proposals for the implementation of a mid-year trade and/or draft, and invited feedback on its plans.
Of clubs surveyed by AFL Media, a majority were against the idea of bringing in the trade period, some preferred a mid-season draft and others were happy for both to be established to free player movement.
Feedback to the League has included non-Victorian clubs outlining their concerns that a mid-season trade window would favour Victorian sides due to relocation issues.
For instance, the clubs spoken to by AFL Media, believe it would be far easier to convince a player to cross, for example, from Carlton to one of the other nine Victorian-based clubs during the season than it would be to entice them from the Blues to an interstate club.
"The idea of moving a player from Victoria to anywhere is a significantly bigger task than from one Victorian club to another at the end of the season, let alone during it," said one official.
The clubs in favour of the extra exchange period see it as another way to expand opportunities to improve their list, with some favouring a mid-season trade period over a draft so that the year's draft pool is not impacted for the main national meeting at the end of the season and state leagues are not affected.
AFL boss Gillon McLachlan is a strong advocate of a mid-season trade period, telling the Road to the Draft podcast last year he sees it as a way for struggling clubs to rebuild quicker.
However, many clubs disagree, saying they believed it would help clubs in premiership consideration but weaken the depth of strugglers.
The 'art' of list management and having a squad that can take a club through its season is another reason some clubs are opposed to a mid-season trade period or draft.
Clubs have also raised their concern that it may be destabilising for their players to be publicly thrown up as possible trades in the middle of a season.
Other ideas have been canvassed and raised, including opening a trade window from the start of the season to its middle, which has not garnered strong support.
Another concept instead of a mid-season trade period is to have the ability to sign or upgrade a 'replacement player'.
Clubs raised Sydney as an example for this after they lost Kurt Tippett to retirement in the pre-season – a 'top up' rule could have seen the Swans sign a state league player to fill the void rather than head into the season a player short on their list.
An idea floated from clubland would see every player who has previously been on an AFL list be deemed a 'delisted free agent' for life, and signed at any stage of the season from a state league. Under this proposal, prospects overlooked in at least three drafts would also qualify.
In a similar fashion, other clubs believe if the AFL is set on introducing more ways to build their lists during a year, each club could sign one player from its state affiliate club to fill a gap.
In this case, Melbourne could have upgraded exciting forward Bayley Fritsch last year as he performed strongly for VFL affiliate the Casey Demons.
Clubs were also quizzed on how long they should be able to trade picks into the future. Many supported an increase to three years down the track, believing it would allow more trades to be made with extra picks at their disposal.
The views in this article are those of the author and not necessarily those of the AFL or its clubs